How to Get More real and engaged followers on Instagram?
Standing out as an attractive business account on Instagram is not an easy task. But, luckily, there are some tips and tricks that can help Instagrammers to unfold the mystery and eventually get more followers on Instagram instantly.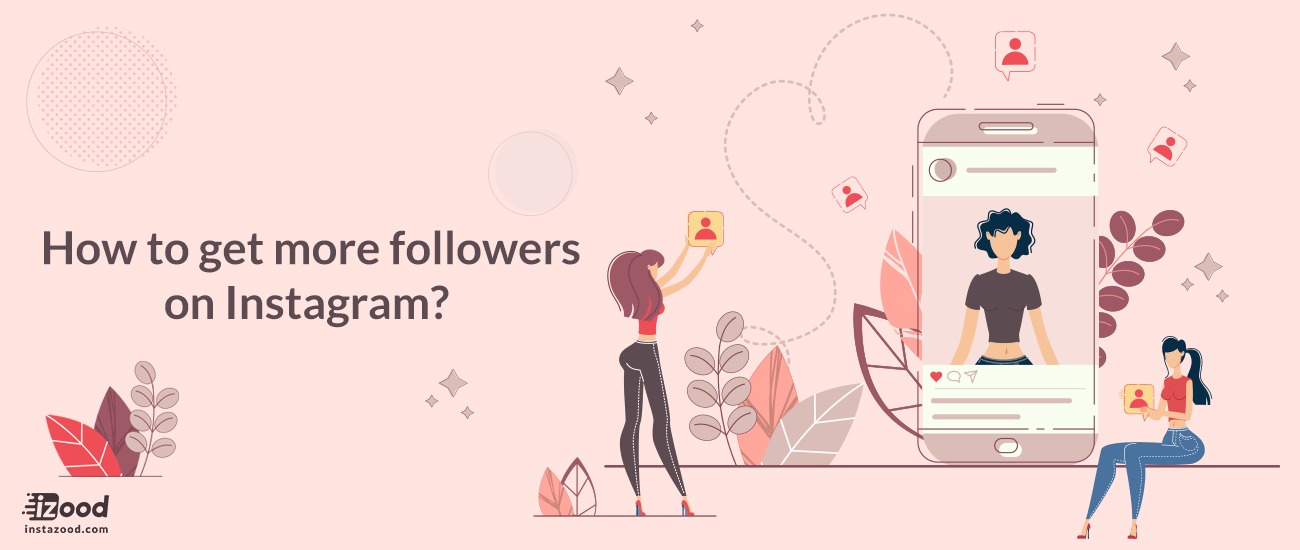 Are you dreaming about promoting your business by getting more followers on Instagram? The bad news is, you have over 25 million competitors. But the good news is, there are more than one billion active monthly users on Instagram, which 90% of them follow at least one business account.
In this article, we are going to introduce the top 7 most effective ways to get Instagram followers based on our experiences. if you want to expose your page to all the potential followers, you should do your best by taking care of all aspects of the business. So, here are our suggested ways to get real Instagram followers fast.
How to get more followers and likes on Instagram?
Instagram bot and automation is not the only way to get more Instagram followers. Here I would mention a summary of different methods to get more followers on Instagram first. Then I would expand all to get detailed information.
To get more real and engaged followers on Instagram:
Got for Instagram campaigns or run a contest
Use top Instagram marketing tools
Make connection by the mentioned methods bellow
Connect with Instagram influencers in your niche
Use Instagram bot and Instagram automation
Buy like & followers (for new accounts only to get started)
Optimize Instagram content to reach more users
Use hashtag generator
Schedule posts to keep consistency
How many times have you heard this well-turned phrase by Bill Gates that "Content is King" in the virtual marketing world? This phrase is exceptionally exact on Instagram, where visual content is the primary way of reaching out to the audience.
Engaging content acts as an excellent infrastructure for your Instagram page. If you take the necessary efforts to offer high-quality content, your overall chance of getting followers on Instagram will increase considerably.
Based on your type of business, the idea of engaging content might be different. For example, for a standup comedian, a simple video without any filter might do the work. But for someone who runs a fashion page, high-quality photos with persuasive captions should be an integral asset of the posts. The important thing is, paying attention to every little detail might make a big difference.

The level of engagement that you get from these methods can directly affect the chance of attracting real Instagram followers. Here are the best things to do for creating engaging content that leads to more Instagram followers.
#1 Run Instagram campaigns or a contest
Running contest to invite Instagram followers tagging their friends, support the tagged Instagram account, or get price for likes or comments is of great help to increase the profile visits, and get more fans and followers. However, some of the followers may left the page after contest ends, but it is still alright. Many of them will remain in the profile and become the potential customers.
I highly recommend you run the contest yourself (with at least 1000 followers) or ask any accounts with more followers to do it for you. What they do is tagging your name in the past, and ask followers to follow you and win a price.
#2 Use top Instagram marketing tools
There are lots of available tools you can use to speed getting followers, like hashtag generators, influencer finders, comment management tools, posts managements, analytics, monitoring tools, and scheduling posts.
You can top Instagram marketing tools for free and boost your account using these tools. they are must to have tools if you are managing your accounts in larger scale.
#3 Make Instagram connections to get more followers
Follow for following back (keep the limits)
It is true that Instagram has limited the action on the app, but still you can get followers just by following their page, like their posts, comment under their posts. They would come back to your profile if they are active users, and if they like the content they follow you back.
However, make sure you are aware of Instagram rules and restrictions, not to get action blocked.
Insert comment on or relevant Instagram accounts
If you go to some the top pages, and keep track of their posts you can engage and insert comment there too. This will show your username to millions of people reading comments, or reaching the posts. If they like your comment they engage too. They reply, visit your profile, like your comments.
The secret to get more Instagram followers if you feel your account is not that famous is reaching to more users.
Use Instagram comment management
To make your Instagram account a positive environment for your visitors, you can get help from Instagram comment manager on the app itself. If you tap on the comment you can restrict some of the negative comments. You can also restrict certain words, to get more meaningful and positive feedback under your posts.
Connect Instagram to a Facebook to get referrals
If you share the Instagram profile URL on other social media, you can get more reach. Copy the URL right from your Instagram profile, tap on three dot icon on top right to copy the link.
#4 Use Ads to Get More Followers on Instagram
Although creating engaging content is an excellent strategy to start gaining more Instagram followers, but sadly, it is not enough. If you want to get more followers on Instagram instantly, you should consider using ads. Imagine having a killer feed, with the most amazing photos and captions, but no one would ever know that it existed. That's why you need advertisements as one of the most effective and guaranteed ways to promote the brand. Remember, ads are not expenses; they are investments.
There are mainly two ways to run an advertising campaign on Instagram: using influencers and Instagram ads.
Partner with an Influencer to Get More Instagram Followers
If you are running a business account, reaching out to influencers is a must to gain new Instagram followers. The beauty of working with influencers is that these people love their fans, and when they decide to promote a brand, they put their best into the ad.
The followers of these people are loyal to them, and when the influencers recommend a product, service, or even Instagram account, they tend to trust the brand. That's why in 2020, 6.12 million business accounts sponsored influencer posts on Instagram, and the features are surging by seconds, as stated on the Statista website.
You may be thinking that partnering with an influencer costs you an arm and a leg. But don't worry, there are all sorts of influencers out there, from seven figures mega-influencer (+1m followers) such as Selena Gomez to more affordable nano-influencers (1k-10k) and micro-influencers (10k-50k followers).
The good news is that the engagement rate of nano-influencers and sometimes micro-influencer are higher than the other groups like macro-influencers (500K-1m followers), as they know their followers and have a close-knit community.
While macro-influencers such as @josefinehj receives an average of $10,000 per Instagram post, a micro-influencer only costs something between $50 to several hundred dollars per post. Well, that is a big difference to consider!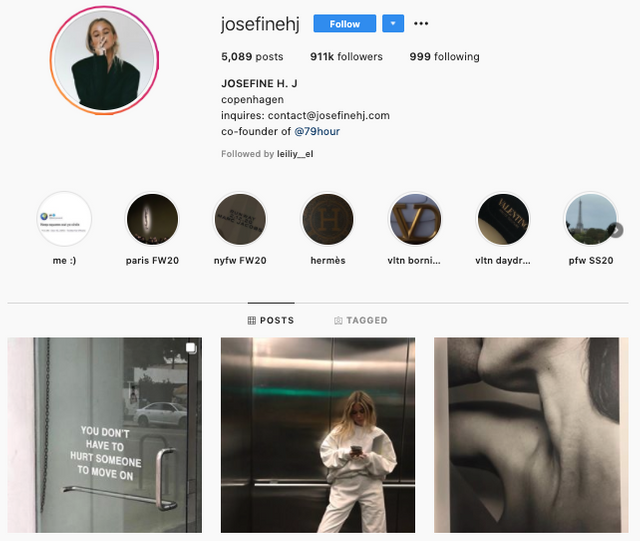 If money is not an issue, you can pay $750,000 for a post on a mega-influencer such as Chris Ronaldo, who has more than 140 million followers!
Instagram Ads
You have surely seen the word "sponsored" or "paid partnership with" on some of the posts on Instagram. All these accounts used Instagram ads. In this vast virtual community, it seemed any ads about anything might fit. Still, it's smarter to know what demographic groups are using Instagram so that you can reach the bet targeted group.
According to stats, in 2020, the biggest age group on Instagram is 25-34, holding about 35% of all Instagrammers. Also, most of the popular pages on Instagram belong to women. If you want to reach more potential Instagram followers, it's a good idea to examine your insights to gain a better understanding of what type of Instagrammers are most interested in your brand.
Instagrammers can use the Instagram ads within the app, by ad manager, or Instagram partners in all possible formats such as story, photos, even the best videos. Instagram ads use the Cost per Click (CPC) method to determine the cost of advertising on its platform. In 2020, the average Instagram ads cost around $0.50 to $1.00. But this number can reach to $3.00 CPC based on the competitiveness of the promoting industry. As Instagram has a higher engagement rate compared to all the other social media (10 times more than its parent site, Facebook), with the smallest possible daily budget of $5, you get the highest ROI (return of investment) in the virtual world. No harm in giving it a try!
#5 Use The Best Instagram Bot to Get More Followers on Instagram
Although they don't have the same magical effect of ads, Instagram bots can make a massive difference in the number of your audience by continually attracting more Instagram followers. As there are different types of bots, and unfortunately, some of them are more destructive rather than constructive, you only should use the best and safe Instagram automation tools.
Luckily, Instazood Instagram Bot can offer all the necessary things that a user wants from an automation tool. It is one of the best Instagram bots, and with a negligible amount of money, you practically buy cheap Instagram followers. Instazood can attract a sweet 10% of the targeted followers. That's not a rate you can easily ignore, especially when it takes practically nothing to do on your behalf. Let's go through some of the things that you can do with the Instazood Instagram bot.
Instagram follow bot
On Instagram, the most critical rule applied is Instagram follow for follow. Using the Instagram follower bot, Instazood regularly exposes the Instagram page to the potential and real new followers by automatic follow. Using Instagram follower bots is the primary method used by Instagrammers to gain more followers based on follow for follow, but due to the Instagram daily and even hourly follow limitation, it might be annoying to handle it manually. Instazood smart follow bot will start working based on the Instagram algorithm, which eliminated any threat of being blocked.
Moreover, Instagram unfollow bot automatically unfollows the targeted accounts after a certain period, so that the account won't reach the overall Instagram follow limit of 7,500. When the Instagram bot followers only follows the targeted accounts based on the data that you entered, such as hashtags, location, and popular accounts, the chance of getting real and loyal new Instagram followers will be manifold. It's like you buy real Instagram followers only by using a simple Instagram follow bot.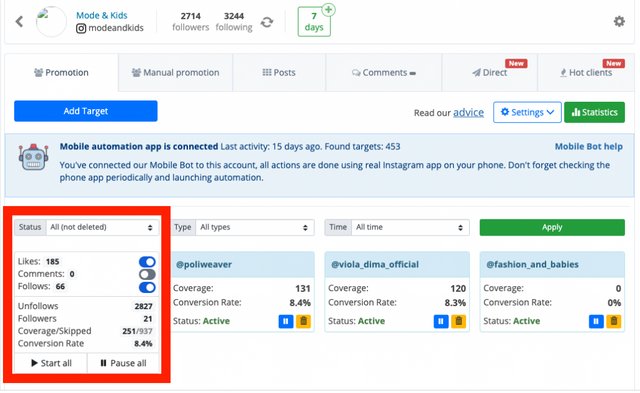 Bonus: Get your free packages of automatic followers instantly using the free Instagram followers bot trial on Instazood.
Instagram like bot
Just like the auto-follow bot, Instagram like bot is designed to attract new Instagram followers based on the unwritten rule of "Like for Like." Instazood likes bot will search hundreds of dormant accounts and put that little happy heart on the posts. People will get curious, and likely, they visit your page. If the page is attractive enough, they hit the follow, and it's done! This liker bot can also bring many likes to your posts.
Instagram comment bot
Instazood Instagram comment bot can generate different versions of comments and automatically send it to the targeted Instagram to-be-followers. Admittedly, seeing an account with similar interests that leaves a comment on their post can be attractive. So, make sure you make the most of this insta comment app.
#6 Buy Cheap Instagram Likes & Views to Get More Instagram Followers
Another shortcut to get more Instagram followers is to buy Instagram likes and video views. Instazood can deliver these types of packages in the fastest and safest way.
Instazood like Packages
Many new Instagrammers struggle to gain more likes on Instagram. With Instazood like packages, you can show off your popularity to those who visit your posts and gain more Instagram followers.
Don't worry about Instagram hiding the number of likes, users can still benefit from this method, as the number of likes is one of the essential factors of determining engagement rate by the Instagram algorithm. Even with the likes being hidden, buying likes can help you to reach the Instagram explore page.
Instazood Video View Packages
Dreaming about going viral on Instagram? Get some help from Instazood and buy video view packages to make your videos and page popular in a safe way. When the videos have more views, the chances of getting more followers are high too.
#7 Optimize the Instagram Account to Get Followers on Instagram
You may only focus on the quality of the photos and the videos that you share on your feed. Or you try to use the coolest photo for your profile. But other parts of an Instagram account should be optimized if you are planning to get more Instagram followers. Here is our suggestion:
Write a Better Bio
Did you know that two in three business profiles are from non-followers? If you want to make the visitors hit that follow button, you need an engaging bio. The bio of the Instagram account works like a welcoming desk for your brand. Having a well-craft bio can significantly help you to attract your ideal Instagram followers for free!
Users can use up to 150 characters to explain their business directly to visitors. Make the most of this number and be as creative as you can. Be bold and mention the most important things about the company concisely.
You can even mention a cooperative account in the bio to boost engagement. Also, as your username is different from the name that displays on the bio, you can use other keywords on your niche in this part so that people find you easily. To learn more tips that can help you to get more Instagram, followers read "Instagram bio ideas: tips you need to know."
Instagram bio is essential for another critical reason: it is the only place on your Instagram that you can put a clickable link on. Need more help with your Bio? Read How to write a killer Instagram bio to get some great ideas to write a unique bio.
A caption is a must
Instagram has a limitation of 2200 characters for captions; it is something around 300 words! But you don't have to use all the characters to convey a message to the possible followers. If only uploading an image or video says it all, don't ramble on in the caption; it just makes the readers skip this part. Instead, use the call to actions such as asking for comment, like, tag friends, or even mentioning relevant accounts. And don't forget to use emoji! On the other hand, for some posts, it is a good idea to explain the purpose in more detail. Try to write something that grabs the readers' interest, especially in the opening line, where you should place your hook. Remember, you are writing for your followers, not just for the sake of selling the product or service. Here is an example of a relatively long, but exciting caption by @joannehawker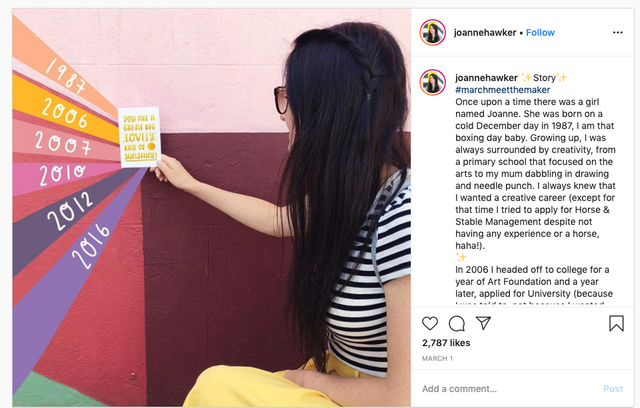 Use More Videos and IGTV
Within only 24 hours of introduction of the ability to publish videos on Instagram, five million videos were posted. The figures surged drastically ever since, and videos became one of the main factors of determining the Instagram engagement rate. With a variety of ways of uploading videos on Instagram, such as feed, story, live, and IGTV, many businesses took advantage by creating Ads, DIY, and How-To-Do videos. Here's how @hudabeauty does it:
Moreover, as videos are more engaging than photos, about 25% of Instagram Ads come in the format of single videos. Many influencers keep a daily video journal to stay connected with their fans. Even use it as a way of brand promoting to get more Instagram followers organically.
Believe in the Power of Stories
The story might be the best thing that Instagram introduced by far. By offering tools such as emoji slider, question, poll, location, mention, and quiz, stories are highly interactive, creative, and fun to work with. Moreover, as they only last for 24 hours, many businesses use stories to show behind the scene moments which followers find interesting to watch.
Big brands realize the importance of this tool in their Instagram marketing. That's why they publish almost 33% more stories than the average brands. Creating engaging stories that audiences tend to share with others is a great way to get more Instagram followers.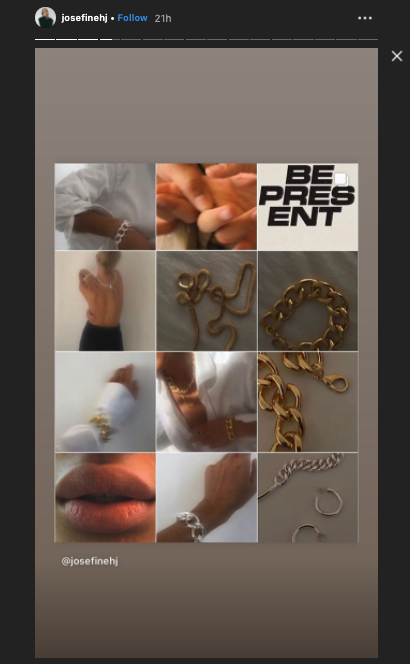 Use Selfies
Believe it or not, studies showed that having a human face in the photo increases the likelihood of getting more likes on Instagram by 40%. After all, Instagram is a social media and a virtual place to socialize, right? It seems face-to-face communication, especially by video, is attracting more attention than other methods. So, why not share smiley selfies when it can help to get more followers on Instagram?
Add Some Filters
Make the most of the in-build filter tools of Instagram by applying them to the photos and videos of your feed and stories. A study by Canva, the popular platform of creating graphic designs for Instagram, showed that filters increase Instagram likes. That's why more and more Instagrammers tend to use a filter to their posts.
Instagram's Automated Reality (AR) filters are another set of in-built tools that can bring some fun to the followers. To hold the attention of potential Instagram followers, use some Instagram themes offered by professionals like Preview, which make your feed eye-catching.
Publish User-Generated Content
Not only publishing the User-Generated Content (UGC) will increase the level of followers' loyalty, but it also helps to get new Instagram followers free and fast. When an Instagram page uses UGC, it tells the followers that they are essential.
This method especially comes handy when you sell a product and services, and the majority of your audiences are from younger age groups. They share the UGC with their followers too, which can be great for you. Just introduce a unique hashtag or run a photo contest to see the incredible power of UGC. Here is an example of a UGC campaign by @starbucks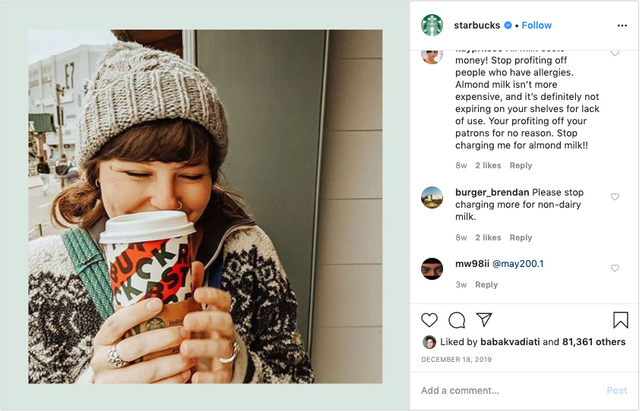 #8 Use Hashtags to Get More Followers on Instagram
When Chris Messina suggested using hashtags for the first time in 2007, no one thought soon; it will be a worldwide phenomenon. Hashtags help Instagrammers to run contests, categorize the content, and, more importantly, quickly find what they are looking for. Almost every business account uses hashtags, and on the explore page, users can search for their hashtags to see the results. That's why everyone should consider using hashtags.
Use Relevant Hashtags and Geo Tags
When posting on Instagram, users are allowed to use up to 30 tags. There is no magical formula to tell us how many and what type of hashtags we should use in a post, but it seems the best way strategies to find out is trial and error.
For example, if you are running a fashion page and you shared a post of a model putting on your dress; it's a good idea to use these numbers:
Find by Tags and Repost One of the effective techniques to get new Instagram followers is to repost one of the other user's best posts in the niche. Use the Instazood Instagram search tool to find the most popular content among millions of posts on Instagram and then simply repost it. Some of the well-known companies, such as Hilton Hotels, use branded hashtags and repost UGC to promote their brand.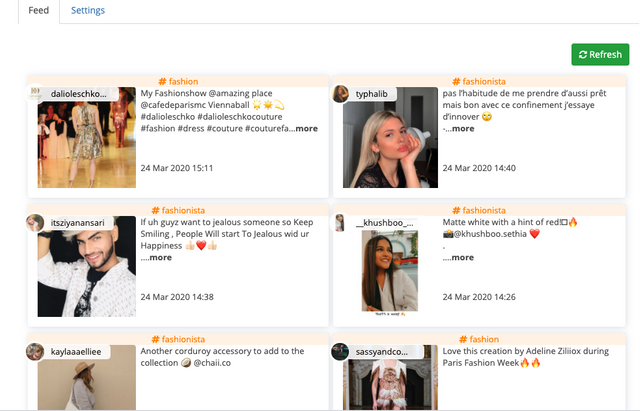 Follow the trends
Another great thing that you can do using the powerful Instazood search tool is finding the latest trends in your niche. You can also find comprehensive information about each hashtag, such as how many users using it. You can even see exactly which profile using the hashtag. This can come handy to find suitable influencers. If they are already interested in your niche, why not reach out to them?
Instazood search tool can even find the top posts by location. Easily find the bests competitors in your area and target their audience. Soon, you will be surprised how much more Instagram followers start becoming a fan of you!
#9 Schedule Posts to Get More Followers on Instagram
Studies show that the level of engagement on social media can dramatically change based on the time of publishing posts. Later, a social media platform analyzed the publishing time of 12 million Instagram posts and found that in general, the best time to post on Instagram is between 9 am-11 am EST.
Luckily there are Instagram scheduler tools like Instazood scheduler that can make things easier for Instagrammers. Using the Instazood scheduler has several advantages over other similar tools. With Instazood, users can even schedule to delete posts, put a watermark on your posts, and put the rest of the caption in the first comment.
Others Tips on Getting More Instagram Followers
Follow the seven mentioned method to promote your Instagram in the most effective way, but if you want even more tips on getting more followers on Instagram, check the following tips:
Promote Instagram on other platforms
The followers on different platforms might prefer Instagram over other social media but don't even know your brand is active on IG. There is no harm to promoting an Instagram account on other social media such as Facebook, Tweeter, and even TikTok.
Use Instagram Nametag
Although it is an offline promoting method, Instagram nametag can attract real followers, especially on events and conferences. It is a scannable code that enables the followers to follow you instantly. Find this feature by tapping on the three lines on the Instagram profile.
Run Instagram Contest
As mentioned before, running a UGC contest can significantly increase Instagram engagement. But there are other types of Instagram contests that can be truly helpful. For example, like or comment to wins and mention others for giveaways are some of the most popular types.
Final Words
In this article, we talked about the best ways to get more Instagram followers. All of these ways are necessary to be a winner in this crazy world of Instagram. But some of them, like paying attention to the content, advertising, and all the bots on Instagram (such as Instagram followers bots, insta comments app, and automatic like for Instagram) is more important than the others. These are the guaranteed way of attracting Instagram followers. So, make sure you do not overlook them easily.
source:https://instazood.com/blog/how-to-get-more-real-and-engaged-followers-on-instagram/