Did you ever give it a thought what and who is seeking you and why?
Rumi, a Sufi master, the Persian poet, born 807 years ago, got me thinking more in recent times about his simple but so wise words.
The photographs with my iPhone7, were taken in Cyprus where I stay since over 2 weeks. We went to a small and stunningly beautiful, charming mountain village called [Lefkara]away from the touristic beach areas.
https://steemit.com/life/@mammasitta/every-day-is-a-new-adventure-island-life-in-cyprus
Your social media is full of his quotes. He has sold millions of copies what makes him the most popular poet in the USA with fans all around the globe with a facebook group of nearly 2 million fans.
He was reflecting on humanity and futility of rigid identities where we all originate from a divine and loving creator. - [Source- independent.co.uk
What do we seek?
What did I seek in recent times?
I wish to "fly"!!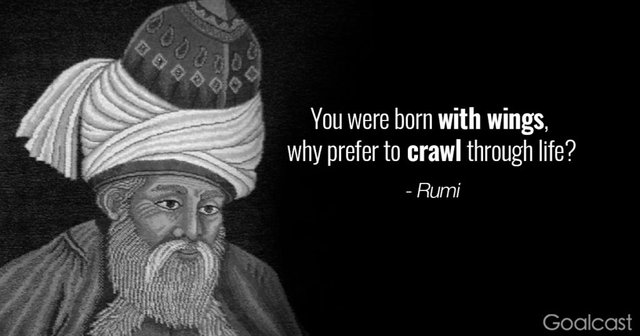 Appreciation, attention, affection, valuable friendships, abundance, wiseness and love of course. I made a wish for all those and kissed, actually hugged that cross so much, begged and didn't let it go anymore. Kind of hilarious but churches always put me in a mystic and deep mood.
I cried out of happiness because I knew the magic will happen as usual.....I always get what I "need" :) Oh well! Most of the time.

The moment you find a way how to stop to hold on so tight on everything you crave for so badly, it will find it's way to you and it did before, it will come my way again.......in many ways when you forgot about and don't expect it anymore.
"I have neither a soul nor a body, for I come from the very soul of all souls." - Rumi
Why do we meet certain people in our lives, even though it doesn't make sense at first. It was maybe you, who was looking for something and it actually found you.
It's the first time in my life that I do understand the quote : "You seek what is seeking you"
I ended up reading this article on a blog and caught on the saying "
Be careful not to attach yourself to any outcome. Rarely does it manifest itself when you do."
I always think too much how could it be if I get what I really want and manifest the outcome, even fight for, trying to control instead of going with the flow in a calm and patient way.
Once again, I made the same mistake.
Patience is not my best virtue. Most of the time I even push for a faster result and mess things up in the worse ways. It never works like that, especially if you deal with another human being who has another vision maybe. You can't force nor pressure anything. You can only wait and let it all happen, stay in the presence!
Do you need to reinvent yourself to get what you really want or would you rather settle for what you think you deserve?
No Way! I always want to find what is soothing my souls wellness, finding beauty and caring people!


I deserve so much abundance of "LOVE" but had to stop to look for others to give it to me. People can change from one second to another and all the attention you showered yourself with is gone in a blink of an eye and then you stand all alone again, wondering what to do.
So...Yes....I got my kick in my butt but I finally figured it all out! Live in those moments, enjoy as long as the illusion lasts. Pay attention to the lessons you had to learn and then move on. Next!
Just keep on walking like a "Super Star" with your head wide up and just start observing "what & who" is seeking you.
I believe it's good to manifest your dreams and then let your sparkling, radiant and powerful side of yourself shine through in stillness and announce to the whole world how much you care for yourself and your life around people who truly accept you for who you are. Don't be scared that some people might just run far away from you. Be honest about your emotions. Maybe they just can't even feel themselves, yet.
Stop making the wrong people feel special. No matter how hard you try, they'll never be right for you. - r.h.Sin
I have to tell myself every day a few time, through quotes, poems, songs, that I am the only one who can create a certain flow of loving vibrations around me.
Believe it or not but we already hold the power to imagine the energy of your wonderful spirit, shaping the maximum of experience teaching you how to create everlasting excitement and fulfilment. Never forget to tap into your own energy first of all. The rest will fall in place!
You will be " FOUND"!
Our life experiences only reflect our soul and the energy within ourselves!

Never a story without music :)

A sweet version I even like more

Yours
Mammasitta