Alex Jones was in Washington DC today to confront the big tech companies that banned him off their platforms and Jones interupted Rubio's interview to complain that Republicans aren't doing enough to protect free speech. This is pretty entertaining clip where Rubio denies he even knows who Alex Jones and threatens Jones when he pats him on the back saying "Don't touch me man...I'll take care of you myself" Then when Rubio had enough and starts walking away Jones says go back to your bathhouses, compromised bathhouses. During the the 2016 elections there were some rumors that Marco Rubio attended gay foam parts back in college.
https://www.infowars.com/report-rubio-very-extroverted-homosexual-during-college-years/
I think what Jones did here to show up at these hearings with the big tech companies and expose that they themselves are meddling in election manipulation by censor Jones and others of their platforms was a brilliant move on his part. Getting into this argument with Rubio has forced the main stream media to acknowledge why he's there.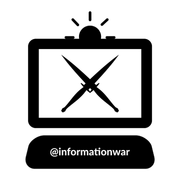 Interested in joining or supporting the Information War?

Use tag #informationwar to post your own stories about the lies and propaganda being pushed on the public. @informationwar will upvote posts worthy of the cause.
Join the discord: https://discord.gg/t5JFAXZ chat with like minded individuals like myself and share your articles to receive additional support
Delegating Steem Power:

Another way you can support the cause is to delegate SP to @informationwar.
Note: remember to keep around 50SP in your account so you don't run into any bandwidth problems.
How to delegate SP, join the fan base and more: https://steemit.com/informationwar/@truthforce/you-can-make-a-difference-join-the-informationwar-and-help-support-others-today