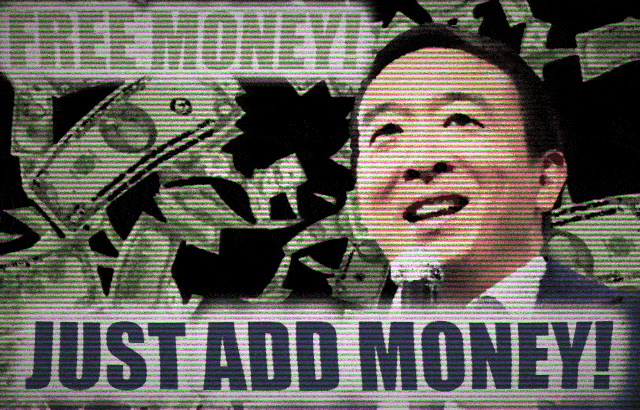 I think it's safe to say that everyone has heard of Andrew Yang by now. This, because he just won the most recent Democratic debate. Yang wants to give all Americans an extra $1000.00 a month for "free." It sounds fantastic, doesn't it? Well, sure it does, and if-if were a fifth, I'd drink it, but it isn't, so I won't. We can say the same for free money, who isn't down for free money? I mean, you'd have to be crazy not to be right? And therein lies the hustle. Brace yourself, I'm about to break it down, all nice and neat.
There are 209,128,094 adults in America, so let's look at the math. 209,128,094 times 1000 (a month) times 12 months in a year = 2 (trillion) 509 (billion) 537 (million) 128 (thousand) or Two trillion, five hundred and nine billion, five hundred and thirty-seven million, one hundred twenty-eight thousand dollars. The cost per annum of the free money program is 11.12% of the $22.6 trillion national debt. Because free money isn't free, Yang has to find a creative way to get Americans to pay for the mythological "free lunch."
Yang's plan to pay for the "free money" is to implement a value-added tax as they have in the UK. He suggested that we'd only have to do about half of their VAT to cover his program. So when you add in a 10% VAT tax to all goods and services at the point of sale, then the price for everything goes up an additional 10 percent. That aspect will suck, hitting you right where it counts, in the pocketbook. This means you'd be insane not to take the money because everything will become that much more expensive.
Setting the value-added tax aside for a moment: I think we also have to consider the fact that Yang never suggested his free money wouldn't get taxed as income. So off the bat, it's safe to say that you should deduct from that $1000 anywhere from 22 to 50%, and this all depends on which respective tax bracket applies to you. If we subtract the lowest percentage, it transforms the 1000 dollars into $780.00. It doesn't take a math genius to realize the higher percentage makes it only $500.00. I know right, far less impressive. However, let's not forget about the extra taxes that you'll be paying for everything at the point of sale.
It's starting to sound shitty now right, but wait there's more! On Andrew's website, there is an FAQ section dedicated to his concept of a "freedom dividend." Mind you, he doesn't claim that it's socialism but: "capitalism that doesn't start at zero," and that right there is the cutest fucking propaganda I've ever heard in my entire life. So let's look at this short excerpt, I know I already said that they would pay for the plan with a VAT, but as I said, wait there's more!
---
"We can add to that a carbon fee that will be partially dedicated to funding the Freedom Dividend, making up the remaining balance required to cover the cost of this program." — Andrew's website.
---
So as you can tell by the above phraseology; the VAT doesn't cover the whole kit and caboodle. An obscure carbon fee of an unknown percentage will fund the rest of the freedom dividend, and you will no doubt end up paying for it. Only part of this fee will get applied to the UBI. We don't know how much the carbon fee will cost, how it will impact the economy, nor do we know what percentage of the fee will get used to fund the freedom dividend. With this very loose language, a 50% carbon fee may get implemented at the gas pumps of which 2.5% goes to fund the UBI. Yes, this kind of language paves the way to a full-blown carbon tax.
If you want to know how free money works, give yourself a raise! This will be a fun little experiment. This week or next, after you receive your paycheck, write yourself a big fat check for $200.00! When you cash the check, you can spend it on anything you want, and I do mean anything. I want you to enjoy this free money, and consider the fact that you can do this as often as you like. We don't need to elect Andrew Yang to siphon from the magic money tree. The magic money tree belongs to everybody, equally, and you Sir, Madam, Other, you deserve your fair share!
---

---
Article originally published at the
WeKu blockchain.
Photo of Andrew Yang by Gage Skidmore licensed
under
CC BY-SA 3.0
/ remix of
original.