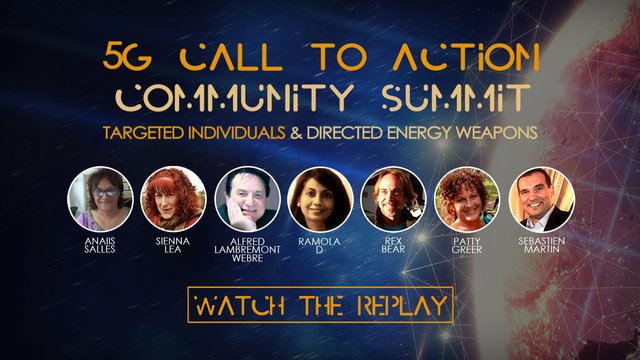 5G is the internet of things.

The "strangling powers that be desperate" plan to have these harmful technologies pervade, change and affect all aspects of our day to day if we do not act. If it's not obvious yet or new to you, 5G is a broad subject that invites all sorts of harmful radiation in addition to totalitarian lockdown all by our permission.

Our aim is to provide enough useful information with a diverse panel of researchers, experiencers, activists and more importantly calls to action so you the grassroots individual have information and support by the necessary groups to start making a difference in your community area.

The summit of June 23rd and 24th, 2018 was our second. Spanning over 5+ hours in 2 parts, we went through testimony from targeted individuals, experiencers and journalists across different fields and disciplines. We also highlighted the journey of how one comes out of the mental and physical trauma. You'll also learn about how you can take part in the development of the world treaty to ban anti-personnel 5G related weaponry (led by Alfred Lambremont Webre and his team. See New Inside Out for details) in addition to simple, affordable measures to reduce the radiation in your home (whether it be smart meters or 5G related routers).

The panel includes Alfred Lambremont Webre, Ramola D, Rex Bear of the "Leak Project", Sebastien Martin of "Nsuho", Patty Greer, Anaiis Salles and Sienna Lea.
__________________________
We are pleased to offer the entire summit complete, streaming on-demand 24/7.
https://vimeo.com/ondemand/151905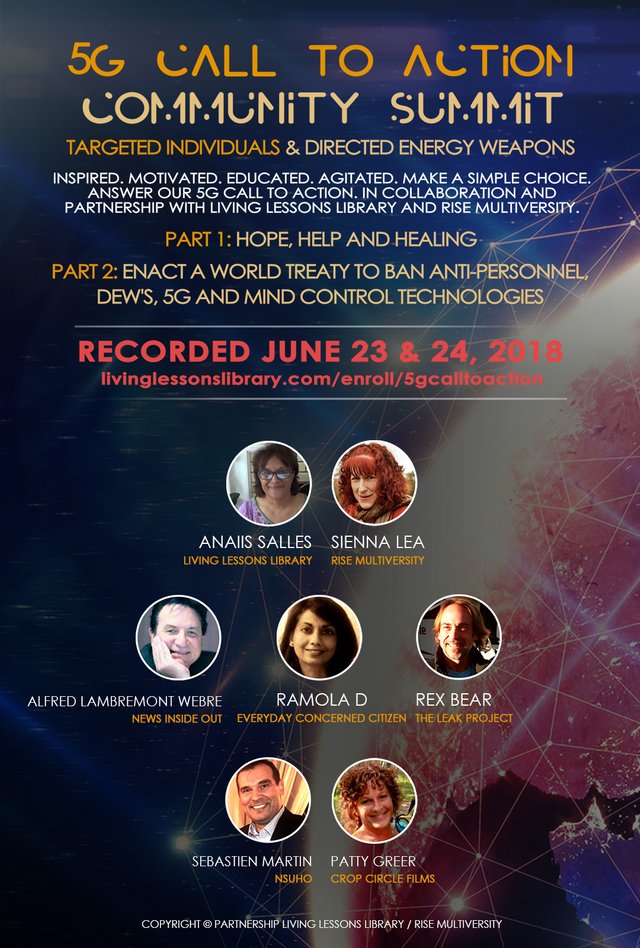 ~ Adrian & The 5G Summit Team.

PS. Stay tuned for more updates on upcoming calls to action, things you can do with your local community and future events.​ 

JOIN US
http://www.livinglessonslibrary.com/enroll/5gcalltoaction

__________________________________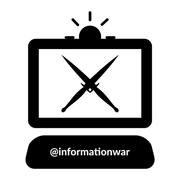 Information War @informationwar
#informationwar
https://discord.gg/EzAwQeb



You Are Hope @youarehope
#youarehope
https://discord.gg/KAuEuW




OP Gamers @opgaming
#opgamers
https://discord.gg/vcNjCM  
__________________________________