by revoltingpeasant 1 June 2K18
According to a BBC report Ukrainian President Petro Poroshenko paid US President Donald Trump's lawyer Michael Cohen $400,000 to set up 'back-channel' talks between himself and Trump. Cohen is not registered as a Ukrainian agent under FARA (Foreign Agents Registration Act).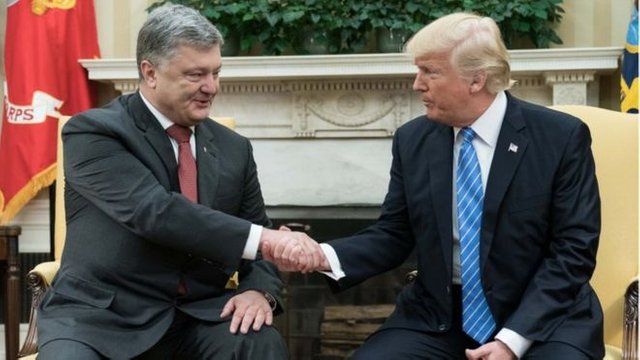 Ukrainian President Petro Poroshenko and US President Donald Trump
photo from BBC
A senior Kiev intelligence officer said that convicted mobster and former Trump business partner Felix Sater helped Cohen set up the meeting.
At the time the Ukrainian National Anti Corruption Bureau was investigating Trump's past campaign manager Paul Manafort after Manafort was headlined in the New York Times as having received millions of dollars from Russian interests. Subsequent to the meeting between Poroshenko and Trump, Ukraine dropped its investigation of Manafort although it isn't clear if there is a connection.