You may remember (I don't, I wasn't alive) a time when the media and "scientists" were raging about global cooling (Newsweek & Time Magazine), which then later became global warming, and has now morphed int Climate Change. This is a logical fallacy called special pleading, also referred to as moving the goalposts. When your argument can't hold up against counterpoints, you shift your argument until it eventually becomes unfalsifiable... Since the climate is ALWAYS changing, you would have to be an idiot to argue against Climate Change.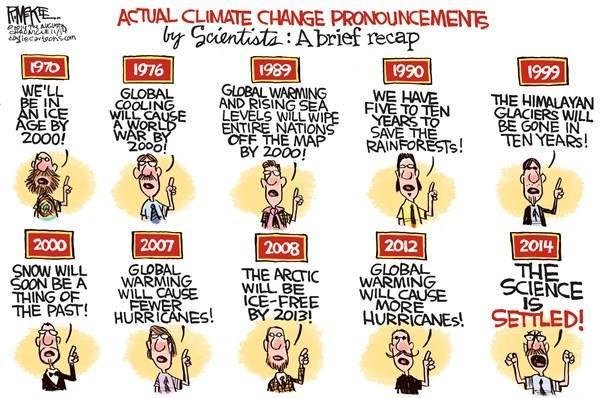 Image Source
---
Before I get started
I want to preface this whole article by saying that I do believe that the human race is doing many things that are extremely stupid, and are causing damage to our own life support systems. However, unlike the Climate Change narrative, I do not believe:
That "climate science" is in any way scientific. Grants & Sponsorships decide which research happens, and the same narrative is produced no matter the results (as demonstrated below)
CO2 emissions are having a negative effect on the planet (as demonstrated below)
The Earth's change in temperature is majorly impacted by human factors
The centralization & extension of political power is EVER the answer
I'm going to just walk us both through some of the major arguments & talking points brought up around this topic, and show how the media & governments have consistently pushed the same narrative regardless of the scientific results.
---
What got me started on this
I was recently having a conversation with my younger sister and our mother's husband about science in the modern world, "Climate Change", and how these are major control mechanisms of a small number of humans who are pushing their wills on the world (Agenda 21/Agenda 2030, "Carbon Taxes", depopulation, and absolute control over humanity). Since I was making references to some things that I hadn't memorized, I went back to find the videos by @corbettreport that I had found most useful on the topic: What Is The Average Global Temperature? & Orwell's Nightmare: Temperature Adjustments and Climate Change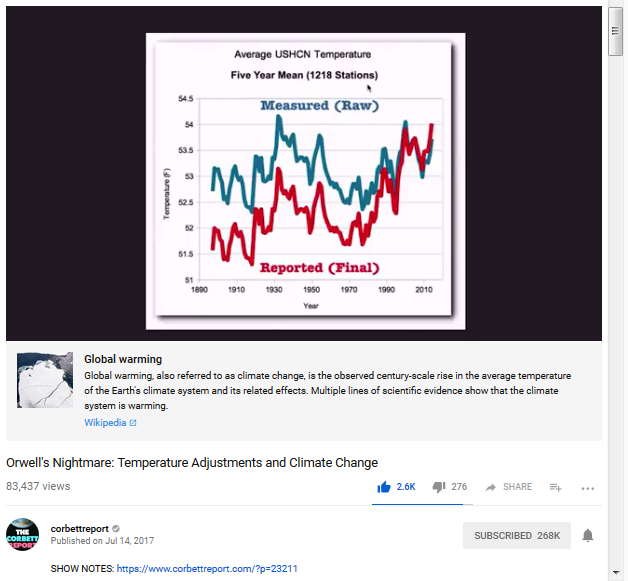 Notice something fishy there?
As I started hopping around checking out other videos on this topic and finding more resources, I noticed that every video has this same banner from Wikipedia, for their Global Warming article. Gee, that preview of the article sure makes it sound like this is the sort of thing where the results are in and nobody has any evidence to the contrary, huh?
I'm sure it's just a coincidence that this same banner has been placed on all of these videos that don't fit the NWO agenda to use climate change as the problem in their biggest ever Problem-Reaction-Solution scheme. Coming back around to that, the graph on-screen when I took that screenshot is a representation of how select governmental agencies are playing with the numbers to fit an ideology & an agenda.

---
They're changing the historical figures
"Who controls the past controls the future. Who controls the present controls the past." ~George Orwell
The main focus of the two @corbettreport videos I mentioned before was simply the "adjusting" or "correcting" of historical climate data that has been going on for a couple decades now. By slightly fudging the old numbers down a bit, the trends seem much more severe than they actually are. Like I said, he did an AMAZING job laying this out through these two videos (around 45 minutes total), and each one contains the complete show notes (as always) with the research to back up the claims. Rather than attempting to condense this stuff down too much more, I'm going to include the videos here:
(Show Notes)
---
Remember ClimateGate?
Climategate was that moment, almost a decade ago, when the undeniable evidence that much of "Climate Science" had been a complete fraud, was released to the public thanks to a FOIA request (Freedom of Information Act). Conveniently, folks who defend the idea of Climate Change generally seem to forget this ever happened.
The following is from the introduction of a report called The Climategate Emails, by John Costella, in which he presents (unedited & raw) some of the most important emails of the leaks. You can find the full leak (60 MB+ of emails) here on Wikileaks
Climategate began on 19 November 2009, when a whistle-blower leaked thousands of emails and documents central to a Freedom of Information request placed with the Climatic Research Unit of the University of East Anglia in the United Kingdom. This institution has played a central role in the "climate change" debate. Its scientists, together with their international colleagues, quite literally put the "warming" into Global Warming: they were responsible for analysing and collating the various measurements of temperature from around the globe and that, going back for many years, collectively underpinned the central scientific argument that mankind's liberation of "greenhouse" gases—particularly carbon dioxide—was leading to a relentless, unprecedented and ultimately catastrophic warming of the entire planet.

...

Climategate has shattered that myth. It gives us a peephole into the work of the scientists investigating arguably the most important issue ever to face mankind. Instead of seeing large collaborations of meticulous, careful, critical scientists, we instead see a small team of incompetent scientists; abusing almost every aspect of the framework of science to build a fence around themselves and their fellow activists, to prevent real scientists from seeing the shambles of their "research". Most people find it impossible to believe that this could have happened; and it is only because "climate science" exploded from a relatively tiny corner of academia into a hugely funded industry in a matter of a few years that the perpetrators were able to get away with it for so long.

...

An increasing number of highly qualified scientists slowly began to realize that the "climate science" community was a façade—and that the vitriolic attacks upon the sensible arguments of mathematicians, statisticians, and indeed of scientists using plain common sense were not the product of scientific rigour at all, but merely attempts at self-protection at any cost. At this point the veil began to lift on what has arguably become one of the greatest scientific frauds in the history of mankind.

This is one of the darker periods in the history of science. Those who love science,
and all it stands for, will be pained by what they read below. However, the crisis is
here, and cannot be avoided.
---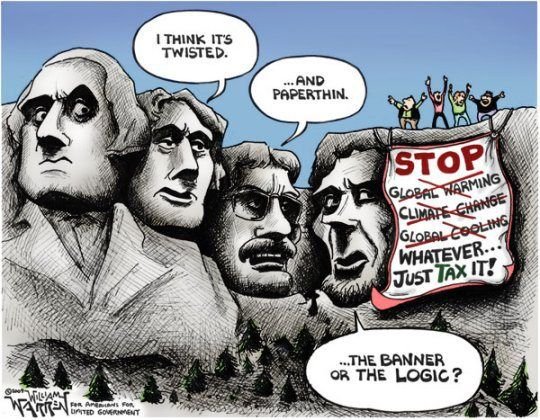 Image Source
---
Let's talk CO2
You have probably noticed that most Climate Change talking points focus on CO2 (which is often referred to as simply "carbon", but carbon exists in MANY other forms, and in MASSIVE concentrations on this planet (in things like the bodies of every mammal)). Part of the reason for this vagueness is because everyone has heard of the dangers of carbon monoxide, and if you just say carbon many won't realize that what's being talked about is carbon dioxide, which has nowhere near the same effect.
There is also this implication that somehow CO2 is bad for the planet... Forgetting somehow that every single plant (what we ALL require to survive) live on CO2. This video shows what an effect higher CO2 levels can have on plant growth (the lower level they used is still higher than the average for the planet today).
As you can see in the video (and as common sense would tell you), plants will thrive with more CO2 in the air, which leads to larger crops, shorter time to harvest, etc. In reality, the low CO2 levels in the atmosphere over the past millennia have led to massive plant die-offs.
The decline of atmospheric carbon dioxide over the last 65 million years (Ma) resulted in the 'carbon dioxide–starvation' of terrestrial ecosystems and led to the widespread distribution of C4 plants, which are less sensitive to carbon dioxide levels than are C3 plants.

Carbon dioxide starvation, the development of C4 ecosystems, and mammalian evolution, published by The Royal Society, 1998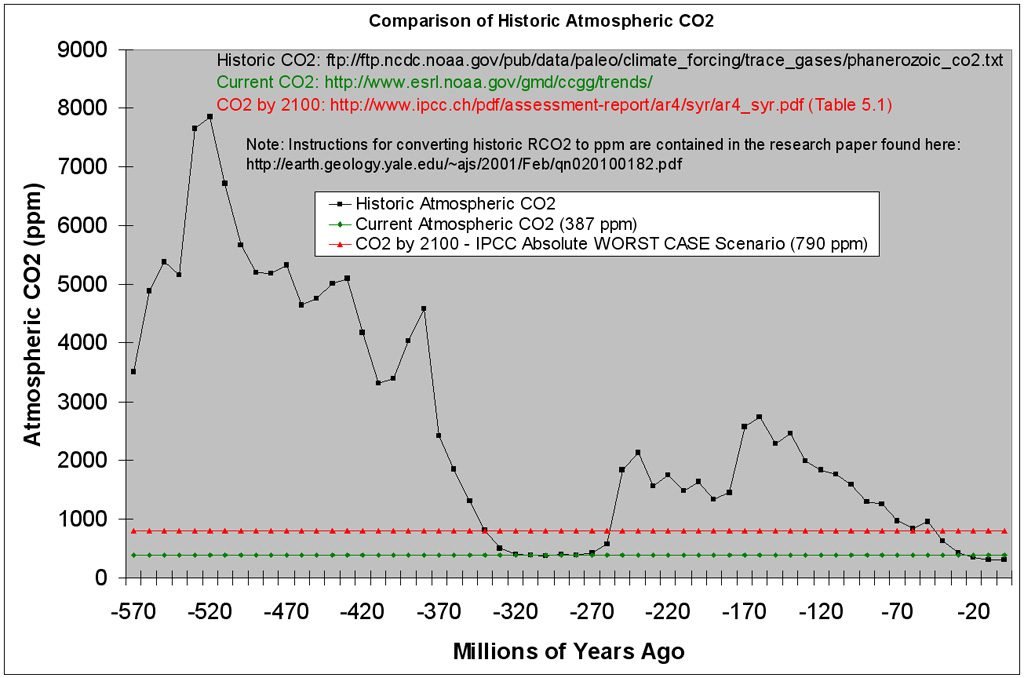 We've actually already started to see the positive effects of higher CO2 concentration in the air, including greening of deserts:
...it illustrates that higher concentrations of atmospheric CO2 induce plant water saving and that consequent available soil water increases are a likely driver of the observed greening phenomena. Our results support recent modeling work showing higher vegetation WUE and higher maximum vegetation cover under CO2 enrichment in warm and dry environments

Elevated CO2 as a driver of global dryland greening, published by Nature, 2016 (Lu, X. et al. Elevated CO2 as a driver of global dryland greening. Sci. Rep. 6, 20716; doi: 10.1038/srep20716 (2016))
Just for added effect, here is another video focused entirely on atmospheric CO2, the historical numbers, and the correlation to temperatures.
---
But 97% of scientists agree!
One of the biggest arguments that AGW (anthropogenic global warming) alarmists use to defend their stance (and usually the only statistic they ever have to offer) is their claim that 97% of climate scientists agree on this issue. This defense is referred to as "scientific consensus", and there are two main problems with this...
First of all, consensus has NOTHING to do with science. It literally does not matter if all but one human on the planet agree to something, if the SCIENCE (replicable experiments) does not align with what those people agree on, then those billions of people are wrong. Consensus or agreement has nothing to do with the scientific method, and in actuality scientific advancements almost always go against the consensus.
Secondly, and much more importantly for this particular argument, is that the 97% consensus is completely untrue, based on a fraudulent "study" (no research was done, actual studies were skimmed and categorized (most incorrectly)). Just like all the ClimateGate leaks, this is absolutely public knowledge, and the scam was covered by EVERY news source about 5 years ago when the story broke: Forbes, Wall Street Journal, National Review.
John Cook (owner of Skeptical Science [a 100% propaganda website]) is the one who released the paper which introduced this 97% number. They went through over 12,000 peer-reviewed papers, worked some magic, and their final claim was "Among self-rated papers expressing a position on AGW, 97.2% endorsed the consensus"... Sounds pretty definitive huh?
They also mention right at the beginning of their paper:
"We find that 66.4% of abstracts expressed no position on AGW"
Ok, so at the very most, there is can be no more than a 33.6% consensus based on their research... a pretty big difference from 97%. It gets even better though, they weren't just selected studies that specifically say that they support and deny AGW (or to what extent), their team was actually making their own interpretations & assumptions (Cook had set the whole thing up as a sort of game). Even with an unbiased, honest team, this is not science by any measure of the imagination... and that's certainly not what was had here.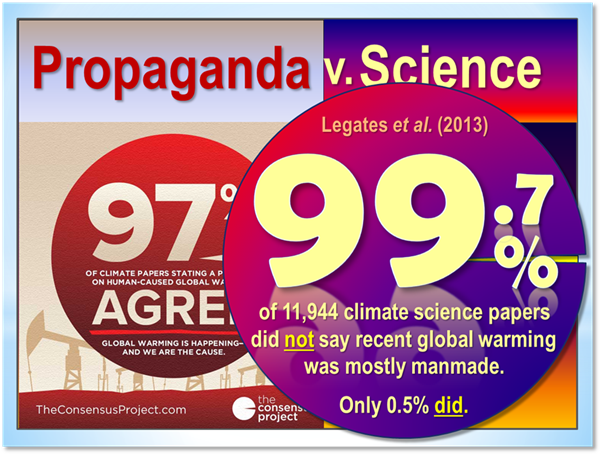 Image Source
Popular Technology were the first to really examine this so-called consensus, and here are some quotes from scientists whose research was listed as part of that 97% consensus:
Craig D. Idso: "That is not an accurate representation of my paper. The papers examined how the rise in atmospheric CO2 could be inducing a phase advance in the spring portion of the atmosphere's seasonal CO2 cycle. Other literature had previously claimed a measured advance was due to rising temperatures, but we showed that it was quite likely the rise in atmospheric CO2 itself was responsible for the lion's share of the change. It would be incorrect to claim that our paper was an endorsement of CO2-induced global warming."
Nicola Scafetta: "Cook et al. (2013) is based on a straw man argument because it does not correctly define the IPCC AGW theory, which is NOT that human emissions have contributed 50%+ of the global warming since 1900 but that almost 90-100% of the observed global warming was induced by human emission"... "What my papers say is that the IPCC [United Nations Intergovernmental Panel on Climate Change] view is erroneous because about 40-70% of the global warming observed from 1900 to 2000 was induced by the sun."... "What it is observed right now is utter dishonesty by the IPCC advocates… They are gradually engaging into a metamorphosis process to save face. … And in this way they will get the credit that they do not merit, and continue in defaming critics like me that actually demonstrated such a fact since 2005/2006"
Nir Shaviv: "Nope... it is not an accurate representation. The paper shows that if cosmic rays are included in empirical climate sensitivity analyses, then one finds that different time scales consistently give a low climate sensitivity. i.e., it supports the idea that cosmic rays affect the climate and that climate sensitivity is low. This means that part of the 20th century [warming] should be attributed to the increased solar activity and that 21st century warming under a business as usual scenario should be low (about 1°C)."... "I couldn't write these things more explicitly in the paper because of the refereeing, however, you don't have to be a genius to reach these conclusions from the paper,"
Nils-Axel Mörner: "Certainly not correct and certainly misleading. The paper is strongly against AGW [anthropogenic global warming], and documents its absence in the sea level observational facts. Also, it invalidates the mode of sea level handling by the IPCC."
Willie Soon: "I am sure that this rating of no position on AGW by CO2 is nowhere accurate nor correct"... "I hope my scientific views and conclusions are clear to anyone that will spend time reading our papers. Cook et al. (2013) is not the study to read if you want to find out about what we say and conclude in our own scientific works"
Well, since it's publicly available that the "97% consensus" is a fabrication, why do so many people still believe it?
Interesting, isn't it? This "study" was completely debunked years ago, and yet you still hear the 97% claim being thrown around by most alarmists. Why is that, were they not paying attention when the announcements were made, when Obama apologized for his tweeting of that non-fact? Let's check out NASA's website and see how they apologize for the deceit, shall we?

Well that's not promising... Maybe there were other, non-fraudulent studies done that somehow came to the same consensus?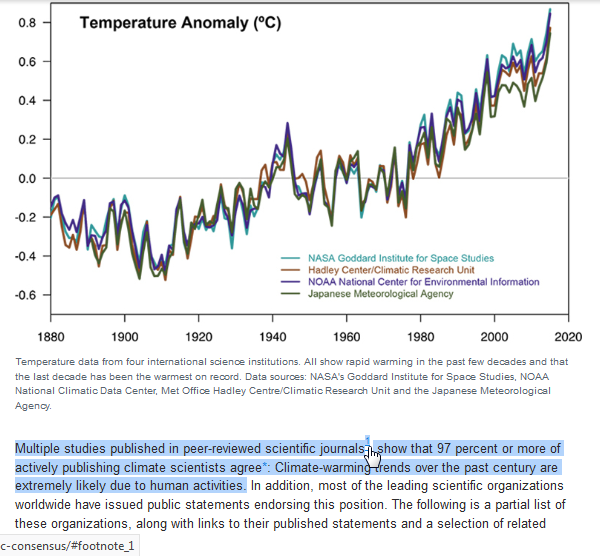 You'll recognize this graph as the one that has been "revised" multiple times, always making the past cooler so the trend seems to be towards warming. (Scroll back up to They're changing the historical figures if you don't know what I'm talking about)
Let's take a look at the section of text that I highlighted, where they explain the consensus:
"Multiple studies published in peer-reviewed scientific journals show that 97 percent or more of actively publishing climate scientists agree: Climate-warming trends over the past century are extremely likely due to human activities"
Ok, there are some trustworthy-sounding things in here: "multiple studies", "peer-reviewed scientific journals", "...actively publishing climate scientists". However, if you think about it, this wishy-washy language sure sounds a lot like the Cook "study". Let's scroll down and check their resources; as you can see right where my mouse cursor is in that last screenshot, this statement is labeled as reference #1...

Anyone surprised?
---
To Be Continued...
Please dig through these documents & videos, challenge my findings, let's have a conversation here... I'm stopping for now, and will be back after the weekend with part 2, where I'll focus more on the main factors of atmospheric pollution, why they are ignored by the Climate Change movement, the effects of geo-engineering policies on the climate, some of the main talking heads and where their personal financial investments show that they cannot possibly be considered remotely unbiased, and the larger-scale centralization & globalization agenda that the Climate Change movement is used as a tool to advance.
---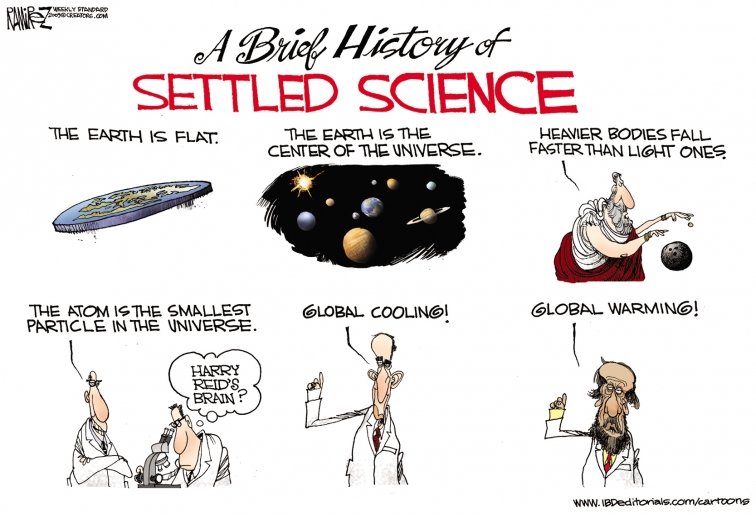 Image Source
---
---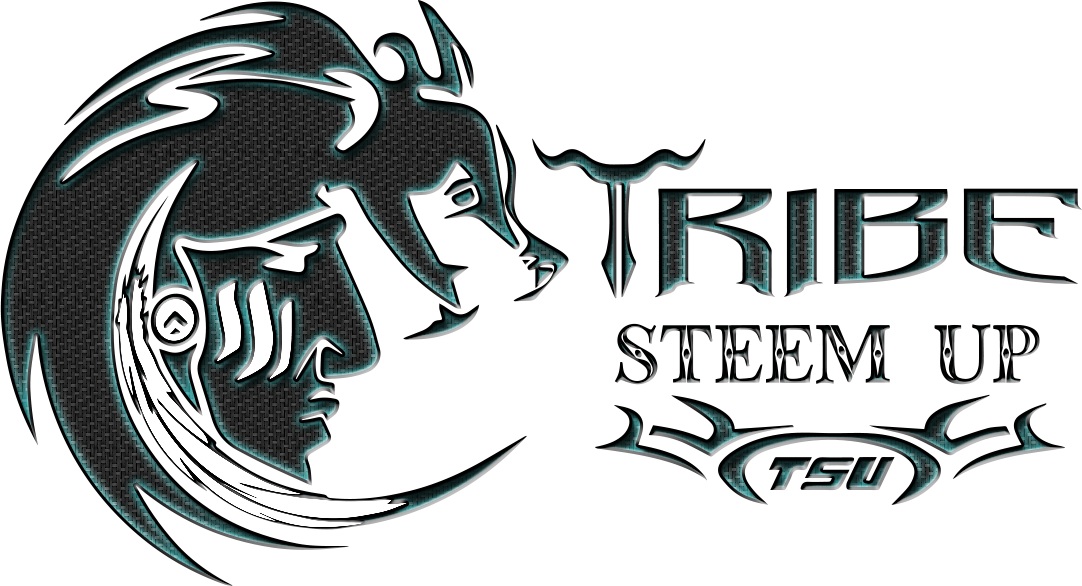 ---
---
If you enjoyed this, you may enjoy some of these highlights of my blog:
"Greatest Hits/Table of Contents" of my first 2 years on Steemit
You've Created Your Steemit Account and You're Ready to Get Started... What Now? [New Steemians Start-Up Guide]
The 8 Pillars of @TribeSteemUp: Clarification, Refinement, and Re-Casting the Spell
The Status, Vision, and Needs of Real Life: The Role-Playing Game
Be Empowered Official Announcement & Website Launch - 3 Days of Steem-Powered, Holistic Empowerment
---
---