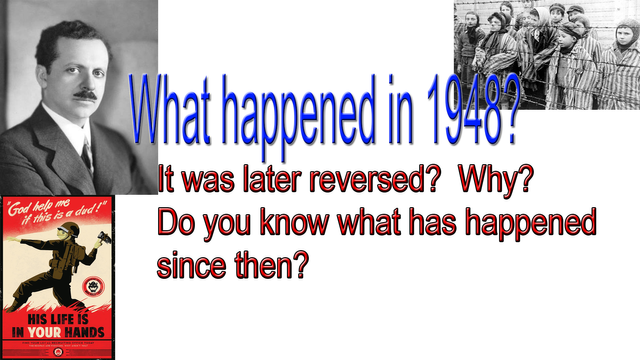 After the 1790s the term propaganda began to appear which was simply based upon the Latin word meaning "TO SPREAD". In the 19th century it began to be viewed as a negative thing as it was seen to have entered secular religious and political debate. Most people likely don't know much of the earlier existence and use of the term.
It gained immense fame/infamy when Edward Bernays published his book Propaganda in 1928. He had published an earlier book Crystallizing Public Opinion in 1923.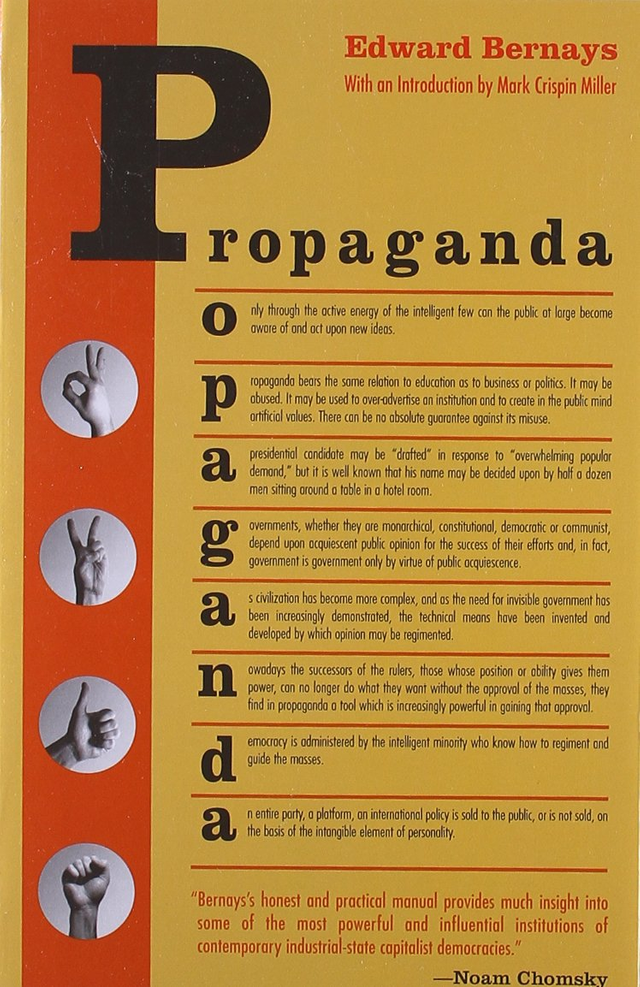 Essentially these were all psychological approaches to controlling and manipulating mass opinion. It had nothing to do with whether that manipulation could be seen as good, or bad. It was purely HOW TO DO IT.
It became a huge factor implemented by Joseph Goebbels and it was also implemented in Russia by Stalin, Lenin, etc. We also used it in the United States.
The Nazis became the early seeming masters of it, though we are far beyond their capabilities of using these techniques.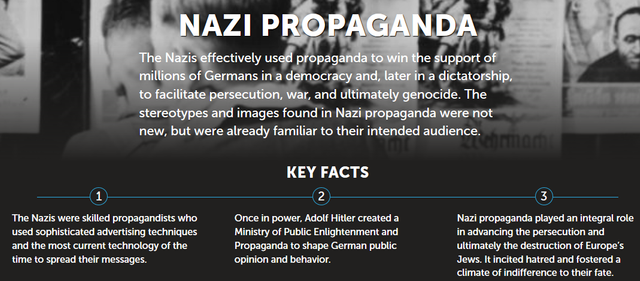 Let me highlight that third point in the image above and I'd like you the reader to keep that information in the back of your mind.
Nazi propaganda played an integral role in advancing the persecution and ultimately the destruction of Europe's Jews. It incited hatred and fostered a climate of indifference to their fate.
For emphasis "It incited hatred and fostered a climate of indifference".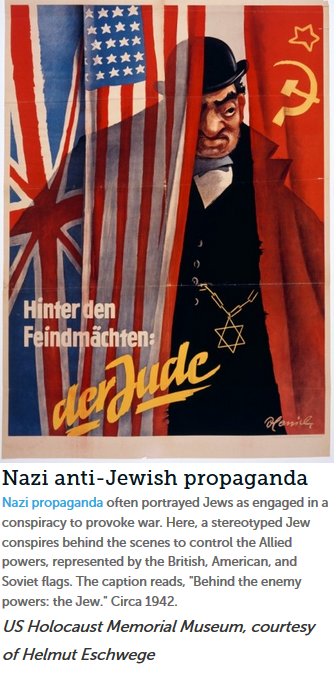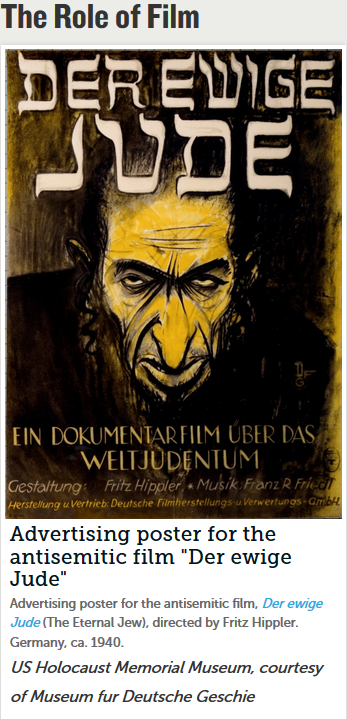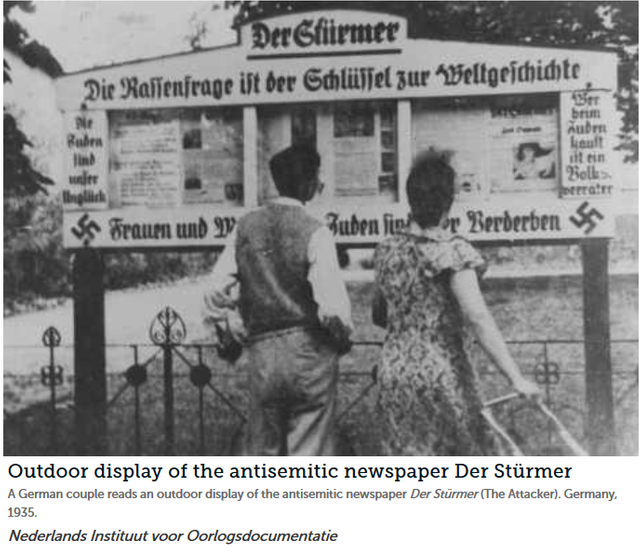 Now those images are from a website on Nazi Propaganda I linked to above. I'd like to point out a few well known Nazi quotes that I consider very relevant these days.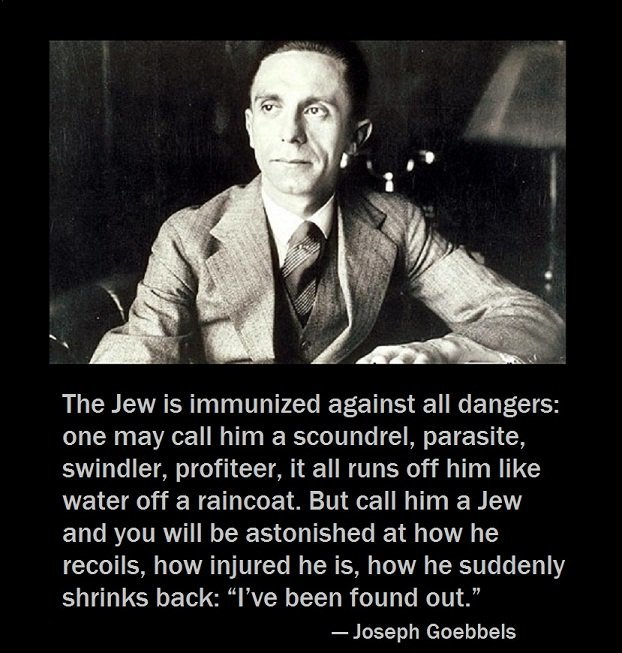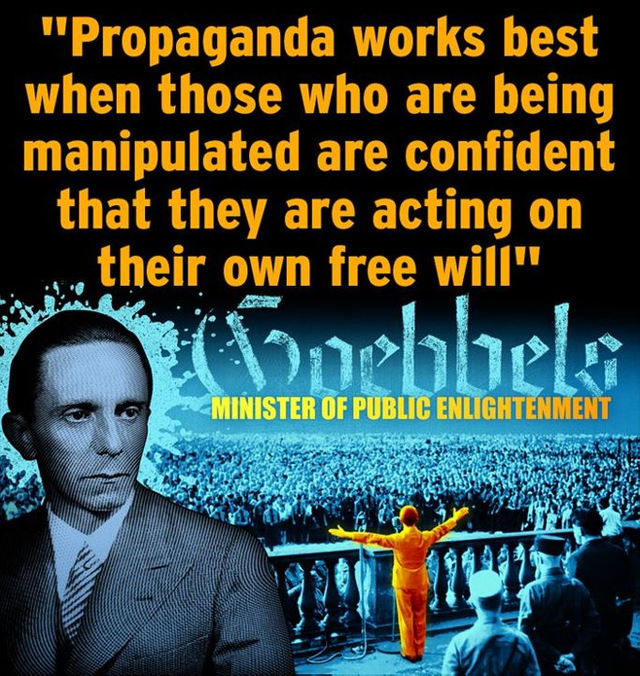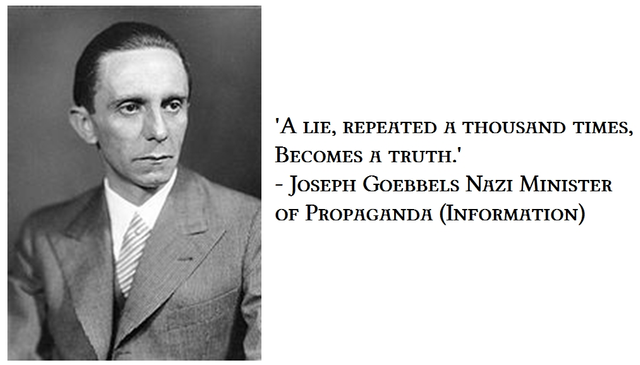 That one in particular... "A lie repeated a thousand times, becomes a truth."
Keep that one in mind as well. Also recall propaganda techniques were psychological techniques that were found to work on the masses. The masses don't have any idea they are buying into the propaganda. If they did. It wouldn't work.
The following is not Nazi it is Aldus Huxley but the quote is worth thinking about.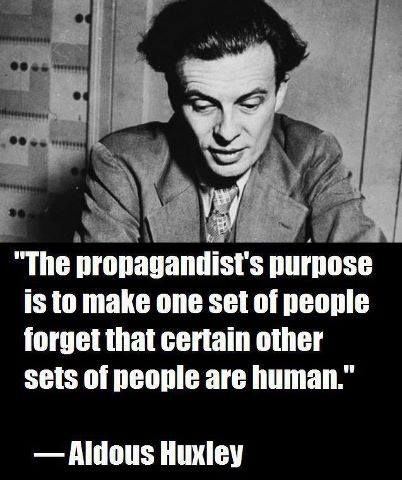 "The propagandist's purpose is to make one set of people forget that certain sets of other people are human."
Think about that...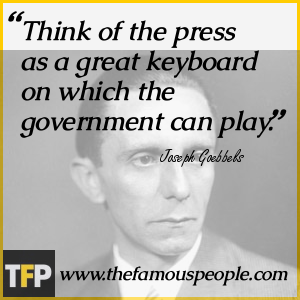 Or from the Nuremberg Trials.
The cleverest trick used in propaganda against Germany during the war was to accuse Germany of what our enemies themselves were doing.
This has lead to a quote that even I have said before that is a Goebbels quote when really there is no proof of that. I believe it is likely a misquote of that quote from the trials above. It is this one.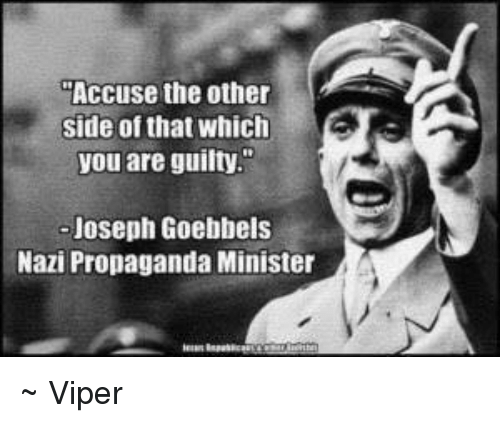 "Accuse the other side of that which you are guilty."
Now keep in mind this was not just being used by the Nazis. It was being used by most and possibly all nations. It was a big deal for those who wanted to control the populations. Propaganda.
Let's get to why I wrote this post.
What happened in 1948?
In 1948 the United States passed U.S. Information and Educational Exchange Act of 1948 (Public Law 80-402) which is also known as the Smith–Mundt Act.
It had many provisions and debated points which you can read at your leisure from the link above. The key thing is it was designed to prevent the rise of a NAZI like Propaganda system within the United States government to manipulate the people.
The tactics of dehumanizing targets.
Making it thus okay to say, and do things to them people normally would not consider okay.
The manipulation and harnessing of hate.
The intentional creation of division.
These things were done by the governments THROUGH the media.
Book burning in the time of the Nazis was also important to this so no literature contradicting the desired narrative could be pointed at. The communists uprisings also burned literature, and destroyed/altered history so their narrative could not be challenged. This is actually one of the corner stones of Cultural Marxism. Redefine words, rewrite or erase history, so it supports the narrative they want people to believe. Make the FICTION real. Hide reality.
What happened in 2012?
Obama signed into law the legalization of propaganda. Reversing the purpose of the Smith-Mundt Act.
(first posted in Feb.) First time since 1948, propaganda is now legal in the U.S.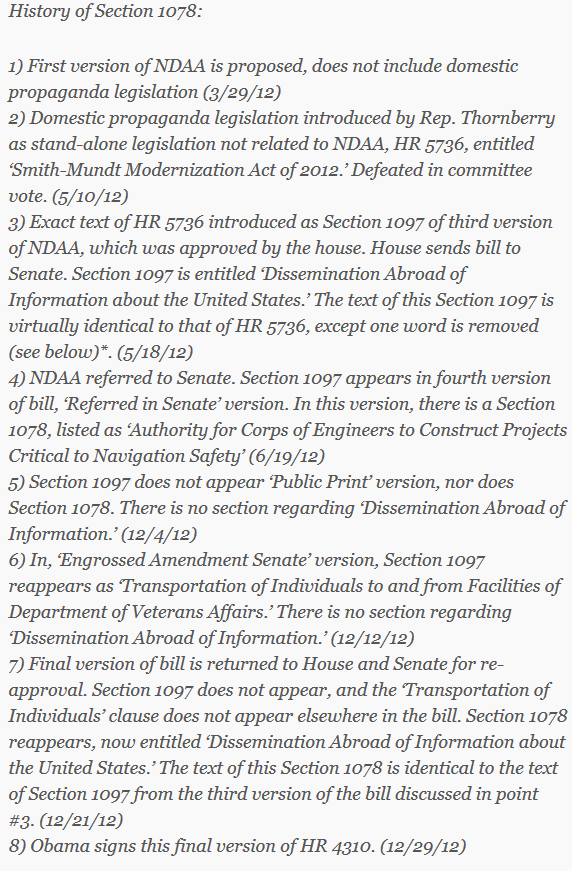 Why do you think Obama and others would go along with this?
Do you realize any fetters against propaganda were removed at that time. This would have been a little over a month after Obama was elected to his 2nd term. His entire 2nd term and beyond there were no restrictions on propaganda.
Think about that...
What do they want you to believe?
Remember some of the things I told you to keep in your mind...
Nazi propaganda played an integral role in advancing the persecution and ultimately the destruction of Europe's Jews. It incited hatred and fostered a climate of indifference to their fate.
Black Lives Matter began in 2013. It was given vast coverage and rammed down people's throats with massive amounts or emphasis and repetition.
Were there some problems? Sure. Yet not the way they were framed and they were vastly better than they had been in the history of the United States. In fact, racism was not really something people put a lot of emphasis on until after BLM and a sudden surge of emphasis on racism kept being reported. If they could find anything that could be used to fuel this image it would be given tons of coverage. If there were incidents that did not support this narrative they would receive little to NO coverage. This continues to this day.
I always found it quite revealing that when you would nod and say "All lives matter" you would get attacked for diluting their message. That left me wondering what their message is. To me it seems to foster division. If division is fostered it will make the problems they claim to be fighting worse, not better. "All Lives Matter" on the other hand was unifying. It was about realizing that crimes and injustices committed against ANY of us should be fought. We'd stand behind people whether they were black, white, brown, etc. Yet they claim it was diluting their message. It was diluting the attempts to divide perhaps. It was diluting the chances to bring back segregation perhaps. It was diluting the hatred being focused on those not deserving of it and putting the focus on injustices against all. Yet that was not an acceptable narrative. It is not even today.
"The propagandist's purpose is to make one set of people forget that certain sets of other people are human."
In the short time since this push began there has been a huge ANTI-WHITE explosion. There are an increasing number of people that don't believe you can be racist against a white person. They clearly either have no clue what racism is, or they are choosing to be willfully ignorant and apply it only when it is convenient to them.
I wish to be clear here as the author of this post. I do have a strong bias against people that choose to be willfully ignorant. People that choose to believe the lie and/or act as if the lie is true even when they encounter something that shows the lie for what it is. I am biased and I'd even say if there are people I hate. Those are the one. You see being willfully ignorant is a choice. It is not something they were born with and had no choice. I don't hate stupid people, I don't hate people for their ideologies. I only hate those who knowing it is wrong choose to believe it any way. They are a cancer on society as far as I am concerned. That bias may taint some of my work. It is the only true bias against people I have. There are ideas and ideologies I am very much against, but those are not people. Those are ideas. People can CHOOSE which ideas to follow, and they can change their mind. So I don't hate people for their ideas unless they know the idea is wrong and they choose to follow it anyway.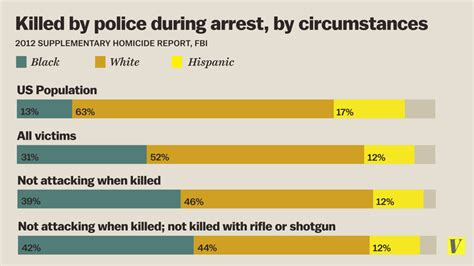 What the Nazis did to the Jews has been done to WHITE. Dehumanize. It is thus okay to do anything to them. It has spilled far beyond the borders of the U.S. and in South Africa right now it is being used to justify full on Nazi like purges, thefts, and murders.
It is 100% racism. Unless a person has no clue what the definition of racism is, or they are choosing to be willfully ignorant.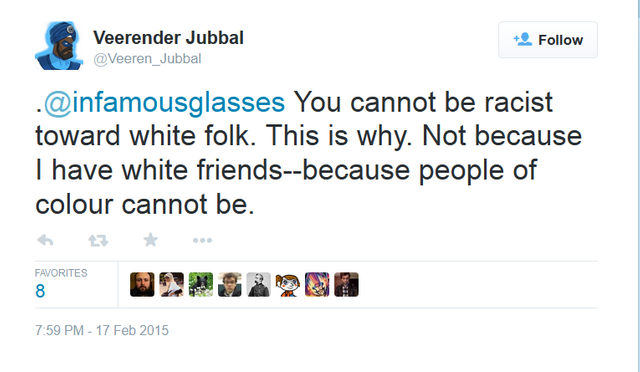 Isn't it interesting that ALL of this began after Obama (First Black President though technically his mother was white) signed a bill removing restrictions on propaganda into law in late 2012?
I think it is very telling.
"A lie repeated a thousand times, becomes a truth."
This one happens a phenomenal amount. It is highly effective as most people don't want to research. They have other things they would rather be doing. They simply want the "trusted" media source to tell them what they should believe.
The media obliges.
(
I don't like sourcing Youtube... but I haven't found videos like this outside of youtube yet.
)
There are some recent examples of this too, but I don't have a link to them or remember what to search on at this time. I am certain there will be plenty of future examples.
These days it does a ton of LYING, yet if you don't look for evidence how would you know?
One of their favorite targets is Trump. In fact the entire agenda for the Democrats and most of the media seems to revolve around a single topic "Hate Trump".
They will even give Senator John McCain the most elaborate and covered funeral and services in U.S. History simply because they knew he "hated Trump" along with a number of other people. McCain was a very hateful guy and had plenty of hate to dish around. Even from beyond the grave. Since he was a Republican (in name only) he was particularly popular due to his open hatred of Trump. That is the narrative the media wants to portray.
They have done a good job as most Trump supporters don't feel safe expressing their support in public. To support the elected president openly can lead to hatred against you, running out of restaurants, being spit on, maced, hit with bike locks, CENSORED, fired, and otherwise treated in dehumanized ways.
The cleverest trick used in propaganda against Germany during the war was to accuse Germany of what our enemies themselves were doing.
Now these people that as far as I can tell that seem to be giving into the propaganda control that has grown since 2012 will call anyone that disagrees with them Nazis, Racists, and will challenge them for HATE SPEECH. Yet they are not the ones speaking with hate.
They'll talk about Trump inspiring HATE and DIVISION which if you watch or read the transcripts to his State of the Union addresses it is clear he is trying to do exactly the opposite of that.
The media, as well as Trump's political opposition on the other hand seem to be doing everything they can to intensify the amount of HATE and DIVISION in our society. The media that could help heal these wounds instead dumps gas on the fire.
It is very obvious once you first notice it. Once you notice it, you cannot unsee it. You cannot forget it. Well technically I supposed you can if you choose to be willfully ignorant.
Propaganda is alive and well and is being used in an unprecedented fashion.
The book burning in the modern era has begun as well.
Censor anyone that challenges the desired narrative. If you can't defeat them with logic, reason, and good ideas then simply make it so their ideas and messages cannot be heard. Pure propaganda.
Use propaganda to say things like "They are private companies so it is okay" from people that technically often are endorsing communism, cultural marxism, etc. so they are usually against "private companies" except when it is convenient to their narrative.
Yet this misses the point that these business got their start promising a neutral community and platform of ideas. As such they receive protection from liability for things people say on their platform. As soon as they start deciding which ideas should be allowed, promoted, etc they are no longer neutral and that liability protection should cease to exist.
Furthermore when something becomes so pervasive it impacts all of our lives and that impact cannot be realistically be avoided, much like the creation of the printing press, or utilities like phones, electricity, etc. Then removing it from those that have ideas you may not like becomes an overt violation of the first amendment (aka freedom of speech and expression). Furthermore when multiple private entities all within hours of each other pull off coordinated censorship and violation of the first amendment in what could clearly constitute a criminal endeavor they become what we have a name for when talking about different organizations that all COLLUDE/CONSPIRE to a common goal. We call them CARTELS.
I could go on about this for some time. I do want to part with a few important things. I'll try to keep them short. I usually fail. If you keep the things I talked about above in mind I can likely achieve that.
Alex Jones was targeted.
Sandy Hook and him claiming he said "no one died at Sandy Hook" are repeated over and over again.
Have you seen him say that? I haven't been able to find anything and I've looked.
I've seen him many times say "They keep saying that I said no one died at Sandy Hook". I can find cases where the video was edited and the "They keep saying that I said" from the video so all that remains is "No one died at Sandy Hook." So it was a lie in those cases, and intentional. It was pure propaganda. When I ask for evidence these days people will link me to some reporter, some publisher, etc and the article will talk about the existence of the evidence. Yet they never show it. If they have it, why don't they show it?
Now throw into this that he has gone to court over this. They view the videos that are submitted as evidence in court and the cases get thrown out. Why? Because they don't show him saying that. They show him NOT saying that.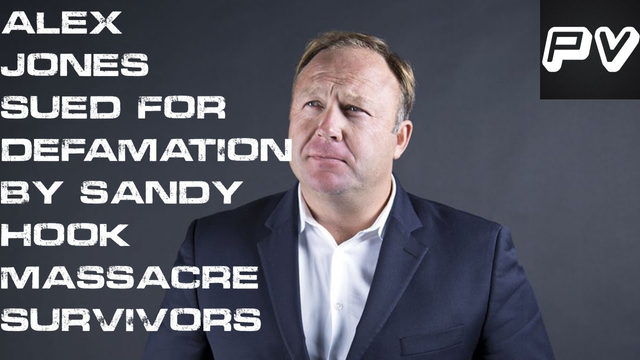 Yet the media continues to REPEAT THESE LIES over and over again.
To the masses they are manipulating with this propaganda these repeated lies are now TRUTH.
They do this to many people beyond Jones. Jones and Trump just seem to be the most obvious.
Please remember one thing. We are supposed to be a nation of laws. "Innocent until proven guilty" NO ONE should be treated as guilty no matter how much you personally may dislike them until EVIDENCE is provided to prove that without reasonable doubt. Many people are being tried in public opinion these days based purely on allegations and having their lives ruined. That is NOT a good thing.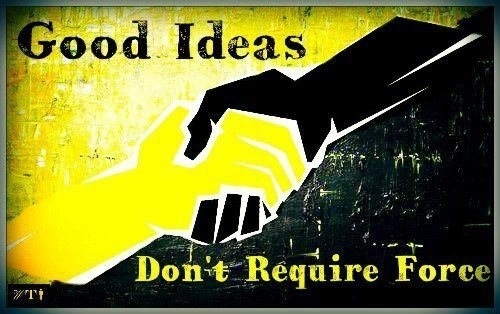 Good ideas do not require force.
EDIT: It should also be noted that Trump doesn't control the propaganda. His sole outlet that gets coverage is twitter. The rest he must do by going direct to the people. So if he doesn't control the propaganda, what message do those that control the propaganda want you to blindly believe? Who do they want you to hate? Who have they dehumanized? Who do they accuse of things they themselves do?