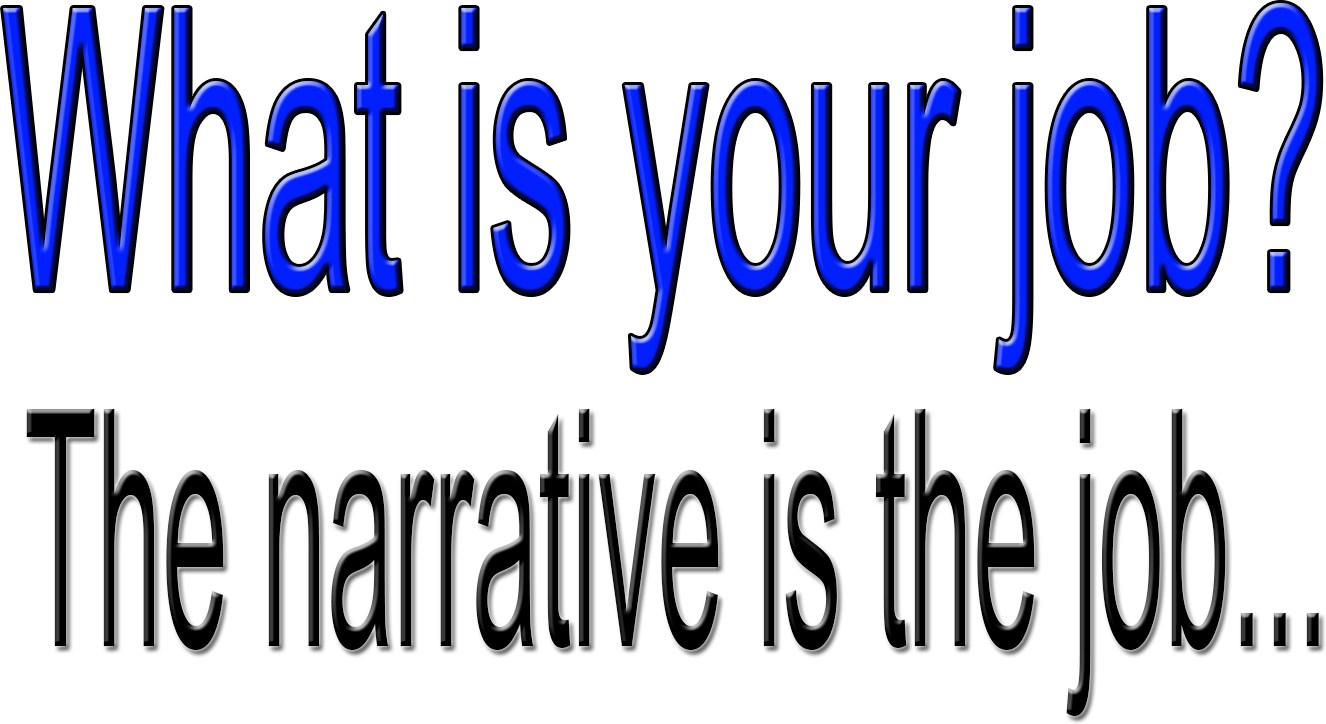 As I was writing that post a few minutes ago I indicated I likely had forgotten some of the magic from when the idea was a fire in my mind. Indeed I had.
I had totally forgotten the main thought for that. It actually wasn't a thought about the things I wrote in the other post. Those things do qualify, but they really were not my profound realization.
My actual thoughts that lead to "The narrative is the job..." were really based around people I respect.
I noticed that some people are much wiser than I am when it comes to being successful. They pick a narrative, they talk endlessly about that narrative, and they master it. Their narrative could very well be a good one and often they are. Yet I have noticed they don't stray far from that topic. Talking about this one topic from a particular perspective becomes something they master. They become the guru for that topic.
At heart I consider myself a voluntaryist, an Anarcho-Capitalist, or a minarchist, or even a Libertarian depending upon what step towards freedom we have managed to achieve. I am always an advocate for voluntaryism, but I also acknowledge the realities of the world I currently live in rather than just deciding I am going to pretend my Utopia already exists and that I should live as if it does. That wouldn't get me very far in reality though I might be able to virtue signal a lot, and I might feel better about myself.
Though I also am interested in a huge variety of topics, and I am one of those people that thinks "variety is the spice of life" often as I explore books, games, videos, ideas, food, etc. I don't master any particular topics and I don't necessarily stick to a narrative. In fact, in my journey if I find something wrong with an idea that I liked to talk about in the past that I cannot reconcile I'll learn from it and not continue talking about that unless someone else brings it up.
There are people that are masters of their narrative. Watching them to me they approach talking about the narrative like a job. They are focused, they do their job, and outside of that narrative we don't know much about them. That part of their life is private.
Larken Rose
I love the works of Larken Rose. I've learned a lot from watching his videos and reading his works. Over time though I think I GET IT. I am not really learning much new from Larken. This is NOT a bad thing. It is sad for me personally as I'd like to see some other ideas from him. He is a master of the narrative he uses to wake people up to certain ideas. As such he is an invaluable asset to the world. He helped me. He is now lwithout a doubt helping others. Yet I realized he seems to be in a tunnel of a specific narrative. That is where he works. That is where he operates. The narrative is his job. Unlike many people I know he believes that narrative completely. I do too. I share that vision. He helped my proverbial prescription improve early in my journey. (
@larkenrose
)
He is a good example that often comes to my mind though when I was heading towards this "narrative is the job" idea. He has focused so extensively on a specific narrative and engaged in so many debates about that narrative that he is quick to respond to just about any idea that comes his way within that scope.
I watched his debate with Lauren Southern and honestly that may have been one of the seeds to this "narrative is the job" idea. It simply took some time to sprout inside my mind. Lauren was offering some fresh ideas. Larken pretty much stayed the course. I didn't see a winner or loser there. For me I sided more with Lauren. Not because Larken was wrong. Larken is right about the long term vision of where I'd like to see society go. I simply don't believe deciding to act as though that society already exists and ignore the reality being FORCED upon us around me will work. I act to try to help us take steps towards getting to the place Larken describes by realizing we must deal with, acknowledge, and make changes to the world that is currently around us. We cannot do it instantly, but we can do it incrementally. The narrative as the job mentality can sometimes make people blind to this and declare people like me are morally or ethically challenged because we won't ignore reality and just make the change now. That to me is foolish. I don't even think Larken takes that step. We'd be dead or in jail if we truly tried that now. So we choose our battles. To me that is what Lauren was saying, she just had not debated this topic as heavily as Larken. Considering that... I think she did a stand up job. Larken did well too of course, he always does.
Another thing I noticed while studying Larken. Often his exchanges don't seem designed for the person he is debating at all. He does not actually seem to be trying to convince his opponent. More often than not his entire approach seems aimed at the audience. This is not a bad thing. It is just a personal observation. He is very good at it.
Now Larken is just one example and he is obviously one of the ones I spent the most time thinking about. There are however a lot of people if you look around that have one NARRATIVE they master. That is all they really talk about and what they are famous for. Not all of them are that nice or pushing a very nice narrative. The narrative may even be a lie. That has become their focus though and they will speak it right until they run off the edge of the cliff and no longer can.
Now if you take this post and my previous one that should form a more complete idea. Also if you are unfamiliar with @larkenrose you are missing out. Go read his stuff, and watch his videos now as it is important material. He is the master at what he talks about.