Twitter Account That Manufactured Fake Psychological Operation Retweeted By Eliot Higgins of Bellingcat and Atlantic Council
The following Tweets from the Twitter account of Conspirator Norteno (an anonymous account that has previously provided graphs for the Atlantic Council, DFR Labs and PropOrNot), and gets regular Retweets from Eliot Higgins of Bellingcat show clearly (by their own admittance) that they manufactured a fake psychological operation. They label it as an experiment, however, there is no real difference between this 'experiment' and what they seem to do in actuality on a daily basis. Evidence revealing the psychological operation (experiment) is provided below, as is evidence of a real psychological operation involving the White Helmets who are terrorists posing as rescuers of little children in Syria.
Images posted to the Twitter account of Eliot Higgins by Eliot Higgins on June 21, 2018.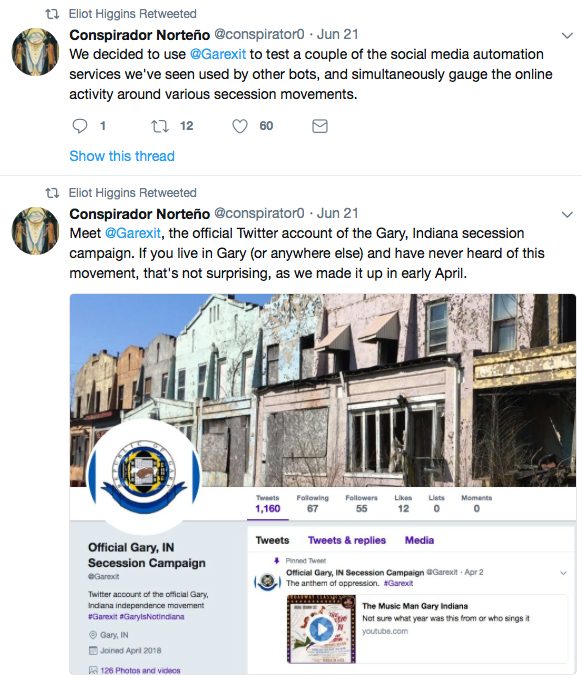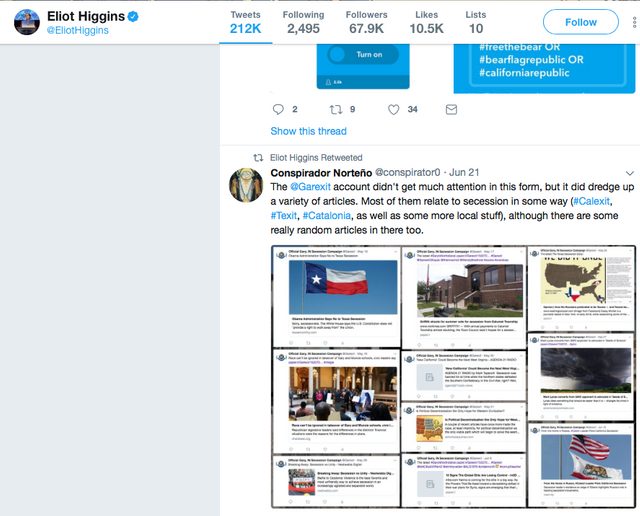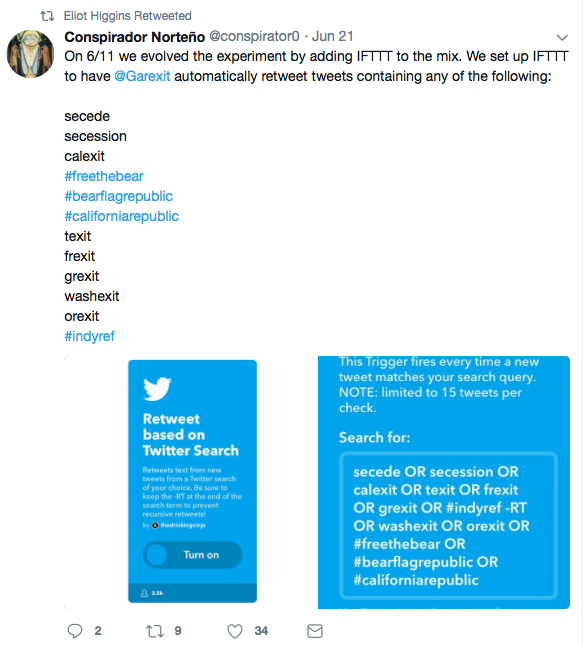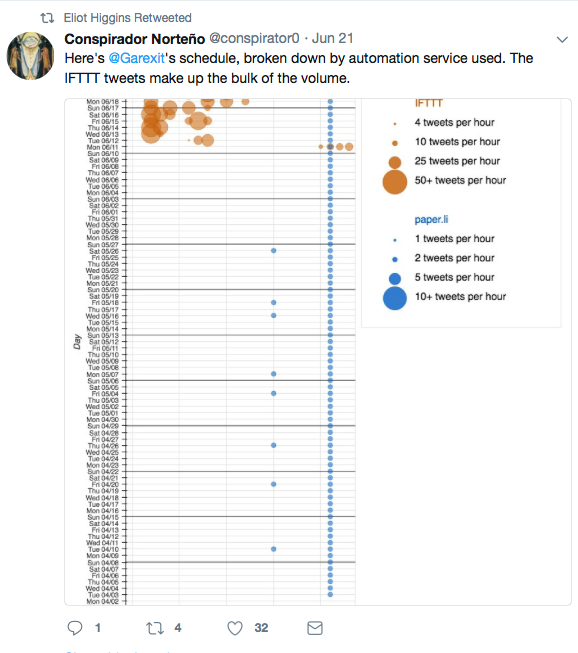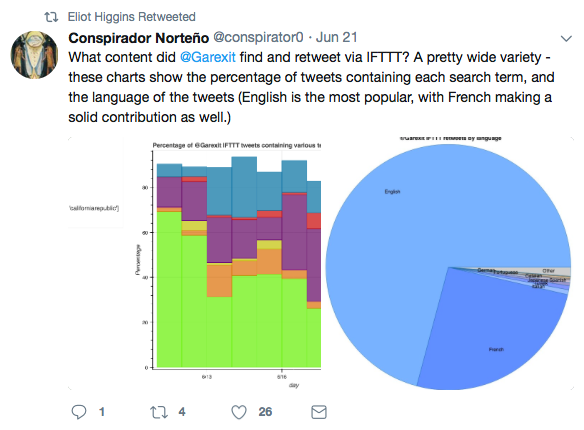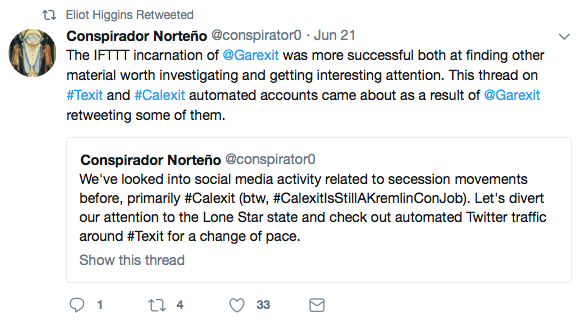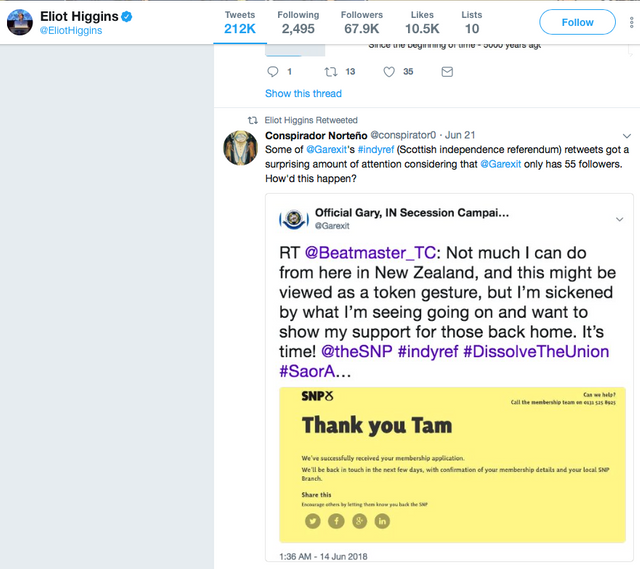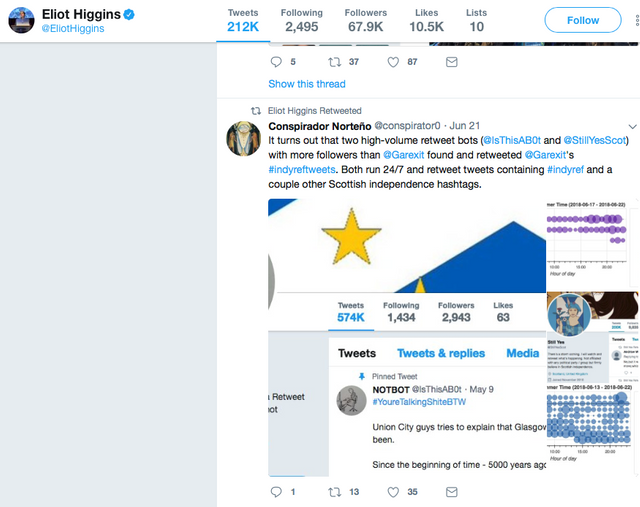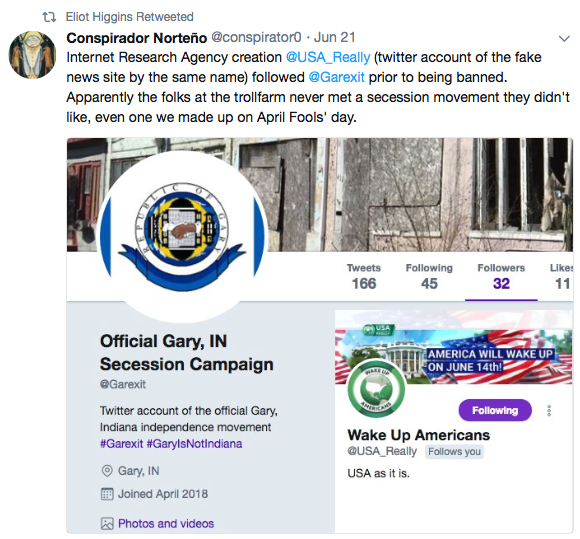 Link to the Eliot Higgins Twitter page: https://twitter.com/EliotHiggins
It is quite curious that Eliot Higgins of Bellingcat has never been able to 'geolocate' the Facebook pages of the White Helmets that he goes to bat for on a daily basis, particularly so because those White Helmets Facebook accounts show quite clearly that the group that Eliot Higgins and the Atlantic Council support are affiliated with, supporting and posting in favor of terrorist groups.
Large trove of evidence proving such is available here:
Huge Cache of White Helmets Exposed Links All In One Massive Volume For Sharing and Red Pilling - Over 400 Images in 22 Files
https://steemit.com/news/@clarityofsignal/huge-cache-of-white-helmets-exposed-links-all-in-one-massive-volume-for-sharing-and-red-pilling-over-400-images-in-22-files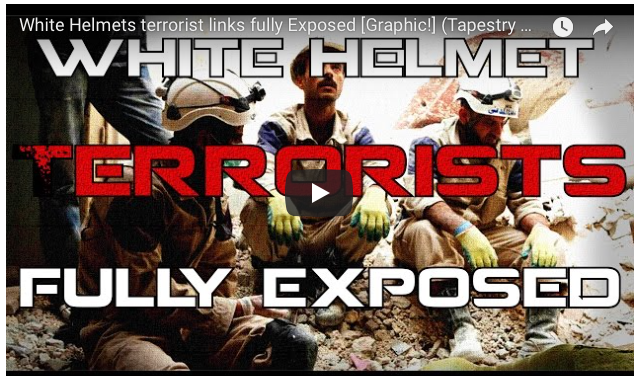 Caveat: It is quite possible and highly likely that the account Conspirator Norteno is an anonymous account created by employees of the Atlantic Council in order to maintain plausible deniability for nefarious actions that may come under public scrutiny. This account has previously supplied a number of similar graphic images that have been used by employees of the Atlantic Council, DFR Labs, Ben Nimmo, Bellingcat, Eliot Higgins and other affiliated individuals and organizations.
Link to account:
https://twitter.com/conspirator0?lang=en
Link above shows that they are providing constant, charts, data and analysis that is used by the Atlantic Council, Eliot Higgins, DFR Labs, PropOrNot and numerous other individuals and entities.
Examples: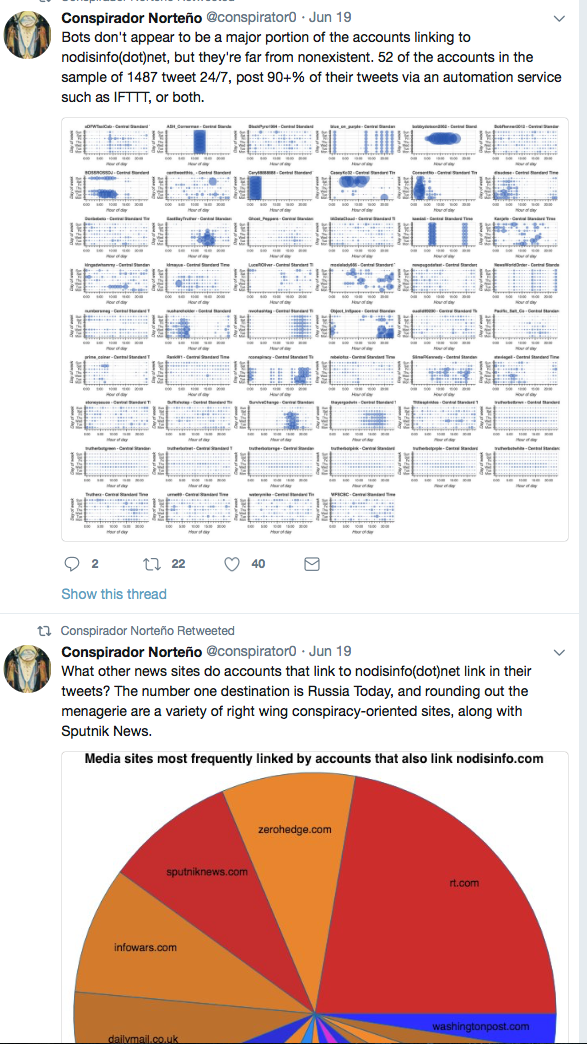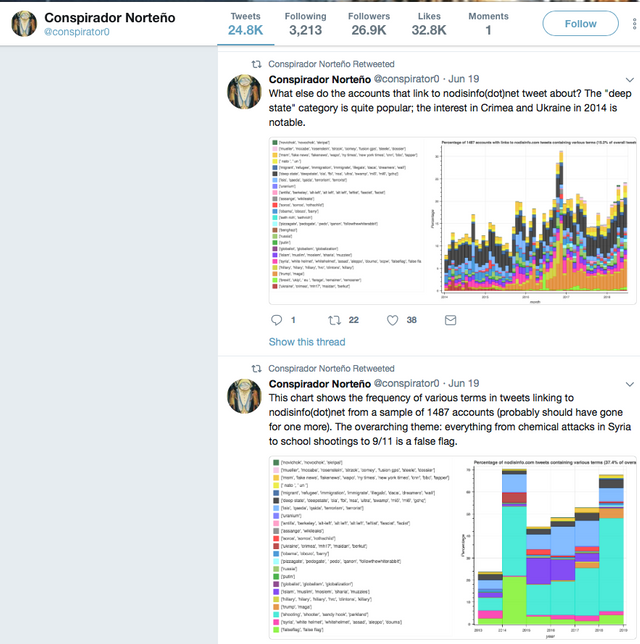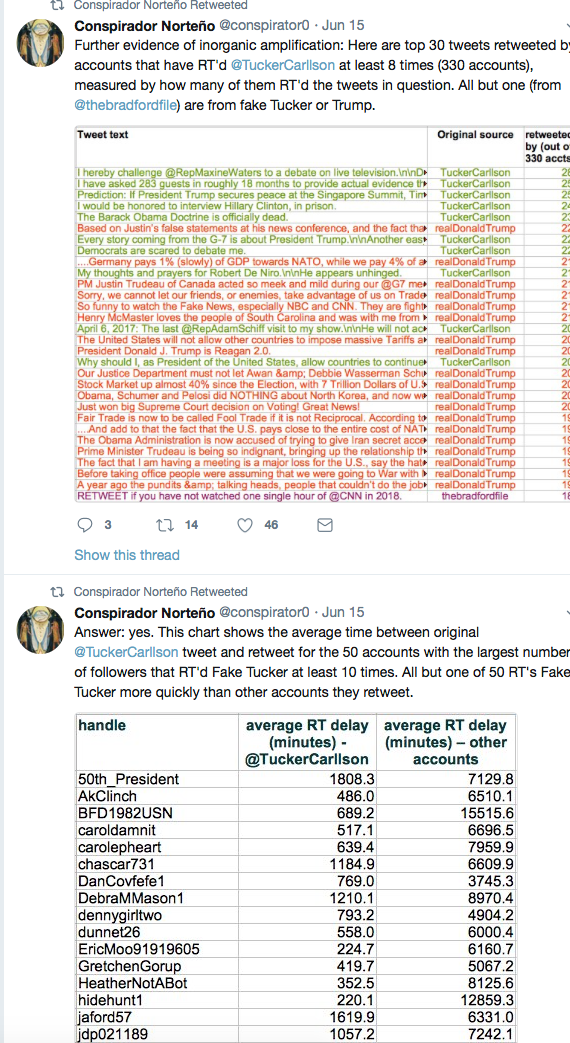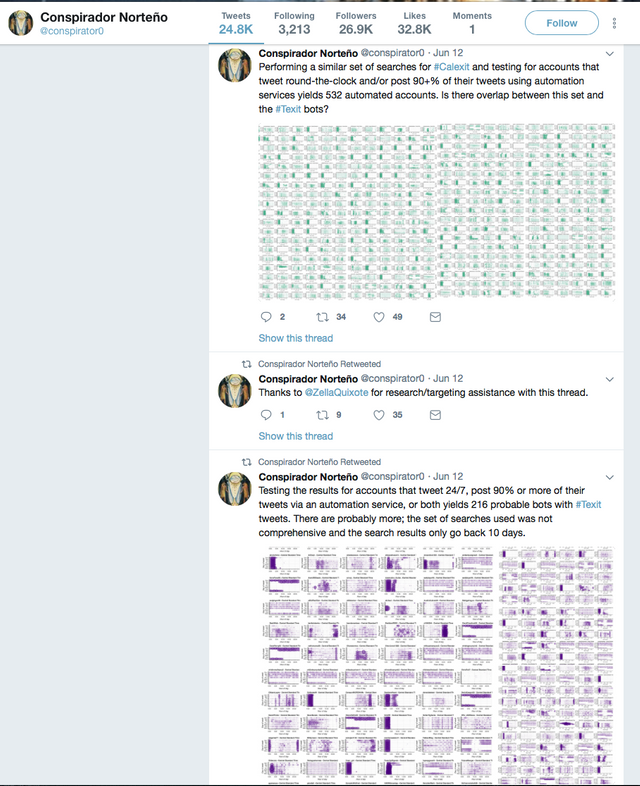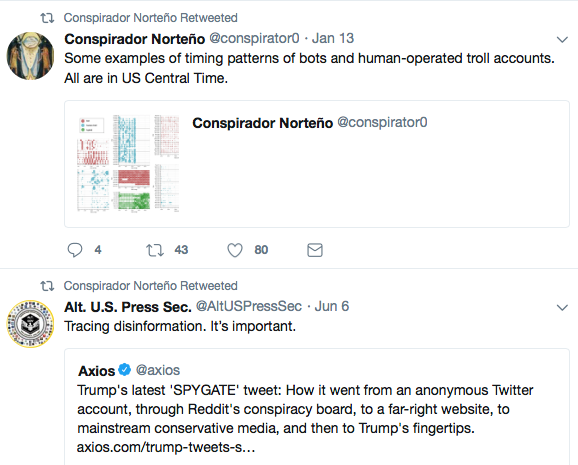 Additional information and evidence related to Eliot Higgins (operating under name Brown Moses) utilizing videos supplied by the the FSA (terrorist groups) in Syria to foment the barrel bombs narrative. Thus, showing clear bias and intent to use material supplied by terrorist groups.
Huge Information Drop on Deep State Propaganda Arm: Fact Checking Outfit Snopes Rolls Out The Atlantic Councils Pro-War Armchair Propagandists To Cover For Mass Media And Government Lies About Latest White Helmets False Flag in Syria
https://steemit.com/informationwar/@clarityofsignal/huge-information-drop-on-deep-state-propaganda-arm-fact-checking-outfit-snopes-rolls-out-the-atlantic-councils-pro-war-armchair
Oh, and there is very little chance that Higgins was unaware that those videos he was utilizing to prove his case came from al-Nusra Front (al-Qaeda in Syria) in 2013. He should of been disclosing such fully and providing caveats so that people who viewed the material he supplied fully realized that the material was being supplied by terrorist groups.
https://www.theguardian.com/world/2013/may/08/free-syrian-army-rebels-defect-islamist-group