Why you can't trust the M5M hit piece by Andrew Gilligan in The Times about Tommy Robinson
Update: I turned this into a video and a new post. See it here.
Over the weekend The Times (Sunday Times) ran yet another boring hit piece against Tommy Robinson £. Unfortunately this one was written by Andrew Gilligan, a journalist who has done some valuable work exposing the political Islamic infiltration and take over of various local authorities particularly Tower Hamlets followed by corruption and graft.
The main basis of his hit piece is that Tommy raised lots of money while in prison because lots of people sent small amounts to help out with his legal costs. Good. Andrew also pulled a ridiculous quote, completely out of context, from a speech he gave in Germany. He also said that Tommy has recently moved into a new house and said what it is worth. He didn't point out (or hadn't bothered to find out) that Tommy built the house on land he bought some time ago. Because Tommy always has been a builder and re-developer of houses (I've known this for years because I know him!).
But lets look at one throw away line to show you how the M5M "journalists" work:
In a video interview with PI News, an obscure German website, he said: "I sacked my solicitors because they tried to broker a deal where I apologise and I admit guilt, and then if I do that then I go home.
I've know about the website PI-News.org for more than a decade and shared beers with the founder and technical staff because they've been the leading counter-Jihad website in German for a long time. If Andrew had bothered to look he could have found out their web traffic it is huge. And I know, again because I've met the people who run the site, they face a constant battle to remain online. If they weren't being continually attacked by German authorities I suspect their traffic would be far higher.
Here's the web traffic comparison of The Times and PI News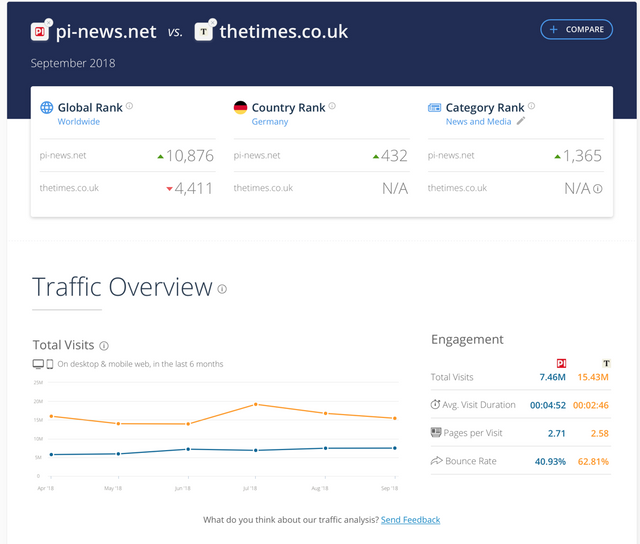 And here's just The Times UK ranking:

As you can see, for an "obscure" site, PI News is drawing half the traffic of the centuries old Times newspaper of London and is in the top 500 websites for Germany! The Times ranks 256 in the UK. For web geeks you'll note that PI News has better engagement stats, longer visit duration, more pages read and lower bounce rate.
So how can anyone take The Times seriously on all the other stuff? Here's the centrepiece of Andrew Gilligan's piece. A pull quote where Tommy Robinson said the word "Hitler" clutch your pearls now if you have them.
Robinson was speaking after receiving the "European patriot of the year" award at a conference in Bavaria organised by the hard-right magazine Compact. In his acceptance speech, he said: "German people for too long have lived in the guilt of Adolf Hitler. Do not live in the guilt of Angela Merkel."
Here's exactly what he said, it was his closing statement of a speech that was haltingly given because Lutz Bachman had to translate each section into German on the fly. Tommy's given speech like this a few times, it's not an easy thing to do as it completely ruins the flow but Tommy adapts.
If you watch that, and the next part, you'll understand his context. He wasn't saying Germans shouldn't feel guilty about Hitler: he was warning Germans not to let Angela Merkel destroy Europe for which Germans of the future will also have to feel guilty about!
Finally, Tommy gave a video interview to PI News. Not because they are obscure, but because, as he's known them for years just as I have, they are not going to run hit pieces like the mainstream media who he largely refuses to talk to (see the recent Sky News lying headline for example).
In a video interview with PI News, an obscure German website, he said: "I sacked my solicitors because they tried to broker a deal where I apologise and I admit guilt, and then if I do that then I go home.
Below is the video of that interview with PI News at the PEGIDA event in Germany. Right at the beginning he talks about the fundamental point of why he was in Leeds outside a court: the media and the judiciary conspire to hold trials of rape gangs of predominantly Muslim men in secret. They only allow reporting at the end of these trials which leads to one day's news instead of many and keeps secret the specific horrific details of what is done by these men to the children they are raping.
Interestingly there have been other rape gang trials that were reported day by day: this only happens when the majority of defendants are NOT Muslims.
Andrew Gilligan watched this whole interview (15 mins) to write his piece. What did he focus on to report? A line about "firing his lawyers" who wanted him to plead guilty. Tommy did change Barrister because his original Barrister from the appeal didn't want him to put forward a witness statement and wanted Tommy to plead guilty.
John Carson, of Carson Kaye, Robinson's solicitor for the August appeal, refused to comment last night. The firm described Robinson as a client in a tweet two days before the German interview.
It is understood Robinson may have been referring not to Carson but to his barrister in the August appeal, Jeremy Dein QC, who has parted company with Robinson and did not represent him at a brief interim hearing last month.
Gilligan had to watch a substantive interview like this and then pull out that minor detail. This is exactly what you get from relying on the M5M for your news. It isn't only that they lie, they just leave on the floor the most important parts of what they should be reporting on. So when AfD grows in Germany, they will be surprised because they've not even paid attention to how big PI News is or how big the audience Tommy Robinson is speaking to even in Germany where he doesn't even speak their language!
Share this… This is how the media lie and deceive you by mis-reporting, hiding and deceiving. And to Andrew Gilligan, you're better than this. You shouldn't be doing this.