I know, it's the contest we've all been waiting for... or... er... the one I've been waiting for! The challenge is to write a poem and submit to @apolymask's Information Finding Championship. If you're interested in participating, here is a link to this round: https://steemit.com/contest/@apolymask/information-finding-championship-season-1-round-21
For my entry, I am submitting a form poem called a sestina. This is a form poem that follows a strict pattern. The poet chooses six words with which to end each line in the first stanza. Those six words are then repeated in this pattern:
First stanza: ABCDEF
Second stanza: FAEBDC
Third stanza: CFDABE
Anyway, it goes on from there, for a total of six stanzas. You must then end with a tercet (three lines) that uses the six words within them. There is a good Wikipedia article for those who want to read more that explains the form in detail:
https://en.wikipedia.org/wiki/Sestina
The words I am using are Nick Moss, solo(s), spotlights, Chicago, Bukowski, and bar.
For reference, Charles Bukowski was a wildly popular novelist and poet who is universally abhorred by academics. I had many debates with colleagues when in graduate school about his work. While Bukowski would never win a pulitzer, there is something raw and refreshing about his poems, and I read him when I need to free myself up or when my writing gets stale.
Bukowski worked menial jobs at the post office and had some kind of skin condition that caused his face to break out in boils all the time. When he was alive, he drank heavily and got into a lot of fights. In the poem, I refer to things like the Bukowski rukus.
Nick Moss is a Chicago-based blues musician who eventually became a friend. I haven't seen him since I left Chicago, but he, his wife, and I used to have a lot of fun. He also worked as a bouncer, and one time, when a fight broke out, he settled things down without skipping a beat on stage, and I thought it was really funny that he broke up a fight and immediately got back to work. This poem is about witnessing that experience.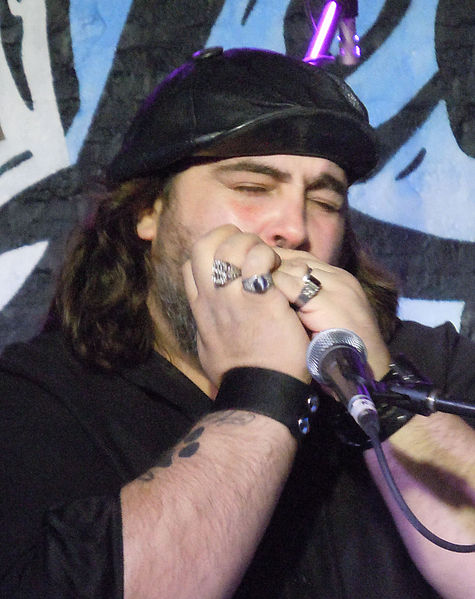 Recent photo of Nick Moss, courtesy of Wikimedia
Sestina for Nick Moss
When I heard your songs on late-night radio, Nick Moss,
I knew I had to hear you play guitar solos,
live under the red spotlights
at Rosa's Bar in Chicago
where men with Charles Bukowski
beer guts brawled at the bar.
When I went, the bouncer tried to bar
me, but they let you, Moss,
nothing like the obnoxious Bukowski
performing his crude poem solo,
into even the roughest Chicago
joints cause you would play under those spotlights
for nothing. You sweat, red beads of spot-lit
sweat, and owners fed you spicy ribs at their bars—
they knew patrons didn't come to their Chicago
Westside joints to hear Nick Moss
play, though each note of your solos
exploded like the boils on Charles Bukowski's
face. And like Bukowski,
you controlled your audience the spotlights
made invisible. Once men fought while you played a solo,
and there was blood on the bar
the fire engine red of your guitar, Moss,
on the coldest Chicago
night. But this wouldn't be Chicago
without one legendary Bukowski-
like fight. And when they fought, Moss,
you stopped playing under those spotlights,
marched to the bar
like a bouncer working alone,
then parted the men and returned to your solo,
standing on the stage large as a Chicago
skyscraper. The cops came to the bar
and drove the brawling drunks of the Bukowski
ruckus to the station, and the spotlights
lit you up, Moss,
they lit Nick and his guitar blazing its solo,
those blood-red spotlights on a cold Chicago
night, the Charles Bukowskis passed out at the bar.
Disclosure: This poem has been in the works for me for awhile. If it is supposed to be written during the length of the contest, I can withdraw this entry. As I have mentioned in my posts, it takes me years to complete poems but want to ensure I am following the rules.
Thanks again to @apolymask for informing me about this contest and to @plushzilla for informing me about more contests -- this has been a lot of fun :)