Community Service/Kerja Bhakti Masyarakat (bilingual)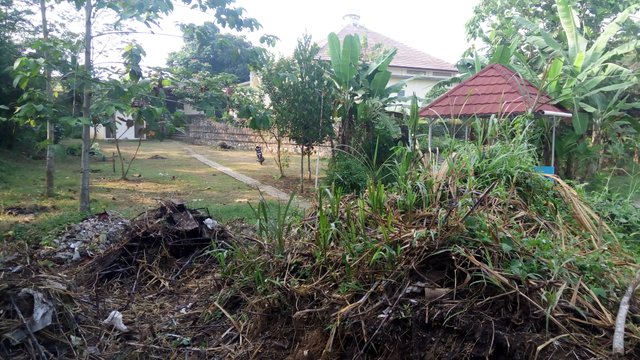 On Sunday at my residence there was Bhakti's work to create a children's playground which was located close to the gazebo as well as to prepare a field near the mosque area for the Iha Adha holiday. The response from the community around Alhamdulillah was quite enthusiastic and they arrived because on Sundays so many came.
Pada hari Minggu di rumah kediaman saya ada kerja Bhakti untuk membuat taman bermain anak-anak yang jaraknya dekat dengan gazebo sekaligus untuk mempersiapkan lapangan dekat area masjid untuk kegiatan hari raya Iedul Adha. Respon dari masyarakat sekitar Alhamdulillah cukup antusias dan mereka berdatangan karena hari Minggu libir jadi banyak sekali yang datang.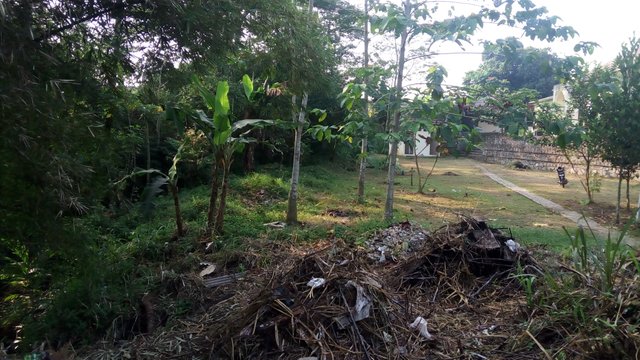 The implementation of this community service was carried out in the morning around 8 am, the cool and fresh air close to the trees and shrubs which grew a lot near the service location. Those who come to work come from various communities that are different from culture, culture, religion and work, they work hand in hand to clean the area near the mosque, because the place they clean for the good of all.
Kerja bakti ini dilaksanakan pada pagi hari sekitar jam 8 pagi, udara yang sejuk dan segar dekat dengan pepohonan dan semak belukar yang banyak rumbuh dekat lokasi kerja bakti. Mereka yang datang kerja bakti datang dari berbagai masyarakat yang berbeda baik itu budaya, kultur, agama dan pekerjaan, mereka bahu membahu membersihkan area dekat masjid, karena tempat yang mereka bersihkan untuk kebaikan semua.
This community service was led directly by the head of the RT
and monitored directly by the RW, in the first phase it was divided into small groups and divided into several locations where there was a garbage disposal, near the ditch and there was also a nearby plantation. I got close to the garbage disposal, there was a lot of dry garbage so we took the initiative to burn garbage first.
Kerja bakti dipimpin langsung oleh ketua RT
serta di pantau langsung oleh RW, pada tahap pertama dibagi mejadi kelompok kecil dan di bagi di beberapa sudut lokasi ada yang dwkat pembuangan sampah, dekat selokan dan ada juga dekat perkebunan warga. Saya kebagian dekat pembuangan sampah, banyak sekali sampah yang kering jadi kita berinisiatif untuk membakar sampah terlebih dahulu.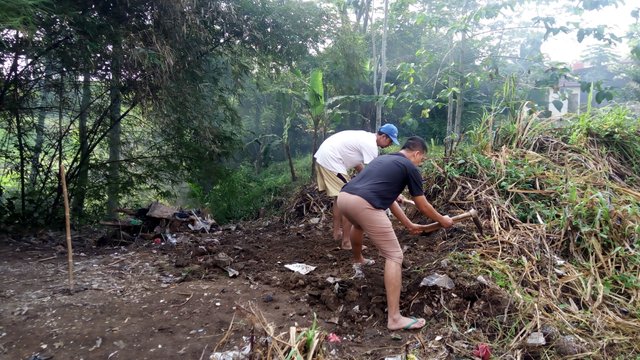 Near the garbage disposal there are also some who hoe the rubbish mound to level the soil so that later they can be installed in the children's playground.
Di dekat pembuangan sampah juga ada juga yang mencangkul gundukan sampah untuk diratakan dengan tanah agar nantinya bisa untuk di pasang tempat permainan anak-anak.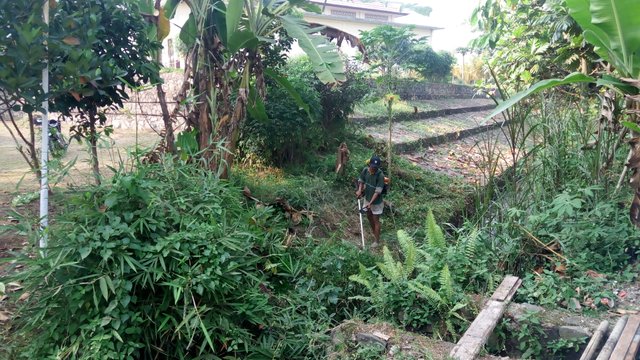 Other places are also cleaning shrubs with lawn mowers near the ditch.
Tempat lain ada juga yang membersihkan semak belukar dengan mesun pemotong rumput dekat selokan.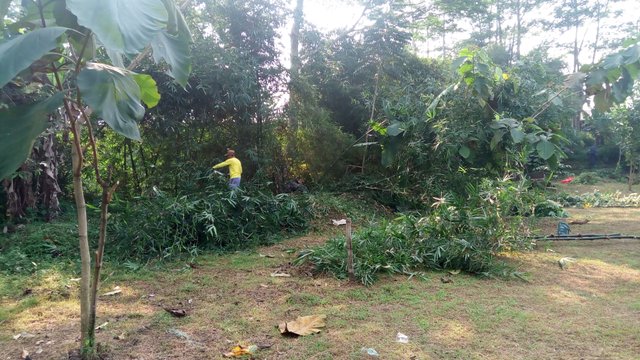 Near the plantations there are also those who clean the shrubs so that later the place becomes spacious and the sun can illuminate the area near the mosque and also for tidiness to be comfortable in the eyes. They cut and collected twigs and felled trees and shrubs so that they could be burned directly later.
Dekat perkebunan jugaada juga yang membersihkan semak belukar agar nanti tempat menjadi luas dan cahaya matahari bisa menyinari area dekat mesjid dan juga untuk kerapihan agar enak di pandang mata. Mereka memotong dan mengumpulkan ranting dan pohon yang ditebang serta semak belukar agar nanti bisa di bakar langsung.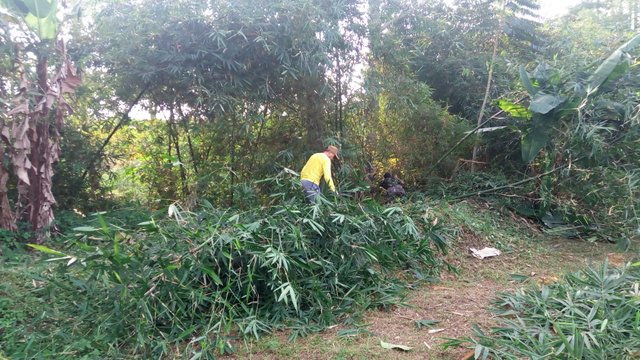 It is really fun working with the surrounding community, so they can establish ties and facilitate communication with neighbors.
Sungguh menyenangkan sekali bekerja bakti dengan masyarakat sekitar, hingga bisa menjalin tali silaturahmi dan memperlancar komunikasi dengan tetangga.