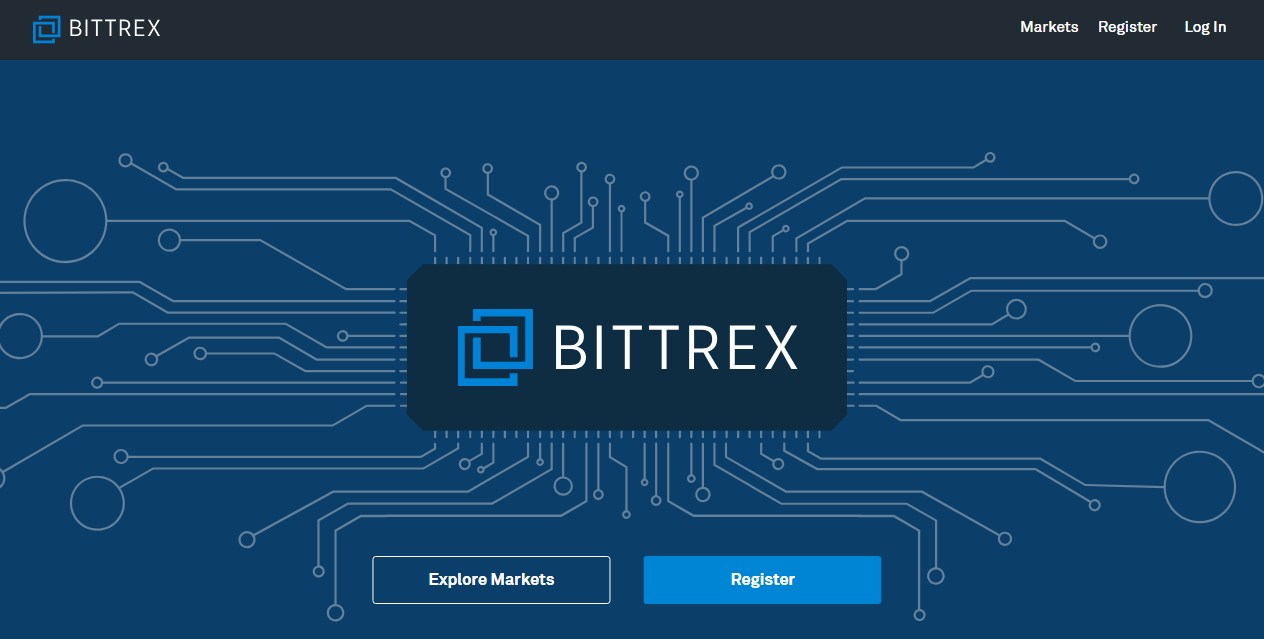 Saleum peuhaba..??
On Sunday Evening, May 20, 2018, one of the members "meetup hunter team" @abieikram visit lost some SBD and STEEM on @bittrex. And this is very unfortunate. because to collect some SBD and STEEM takes a long time.
Malam minggu, tanggal 20 Mei 2018, salah satu anggota "meet up hunter team" @abieikram mengalami kehilangan sejumlah SBD dan STEEM pada Platform @bittrex. Dan ini sangat disayangkan. karena untuk mengumpulkan sejumlah SBD dan STEEM membutuhkan waktu yang lama.
Chronology of event
That night @abieikram wants to open his bittrex account via his smartphone. I am amazed with him, I see his bittrex wallet a number of SBD and STEEM has changed to BTC. To know, I ask him, is there any buying and selling SBD and STEEM in the near future ?. The answer, no. he never traded the SBD and STEEM that were in Bittrex's wallet. after a few seconds, the SBD and STEEM that have been changed to BTC have been withdrawn to a BTC memo not recognized by @abieikram.
Malam itu @abieikram ingin membuka akun bittrexnya melalui smartphonenya. betapa kagetnya saya ketika saya meilhat wallet bittrexnya sejumlah SBD dan STEEM telah berubah menjadi BTC. Untuk memastikan, saya menanyakan kepada dia, apakah ada melakukan jual beli SBD dan STEEM dalam waktu dekat ini?. Jawabannya, tidak. dia tidak pernah memperjual belikan SBD dan STEEM yang ada di wallet Bittrex. selang beberapa detik, SBD dan STEEM yang telah berubah MEnjadi BTC telah di Withdrawl ke memo BTC yang tidak dikenali oleh @abieikram.
I am also confused, what happens with Bittrex account of @abieikram, why can happen like this, whether the Bittrex platform is being phising by irresponsible people. which is surely the number of virtual currencies he collects this during time just disappear into an unrecognizable memo. following btc memo 1QAmQVYJenin8pCRV7stRAJboomFhFAhZc and can also see in the picture below.
Saya juga bingung, ntah apa yang terjadi dengan akun Bittrexnya @abieikram, kenapa bisa terjadi seperti ini, apakah platform Bittrex sedang di bobol oleh orang tidak bertanggung jawab. yang pastinya sejum mata uang virtual yang dia kumpulkan selema ini raib begitu saja ke memo yang tidak kenali. berikut memo btc

1QAmQVYJenin8pCRV7stRAJboomFhFAhZc

dan bisa juga melihat pada gambar dibawah ini.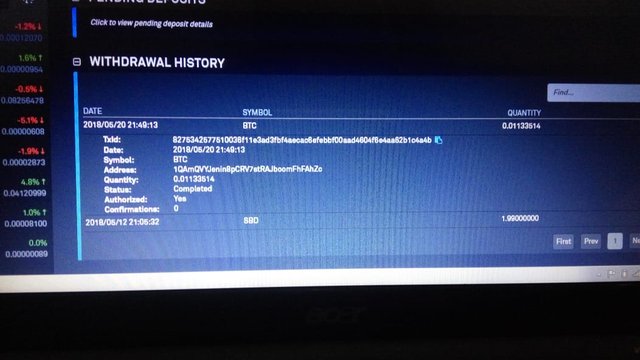 Then I got the message again via email, and when I checked the email. I noticed that @abieikram email has been opened with an IP address in Brazil. Any type of business I do to be able to return a number of SBD and STEEM failed. because BTCnya already in withdraw by people who are not responsible.
Kemudian saya telurusi lagi melaui emailnya, dan saat saya mengecek emailnya . saya melihat bahwa email @abieikram telah dibuka dengan alamat IP di Brazil. Segala jenis usaha saya lakukan untuk dapat mengembalikan Sejumlah SBD dan STEEMnya gagal. karena BTCnya sudah di withdraw oleh orang yang tidak bertanggung jawab.
@abieikram signed up for @bittrex account on Friday, May 11, 2018. and on that day also took account verification and received by admin @bittrex.
@abieikram mendaftar akun @bittrex pada hari Jum'at,11 Mei 2018. dan pada hari itu juga melalukan verifikasi akun dan diterima oleh admin @bittrex.
On this evening, the incident again in @bittrex @faizarfatria account, A number of SBD has changed into BTC currency. but @faizarfatria did not have time to lose his virtual even though his own SBD already converted to BTC by people who do not recognize. when I see pending withdraw I immediately canceled it to send it to an unknown btc address. then I immediately withdraw to btc address to his account indodax project of @faizarfatria. and the Virtual money I saved. he signed up for his @bittrex account recently.
Pada malam ini, kejadian lagi di akun @bittrex @faizarfatria, Sejumlah SBD telah berubah menjadi mata uang BTC. namun @faizarfatria tidak sempat kehilangan uang virtualnya, meskipun sbdnya sudah di konvert ke BTC oleh orang yang tidak dikenalinya. ketika saya melihat pending withdraw langsung saya membatalkannya di kirimkan ke alamat btc yang tidak dikenalinya. kemudian segera saya menwithdrawnya ke alamat btc nya ke akun indodax milik @faizarfatria. dan uang Virtualnya berhasil saya selamatkan. dia mendaftar akun @bittrexnya juga baru-baru ini.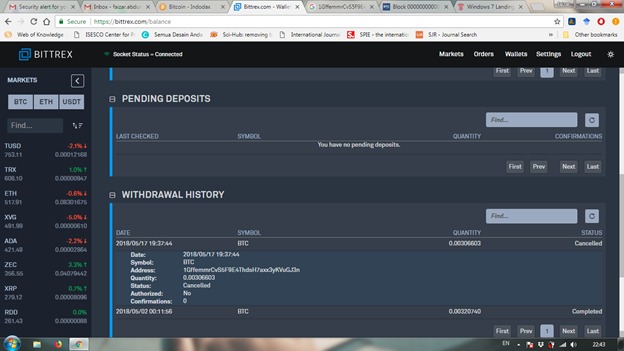 Both of these incidents, to date have not been known to moisturizer. And this incident only happens to newly enrolled accounts on the @bittrex platform.
Kedua kejadian ini, sampai saat ini belum diketahui penyembabnya. Dan kejadian ini, hanya terjadi pada akun yang baru mendaftar di platform @bittrex.
Saran saya kepada steemian yang baru mendaftar akun @bittrex . Harap berhati-hati dalam penggunaannya. Selalu cek email . Bila ada notifikasi dari bittrex yang tidak dikenali. Jangan dibuka konfirmasi notifnya. Cek lagi wallet bittrexnya. Apakah masih ada saldonya. Bila terjadi kejanggalan. Silahkan periksa kolom withdraw pending. Bila ada notif wdnya. Langsung aja klik tanda x untuk membatalkan.

So my post this time, hope you like the pictures I share, sorry if there is a mistake in writing.

Simpang Buloh, 11 Mei 2018
Best Regard,