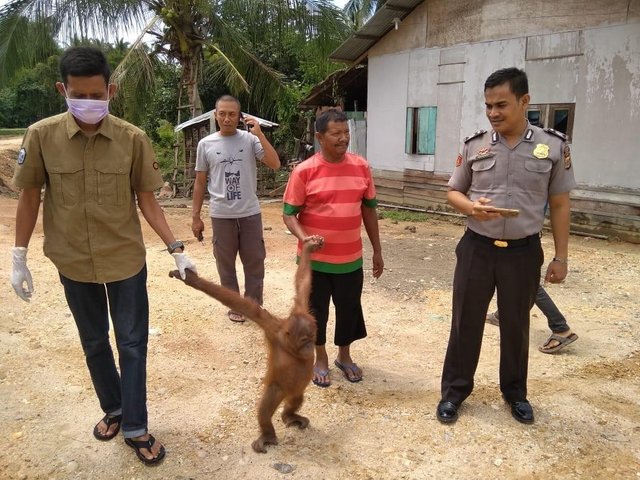 Source Image BKSDA Aceh
Moli adalah nama gelaran satu induvidu orangutan berjenis kelamin betina yang baru saja di jemput oleh TIM Balai Konservasi Sumber Daya Alam (BKSDA) Aceh, dan HOCRU OIC serta Polsek Idi Rayeuk di dalam sebuah sangkar besi di Desa Gampong Baro Kecamatan Idi Rayeuk, Kabupaten Aceh Timur, Provinsi Aceh, Indonesia. Senin 25 Juni 2018.
Nama Moli disematkan oleh Tim HOCRU dan BKSDA Aceh kepada orangutan tersebut. Setelah 2,5 tahun, Moli mendekap dalam kurungan kini Moli akan melangkah menuju habitatnya. Namun sebelum Moli dapat berkumpul dengan sudara-sudaranya nanti, tentunya sang gadis kecil itu harus menjalani perawatan terlebih dahulu atas penyakit cacingan dan penyakit kulit yang serius dideritanya selama ini.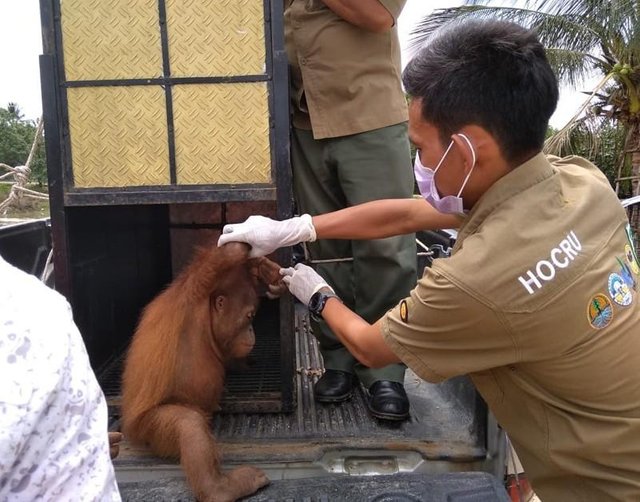 Source Image BKSDA Aceh
Menurut penuturan Kepala BKSDA Aceh, Sapto Aji Prabowo dalam pesan Whatsapp di Group Media Konservasi Aceh, salama ini Moli tinggal dalam kurungan yang sangat kotor bersama seekor monyet yang menemaninya. Sebelum Moli dikembalikan ke habitatnya. Kata Sapto, Moli harus menjalani perawatan penyakit cacingan dan penyakit kulit serius di Pusat Rehabilitasi SOCP.
Dari beberapa foto yang saya unduh dari group Whatsapp Media Konservasi Aceh, telihat langkah –langkah gembira Moli berjalan menuju mobil Tim BKSDA Aceh untuk merajut masa depan bersama sanak familinya di hutan belantara Aceh. Semoga saja Moli diterima oleh sudara-sudaranya untuk menikmati nikmatnya buah-buah segar dan dedaunan hijau di hutan belantara Aceh nantinya. Semoga kisah Moli ini tidak terjadi kepada ratusan Moli lainnya yang kini masih mendiami Taman Nasional Leuser Aceh dan Sumatera Utara Indonesia. Mari kita selamatkan Satwa endemik di tanah kelahiran kita, sehingga khazanah Negara Republik Indonesia ini dapat kita wariskan kepada anak cucu kita kelak. Salam Bahagia.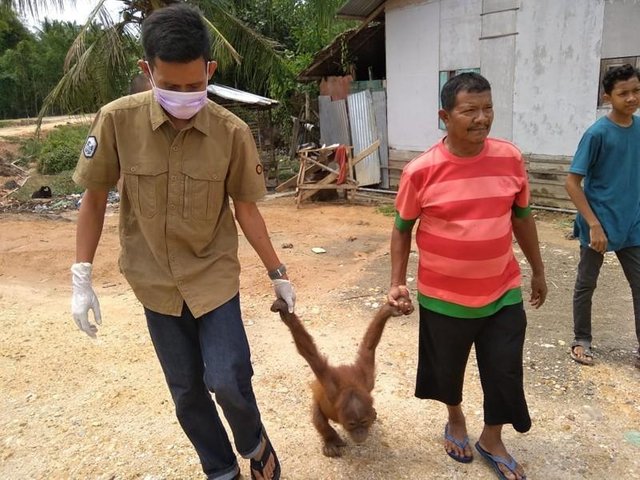 Source Image BKSDA Aceh

ENGLISH
Happy Steps Moli Leave the cage
Moli is the name of a single female induvidu orangutan which has just been picked up by TIM Natural Resource Conservation Center (BKSDA) Aceh, and HOCRU OIC and Idi Rayeuk Police in an iron cage in Gampong Baro Village, Idi Rayeuk District, East Aceh Regency , Aceh Province, Indonesia. Monday June 25, 2018.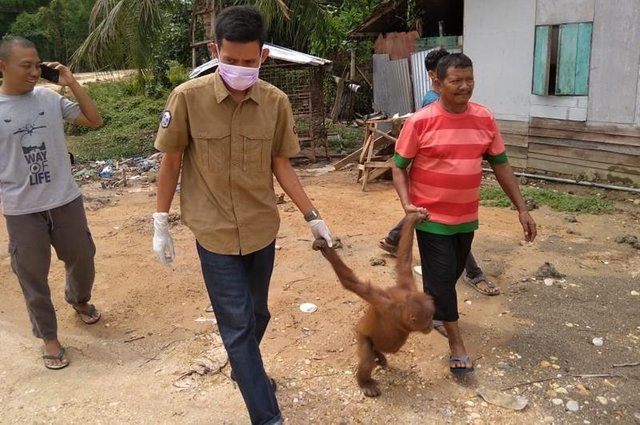 Source Image BKSDA Aceh
Moli name pinned by Team HOCRU and BKSDA Aceh to orangutans. After 2.5 years Moli lives her life in a cage, now Moli will return to her habitat. But before Moli can gather with his brother later, of course the little girl had to undergo the first treatment of worms and skin diseases suffered for this.
According to the Head of BKSDA Aceh, Sapto Aji Prabowo in Whatsapp message, in the Aceh Conservation Media Group, Moli is living in a very dirty enclosure with a monkey who accompanied him. Before Moli is restored to its habitat Moli should undergo treatment of deworming and serious skin diseases at the SOCP Rehabilitation Center.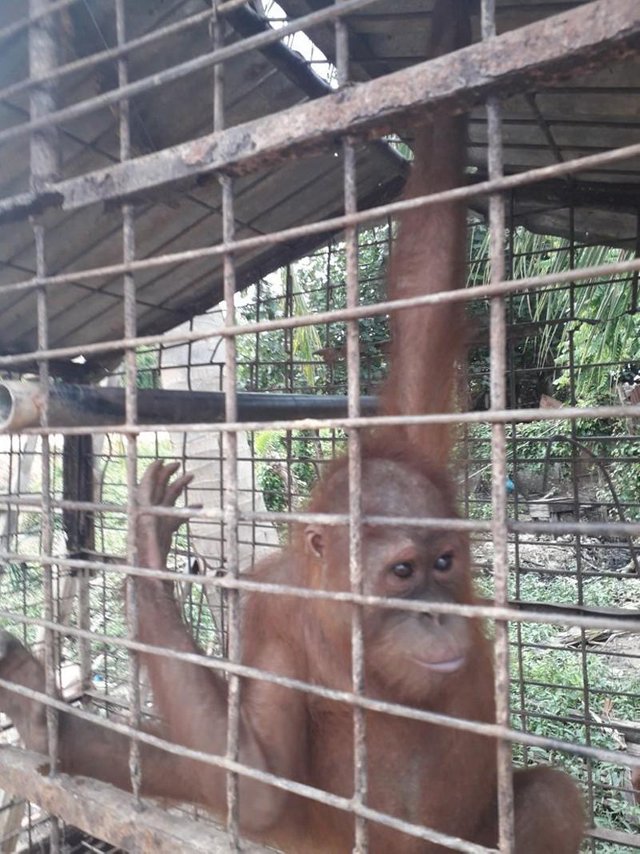 Source Image BKSDA Aceh
From some photos I downloaded from the Whatsapp Media Conservation Aceh group, see the fun steps of Moli walking towards the Aceh Automobile BKSDA Team to knit the future with relatives in the Aceh forest. May Moli be welcomed by his brothers to enjoy fresh fruits and green foliage in the forests of Aceh later on. Hopefully this Moli story does not occur on hundreds of other Moli who still inhabit Leuser National Park of Aceh and North Sumatra Indonesia. Let us save endemic animals in our homeland of the Republic of Indonesia, so that we can pass on to our future grandchildren. Happiness.

SALAM KOMUNITAS STEEMIT INDONESIA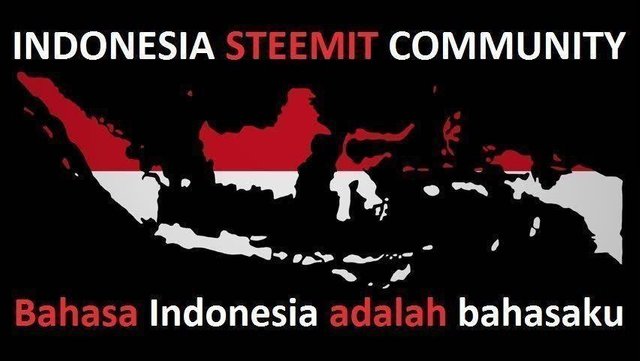 FOLLOW- UPVOTE- RESTEEM