"Daddy ... let's go home, daddy ... !!! Why is daddy here. Open the door hmmm ... !!! Do you want to collapse with father playing with daddy. "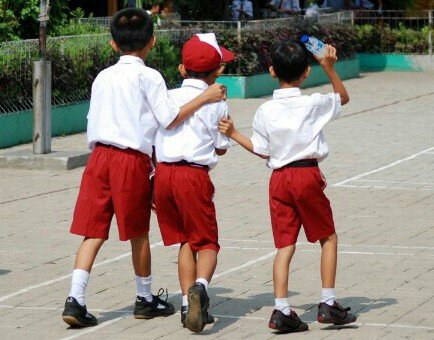 That was the scream of a six-year-old boy who was frenzied and climbing iron bars. While his mother who was not far away sat beside me crying while wiping tears with his black hijab.
I shot a camera shot through a cellphone that had taken the moment that happened this afternoon in the Banda Aceh City District Court when accompanying the Legal Awareness Ambassador along with the supervising teacher council to see the court process directly at the PN.
After the verdict was handed down by the judge, the defendant was immediately put into a detention cell in handcuffs. In front of his wife's prison cell and the heart of the defendant was waiting for his beloved husband.
The wife did not enter the courtroom and just waited outside. He was unable to witness the trial process of his husband let alone hear the judge's verdict. That's what he said when I asked why the mother didn't go inside.
I witnessed a sweet atmosphere when the little boy chased and hugged his father tightly. Not able to stand also heard hysterical shouts of a child who was almost as old as my child's age.
I was also carried away emotionally watching the moment by shedding tears while taking lessons and lessons from the cries of a small child who still innocently invited his father home.
"Think before you do, control your emotions. If it happens, this is the result, your wife and child are victims. Wives need husbands, children miss your beloved father." Maybe this is the wisdom and lessons that I can take.
Join eSteem University