It was about 2 weeks ago I wrote a speculative piece about the possibility of Unocoin installing a BTC/Altcoin vending machine. Ever since it wasn't possible to report more on this with my schedule and lack of a proper base of operation.
Hence, I decided to simply watch this space closely before making further comments.
But a few things have become very clear ever since.
Uncoin's supposed Bitcoin ATM wasn't a BTC/Alt-coin vending machine. It was merely a cash deposit and cash withdrawal machine for Unocoin's customers.
Digital Assets LLP technically was the only one who owned and ran a BTC vending machine at New Delhi. Which since has been removed and their twitter account has gone private as well.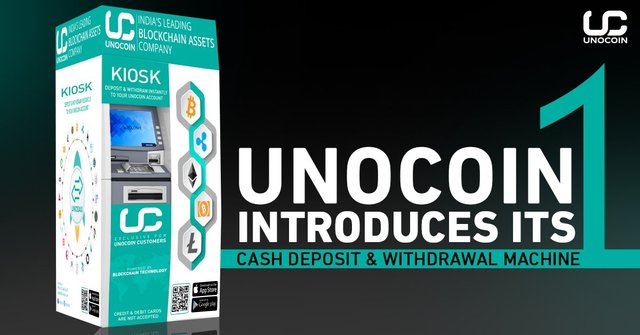 So technically Unocoin never installed a BTC ATM where you could encash BTC for INR and vice versa. Cash handling restrictions are applied to any machine dispensing cash in India. As we know, there is no regulation around cryptocurrencies in India just yet so there was no way anyone can 'legally' run a BTC ATM for any conversions.
Why was Unocoin's co-founder arrested then?
Cyber Crime Branch (CCB) arrested Unocoin Co-founder Harish BV as they allegedly did not take appropriate permissions before installing the 'kiosk'. If it was indeed a cryptocurrency vending machine, I wonder which government authority one needs to go to get permissions. Food for thought eh?
Mainstream media hype is partly to blame for this mess. As usual they hyped it up as a cryptocurrency machine even when Unocoin stated during their launch that it wasn't one. Some media channels have allegedly accused the co-founder of money laundering. However, the machine seems to have brought unnecessary attention towards this initiative.
Considering the pending court case against RBI in the cryptocurrency matter. This move could've been avoided entirely. Hindsight as they say is 50/50.
This move from CCB against Unocoin even if valid doesn't set a very good precedent given the issues in this space in India already. A totally avoidable situation but there's a lot of learning for everyone in this.
Let's see how things go from here on. Cryptocurrency community is relatively small and I will certainly have more to say on this matter soon.
If you like my work kindly resteem it to your friends. You may also continue reading my recent posts which might interest you:
---