You read that right. If the government has it's way they will force Indian citizens to link our social media accounts with Aadhaar. According to a recent report in ET the Indian governments wants existing and new users from India of social media accounts such as Facebook and Twitter to be accountable for what they say.
It wants to uphold privacy while ensuring people are accountable. Another way one can look at it is that the government wants to curb free speech of users who raise their voice against the short comings of the government. Trolls who highlight the hypocrisy and issues caused by the government to the public will be targeted.
Ofcourse, there are many anti-social elements spreading fake propaganda as well. Recent moves from FB has shown that both BJP and Congress (two of the largest parties in India) continue to engage in spreading information and mis-information through their IT cells.
According to the report, the government is mulling ways to make it mandatory to link our phone numbers or Aadhaar IDs to control social media trolls who hide behind the curtain of anonymity to lash against the ruling government.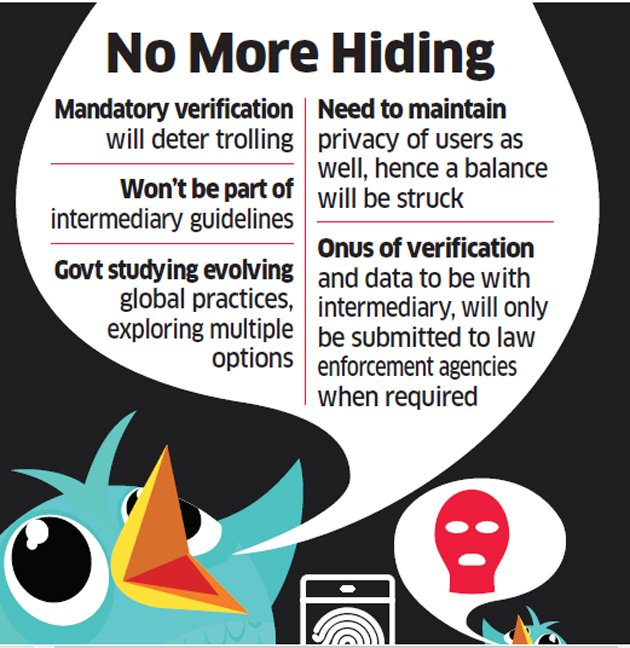 "The general perception is that I can remain anonymous in the internet space and say and do things without any fear," an official told ET. "However, we need to maintain the balance between an individual's need for privacy while ensuring we don't encourage negative things on the internet."
The guidelines are likely to include traceability of messages to pinpoint their origin, and securing consent of users before they are added to chat groups. WhatsApp introduced a new privacy feature on Wednesday that will require a user's assent before he is added to a chat group — a step that aligns with the latter requirement. Mandatory verification will help check unacceptable behaviour and "deter needless trolling", said the first official.
While it's important to curb fake forwards and messages being shared, these moves may be construed as oppression over freedom of speech and further subjugation by the government who is keen on muscling around to reach it's objective one way or another.
As per Inc42 The officials also said that verification through a one-time password, on similar lines to what Twitter is already offering to users, or linking it to Aadhaar, the passport or any new foolproof methodology, are some of the ways an intermediary can look at the verification process.
Currently Twitter accounts need a verified mobile number but someone can use a fake email as well to do this job. However, there are work arounds to this as well.
The development comes at a time when the Election Commission of India has kept social media companies on their toes ahead of the general elections. From issuing a Model Code of Ethics for social media, to ensuring political advertisements are accounted for, the commission is making sure that voters do not get misled by fake social media campaigns.
It's clear that the Indian government is likely to face backlash if it goes about aggressively in execution and implementation of such a rule if it ever passes it in the parliament. Hopefully someone will file a PIL in the Supreme Court and fight it out eventually.
What do you think about this move? Would you like to link your social media accounts to Aadhaar whose information is prone to leaking now and then?
---
If you like my work kindly resteem it to your friends. You may also continue reading my recent posts which might interest you:
---