WazirX is a cryptocurrency startup from India that has been doing reasonably well for sometime and their P2P services have received a great response. To further boost their user base they are currently running a offer where you will get 1% of your cryptocurrency deposits into their exchange.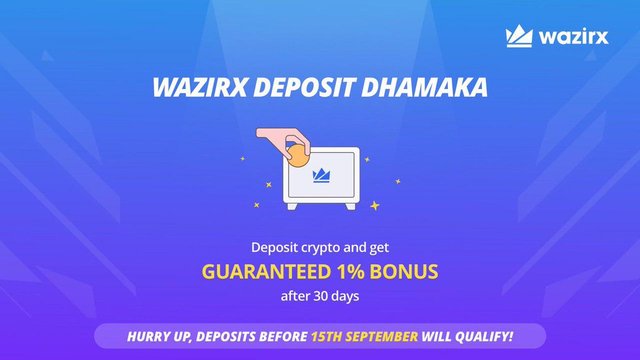 WazirX will be paying this 1% out of their own pockets. They are currently supporting 6 cryptocurrencies and have a bonus calculator on their website. You can visit the platform by clicking on this link.
However it's worth keeping in mind that when you make a transfer to their wallet you are going to be paying a small fee for transferring out your cryptocurrency to their wallet.
1% of every deposit you make into their account will be credited to you after 30 days. However, the offer is valid only till the 15th of September, 2018. Example: If you transfer 1 BTC you will get a one time bonus of 1% or 0.01 BTC after 30 days of depositing into their exchange wallet.
So be sure to consider all the pros and cons before proceeding with this.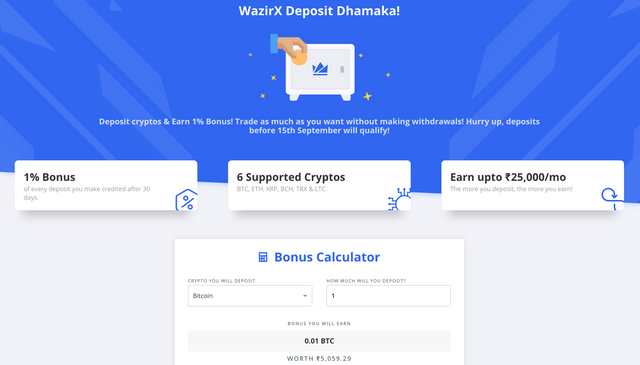 If you use Indian exchanges to hodl and trade cryptocurrencies then it makes sense to take this offer from WazirX and trade with them over other exchanges at the moment.
---
If you like my work kindly resteem it to your friends. You may also continue reading my recent posts which might interest you:
---