We
Are celebrating the in the return of our Brave soldier, IAF Wing commander Abhinandan.
We salute to his bravery he himself fought with using his MIG-21 fighter jet and shot down enemy's F16 fighter jet.
On yesterday Night He was set back to Indian soil .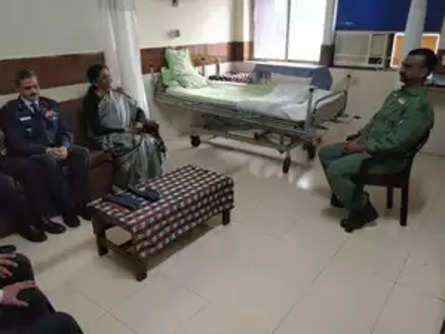 This incident happens when Pakistan tries to destroy Indian military establishment using F-16 fighter Jet. Quickly
Our brave IAF squadron retaliate and bring back them to their country in between exchanging fire One F-16 was
shot down by our IAF .
Mean while one our Armed force fighter aircraft Mig-21 which whose Pilot was Abhinandan was get technical fault and crashed on near by Pal occupied kashir From within 3KM from Loc .
Pakistan on Wednesday categorically denied and stated that no F-16 aircraft was used , and denied the total fact. But Some electronic signature already recorded from IAF will be produced as a evidence where ever needed.
Today Our Hon'ble Defence minister Mrs Nirmala Sitharaman Meets wing commander Avinandan and talked with him.
Reports coming from various agency he was injured with rib-fracture and some bruises are on his body.
We are praying to God for His speedy recovery.
Jai Hind.