60,000 immigrants disappeared in 10 years Human Trafficking Generates Profits of $3 Billion Annually


NOTIMEX
A legislative report noted that from 1998 to 2008 swept away more than 60,000 Central and South America at its crossing from Mexico into the United States, without knowing his whereabouts, as they never arrived with his family in the north country.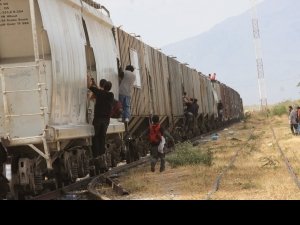 The report incorporates data on Nongovernmental Organizations (NGOs) in El Salvador, the Working Group on migration of the PRI and the National Confederation of Popular Organizations (CNOP), noted that official figures show that every year 200 Central Americans are murdered or die in Mexico while attempting to reach the United States, but unofficial data highlighted in the last five years and as part of drug raid in the kidnapping of migrants, this figure could exceed 400 deaths!
Secretary for International Affairs and Immigration of the CNOP, Edmundo Ramirez Martinez, stated that trafficking in the northern border has become "big business."
Meanwhile, Arturo Zamora Jiménez, a member of the Commission of Government, said he urges a fundamental change in the policies of protection to Central and South American migrants who arrive in Mexico.
Hidden Cameras on The border part 1


Hidden Cameras on The border part 2

Called "international embarrassment" for the Mexican government's murder of 72 Central and South American migrants and stressed that it requires a report on the responsibilities of officers of the National Migration Institute (INM) and the
Centre for Investigation and National Security
(CISEN) in this case.
72 bodies were found in the eastern Mexican state of Tamaulipas near the U.S. border, south of Brownsville, Texas. 58 men and 14 women from Central and South America were found by Mexican marines, who have been left searching for a cause of the murders. Mexican authorities are confident that the perpetrators were members or former members of the drug cartels. SOURCE : terra.com.mx
In this vein, the SRE is committed to facilitate the identification of the 72 people killed in Tamaulipas and in due course, to expedite the transfer of bodies to their countries of origin.
This post originally appeared in 2010 on my blog at notalemming.wordpress.com
Just my two STEEMS Worth.
My Tools and Tutorials
How to Get Better Search Results With Your Youtube Steemit Post
If you enjoyed this let me know with a resteem and an upvote.
Please Follow my account and leave your comments too.
NOTE: I always upvote same day comments.
This work is free for any use with attribution under the Creative Commons Attribution 4.0 International (CC BY) License.