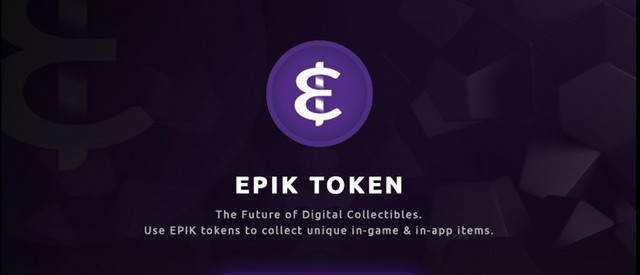 Digital platforms function as closed-off ecosystems nowadays, and brands are fragmented, working in silos with less accessibility. As the online gaming and social media spaces continue to develop rapidly, there is an untapped chance for digital platforms such as video games, social networks, and messaging services to boost their product offerings by working together with brands to produce branded virtual goods. The problem with forming a thriving branded virtual goods marketplace is fragmentation. Blockchain Licensing Marketplace (BLMP) is resolving this composite business problem by generating a massive collaboration network of worldwide brands and digital platforms to assist the licensing process.
EPIK token provides consumers the ability to buy licensed virtual goods and also to receive tokens from both brands and digital platforms. EPIK tokens are ERC-20 utility tokens integral to the Air-system which performs as a medium of exchange to transact and process variations in possession of virtual goods. The BLMP platform uses a proposal based system to make short-term collaboration licensing contracts between IP holders and digital platforms. EPIK tokens are spent when starting proposals in the system to disincentive bad actors and decrease network spam.
How Do The Tokens Work?
Brands will have the opportunity to sell their virtual goods using the blockchain technology, which has digital platforms acting as retailers for the virtual goods. All the transactions are recorded by the blockchain. So brands, digital platforms, and users can track the movement and history of the purchased virtual goods. This results in transparency and creates mutual trust between all the parties involved in the transaction.
After both the brand and the digital platform have agreed on the terms of the transaction, smart contracts are implemented in order to automate the process of creation, tokenization, distribution, and dealings of these virtual goods items among all parties.
Blockchain Licensing Marketplace (BLMP)
Blockchain Licensing Marketplace is a B2B2C blockchain company handling B2B2C transactions and giving value through efficiency, traceability, and security. BLMP is leading licensed virtual goods and the mission of BLMP is to join the intellectual property licensing industry with digital platforms.
Benefits of BLMP Ecosystem
BRANDS - Brands can scale and enlarge their reach with better control over their partnerships by joining the BLMP network while achieving coarse insights which were earlier impossible because of the less transaction transparency and traceability. BLMP plans to advance a network where brands can simply follow their intellectual property indefinitely on the blockchain all the way from product formation to eventual ownership to resale markets.
DIGITAL PLATFORMS - Linking BLMP implies keeping total creative freedom over their digital ecosystem by joining the BLMP network, without restrictive or long-term licensing contracts. Digital platforms can select and choose and only propose licensed virtual goods that they decide would be the suitable fit for their digital ecosystem. Digital platforms with this flexibility, can assume to keep their present incomes, get help with user retention, and gain additional revenue from licensed products for sale whenever they choose.
CUSTOMERS – Advantages are gained by customers from companies joining the BLMP network as adoption becomes easy as they only required managing one account which can be formed within the digital platform of their choice without the wanting to fully understand crypto wallets. Customers can select their favorite digital platform to form their account and then have entry to that account across all other participating digital platforms. But more importantly, customers benefit since they get the freedom to buy the things that they already love, anywhere.
Epik Utility Token and ICO Details
The EPIK utility token will be used to enable the creation, distribution, and sale of licensed virtual goods.
• Token: EPIK
• Token protocol: ERC20
• Token supply: 200,000,000
• Token price: 1 ETH = 2,600
• Accepted payment methods: ETH, BTC, BCH, LTC
• Hard Cap: 38,000 ETH
Token Distribution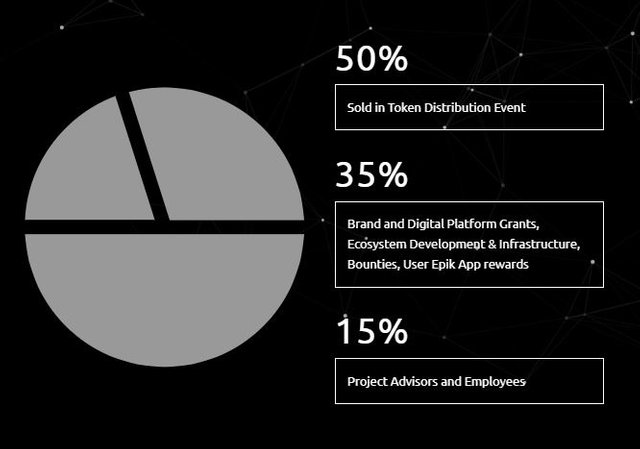 Project information
Official Website Link : https://www.epiktoken.io
Bounty thread : https://bitcointalk.org/index.php?topic=4480850.msg40251617#msg40251617
Twitter : https://twitter.com/EpikToken
Facebook : http://www.facebook.com/epiktoken
Telegram : https://t.me/EpikToken
White paper : https://www.epiktoken.io/assets/pdf/BLMP_whitepaper.pdf
Bitcointalk link - https://bitcointalk.org/index.php?action=profile;u=1685433
Ethereum Address - 0x21b71aa209aa2d5a5df74d986197c0efdc5341df