Hello traders and users of crypto-currency, I have come again with the new review of IDAP crypto-currency trading platform. As you have known in the first review I published I discuss a lot of thing and features of IDAP derivative exchange in which I received a lot of positive response from all the readers and traders of crypto-currency. Today I will like to give another new review about IDAP because there is a new update and new development from the IDAP team which has bring amazement and surprises in the crypto-trading space. In my first review I spoke about SECURITY of IDAP trading platform and what makes their approach to security threats different from other crypto-currency exchange platform in existence, I also speak about discounted trading fees implemented by IDAP team, I also discussed about the use case of IDAP token which will determine the value of the token in the nearest future and likewise the benefit it gives to early investors of IDAP project, I discussed about the tokenomics the team, the roadmap to follow by the TEAM and lots more. But today I will be discussing about the IDAP test-net which gives traders more insight about how the exchange platform will look like, it gives traders more insight about the speed of the transaction, quantity processed per second likewise the user interface.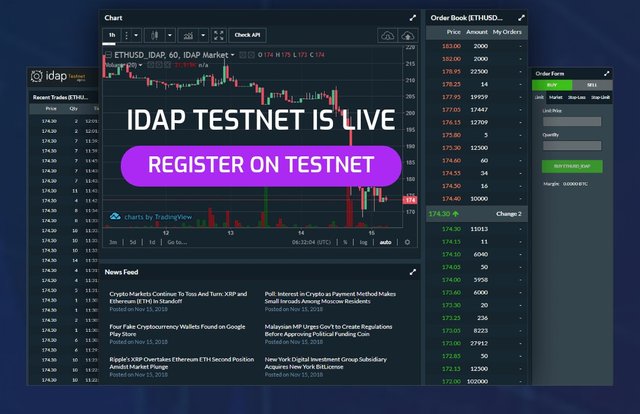 Not to waste much of the time I will start with IDAP user interface. The new user interface proposed by IDAP team is going to be the best user interface among all crypto-currency exchange. There has been some crypto-currency with user interface but the interface is not good enough and traders find it difficult to navigate and trade in the system. The use of advanced technology has made it possible for IDAP team to give its traders good user interface. With the test-net interface I have seen so far I believed all the traders out there will agree with me that IDAP crypto-currency exchange will give its user good trading experience for both new and existing traders.
Another feature I observed about the IDAP test-net is the transaction speed. As I have said earlier on this is exactly what good traders and investors always look for in crypto-currency exchange and trading platform. The speed at which transaction confirms and processes matters a lot in crypto-exchange because when orders are been delayed, traders tends to worry. With what I have seen in IDAP test-net I believed traders order will be executed and confirmed at the speed of light.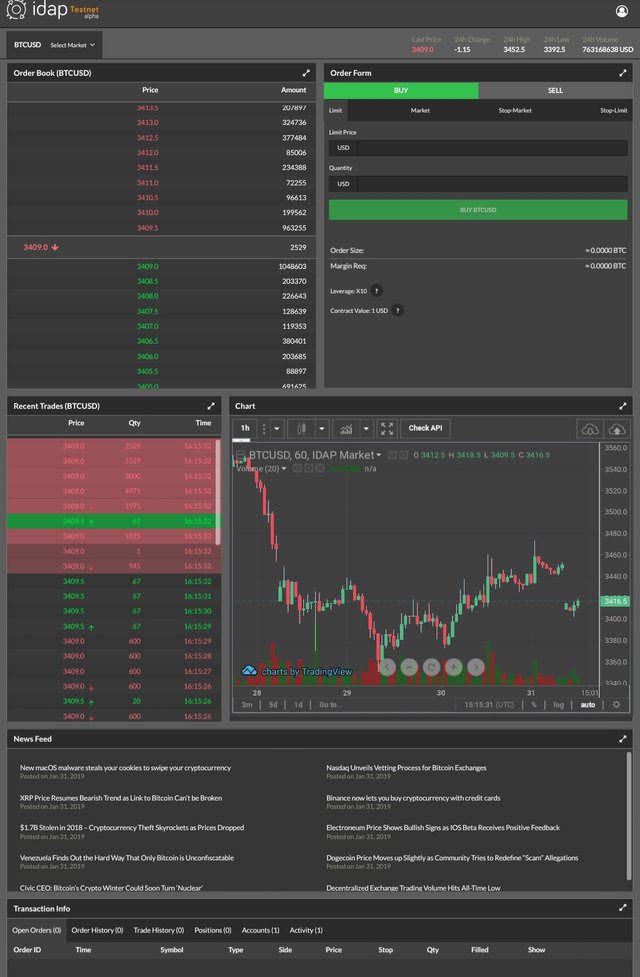 Another important feature is the introduction of the news feed in the trading platform. News feed will help traders to have more information about the situation of the market and this will give them more insight about their trades. Implementation of margin trading and leverages are another good feature of IDAP. With these features mentioned above I believed IDAP have what it takes to survive the challenges and competition in crypto-currency exchange.
Summary of features of IDAP crypto-currency exchange project.
Good Support and Good Project Team
Good Security System
Transparency
Zero trading fees
Burning of IDAP token
There is daily adoption of IDAP project in which as at the time of this review IDAP already have 124,175 registered member globally in which only few exchange can gathered such figures. This simply means that IDAP project have a very strong community backing it
There will be Phase 1 token sale in the next few days in which investors and lovers of IDAP project can easily get their token at cheaper rate before the full launch of the exchange
SUMMARY OF THE TOKEN SALE
Token Name => IDAP
Token Type => ERC20
Token Price => $0.03
Token Supply => 1,000,000,000
TEAM Behind the success of IDAP PROJECT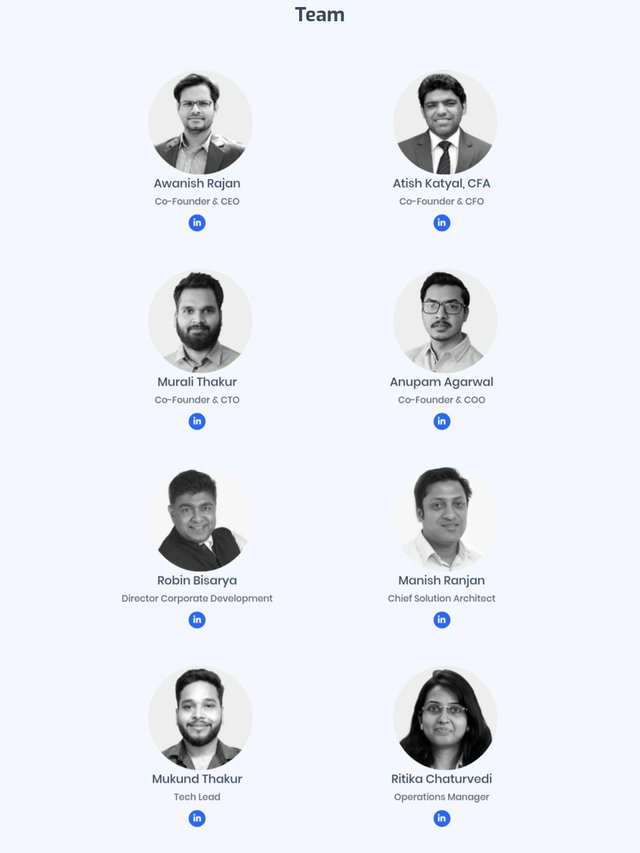 JOIN IDAP HERE
To be among IDAP investors and traders register here => https://tokensale.idap.io/?rt=8e89b4bd11&mode=sign
To know more about IDAP project check the links below
Website => https://www.idap.io
Whietpaper => https://www.idap.io/docs/idap-io-whitepaper.pdf
Litepaper => https://www.idap.io/docs/idap-io-litepaper.pdf?utm_source=BitcointalkBounty&utm_medium=Bounty
ANN Thread => https://bitcointalk.org/index.php?topic=3431151
Facebook => https://www.facebook.com/idapio.exchange
Twitter => https://twitter.com/idap_io
Medium => https://medium.com/idap-io
Linkedln => https://www.linkedin.com/company/13691065/
Instagram => https://www.instagram.com/idap.io/
Reddit => https://new.reddit.com/r/idapio/
Bitcointalk Profile Link => https://bitcointalk.org/index.php?action=profile;u=1996602
Bitcointalk Username => Bellokudi