FEXPRO EXCHANGE LIST CJZ PROJECT WITH HUGE REWARD FOR TRADERS
FEX EXCHANGE LISTS CJZ ON 6TH DEC. 2019
Dear FEX Exchange users: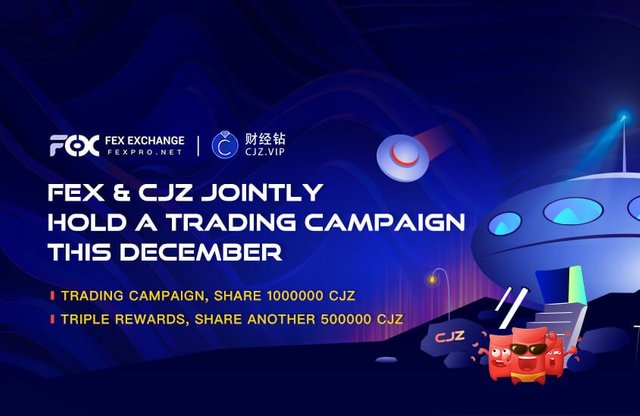 FEX Exchange will list CJZ and open CJZ /USDT trading pair on 6th Dec. 2019 .
Deposit Time: 12/05 2019 15:00 (GMT + 8)
Trading Time: 12/06 2019 15:00 (GMT + 8)
Withdrawal Time: 12/09 2019 10:00 (GMT + 8)
Fex & CJZ jointly hold a Trading Campaign this December, top 100 traders will be qualified for triple rewards and share 1000000 CJZ.
First reward: Trading Campaign, all qualified traders will get CJZ rewards, details are:
Second reward: Top 20 will be rewarded 111,000-556,000 HKD equivalent Revenue Prize
Third reward:Top 100 will be rewarded Price Guarantee by hodling CJZ.
Note:
Net buy-in = buy-in volume - sell-out volume - withdrawal volume. If the trading volumes are the same, the reward is first come, first served;

If the net buy-in amount is not met, the reward amount will be postponed to the next level until the requirement is met;

The FEX will take a snapshot at 23:59 pm on December 13, 2019.

The triple rewards of CJZ trading Campaign. FEX trading platform will issue the first rewards CJZ tokens within 7 working days after the event. The second and the third rewards will be issued by the project party CJZ.

Price spread refers to the difference between the average price of the trader of the total holdings (buy-in minus sell-out) from 15:00 on December 6, 2019 to 23:59 on December 13, 2019 and the average price of the holdings at 23:59 on January 13, 2020.
CJZ
Web:https://www.cjz.vip/
CJZ CS:QQ:318059325
Wechat:wdcjcne
CJZ is not only a high-value crypto asset, but also an authoritative financial and mainstream media platform, and unicorn at home and abroad. It has great influence and credibility. Since its establishment, the CJZ has become an opinion leader and has a very valuable orientation. CJZ has now launched 12 practical scenarios, and in the expansion of more world-class application scenarios, it promotes the progress and development of innovation, technology, venture capital, value finance and so on.
Fex.hk
Website/Exchange:http://fexpro.net
Telegram:http://t.me/FexHongKong
Twitter:http://www.twitter.com/FEXHK
Facebook: https://www.facebook.com/FEXHK
Medium: https://medium.com/@FEXHK/
Risk disclosure:
Trading digital assets involves substantial risk. Please have a thoughtful understanding of the risks involved in trading digital assets and be cautious!