Upcoming ICOs Online Reputation Study (August 8th 2017)
Dear all,  
Brief Introduction
As it is my first article on Steemit, first I briefly introduce myself I have worked more than 15 years in online reputation management (ORM) and computational trust in academia funded by multi-million Euros European projects. I've missed the start of cryptocurrencies but apparently I'm catching up fast because I've been already offered to participate to 3 ICOs as expert in my domain 😉 The official ICO I'm currently contributing to is https://www.Monetha.io . The other ones are not public yet. I will be also happy to explain Steem to my Master students in Journalism and Communication at the University of Geneva because I'm supposed to introduce them new innovative communication technologies... and I think Steem is one of them.
ICOs Influencers Transparency...
ORM is also about knowing the influencers in a field and as I'm joining the field of ICOs, I've started to apply my e-reputation methodologies and tools to ICOs.  As there are so many ICOs in preparation and running, I've started to focus on a subset of the ICOs, i.e., the upcoming ones (excluding those in presales). To further reduce the list of studied ICOs, I decided to select the ones that were given a gold or platinum badge on https://www.coinschedule.com because I initially thought that those badges were given to the most promising ones. However, I was surprised that Filecoin was not listed because it seems to be an innovative one. So after searching online, I found that those badges on CoinSchedule are paid promotion. Unfortunately I had to look beyond the Coinschedule list page as showed in the screenshots below. More transparency regarding those "paid" badges wouldn't make harm… Anyway I added Filecoin and Monetha to my final subset of upcoming ICOs on August 8th 2017 (excluding those in presales). 


from https://bitcointalk.org/index.php?topic=2003741.80
By the way, I'm not only one who has been confused by the platinum badge on Coinschedule because as you can see below a contributor on the Huffington Post community platform mentioned it as an "accreditation".  

 from http://www.huffingtonpost.com/entry/bitcoins-billion-dollar-baboon-an-initial-coin-offering_us_595bc961e4b0f078efd98cb3
To buckle the buckle, then CoinSchedule used this HuffPost article in its Press mentions as shown below.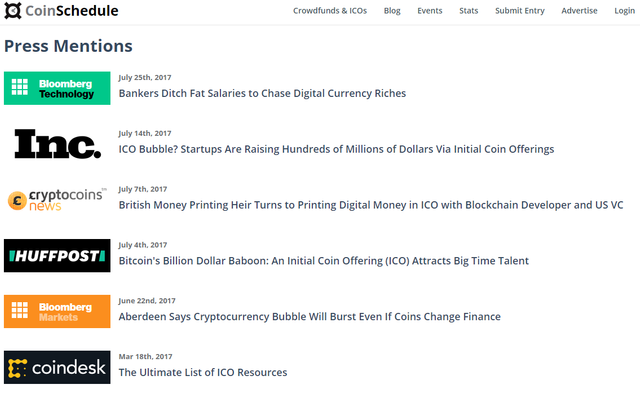 Upcoming ICOs Online Reputation
As you can see in the image below, my initial study of the online reputation of the upcoming ICOs on the 8th of August 2017 shows that Filecoin, KickICO and Spectiv are the ICOs that have the most reach and engagement on all online communication channels (online press, Twitter, forums, blogs, social networks...) over the past 30 days. Monetha has got good engagement but at the beginning of the period and Protostarr has got good engagement at the end of the period.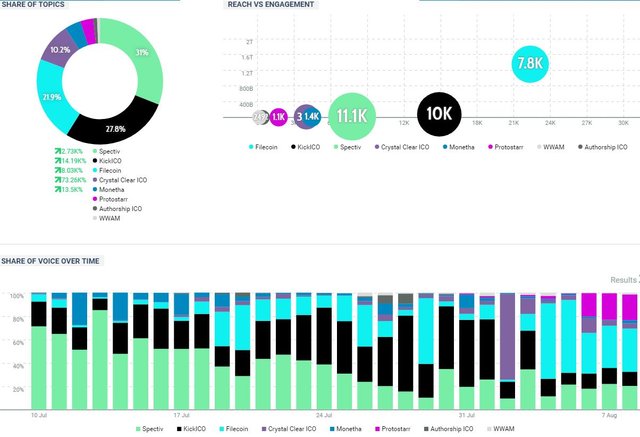 I hope that you have liked this initial study. Let me know if you would like more of these online reputation studies of ICOs. I'm going to post a few other studies including the sentiment analysis of ICOs and coins so if you're interested follow me. I can also do a more detailed study for specific ICOs on demand, for example, in order to optimize the reach and engagement by selecting the most influential sources.
Donations are not expected by any means but highly appreciated ;-)
BTC: 1NGfLBpydmdwhUmiUdbXEFSyii9JkC6Z3a
STEEM: jmseigneur
Acknowledgements: I have partnerships for my online reputation research with the following companies: SEMRush, TalkWalker and SindUp.