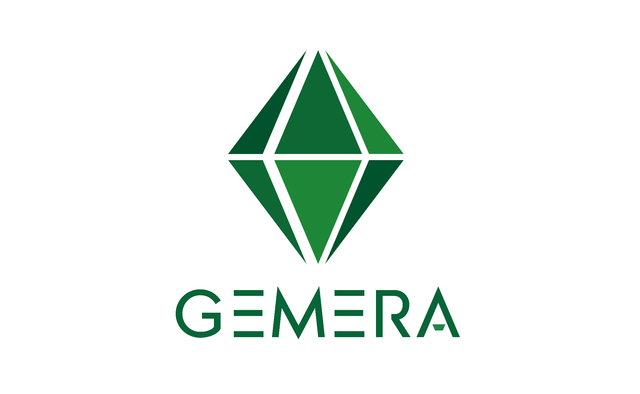 It's nice to realize that the blockchain is gradually coming to different areas of our lives and that there are cryptocurrencies provided with real things. You probably have already heard about the coins backed by precious metals and even oil of the whole state. The GEMERA project offers us something new - tokens secured by emeralds. Gold and oil production is also limited, but despite this, their prices are not very stable due to speculation in futures on stock exchanges, emeralds are more rare and are not traded in the derivatives market, so the price of emerald is more stable and only grows over time.
The best emeralds on the planet are mined in Colombia, so the GEMERA project is connected with Colombian emerald miners. Colombian emeralds are the most popular among investors because of their rarity and beauty. But investing in emeralds in its classical sense is quite difficult, because without special knowledge you can not determine their quality, you can not be sure of the legality of the origin, in the end you overpay the 3rd party and a lot of intermediaries. At the same time, the manufacturer of emeralds loses part of the profit, giving it to intermediaries who are engaged in the delivery of emeralds to the final consumer.
GEMERA offers a solution to these problems and makes investments in emeralds available to everyone with the help of modern blockchain technology. GEMERA offers tokens backed by emeralds, which are supplied directly from the manufacturer and stored in specialized safes around the world. The first batch of emeralds is stored in the safe of the company in Hong Kong. All emeralds are subject to mandatory certification and reserves are subject to annual third-party audit. All information about the company's emeralds will be available via blockchain. New tokens will only be sold when a new batch of emeralds arrives at the company's vault.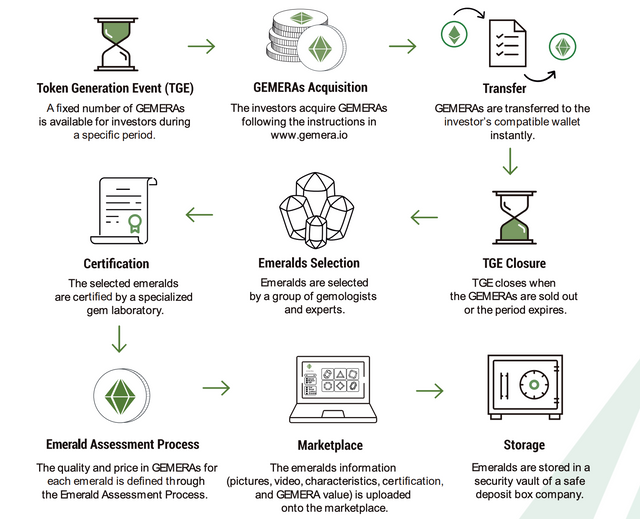 The advantages of investing in emergency emeralds using tokens over traditional investing are given in the table below.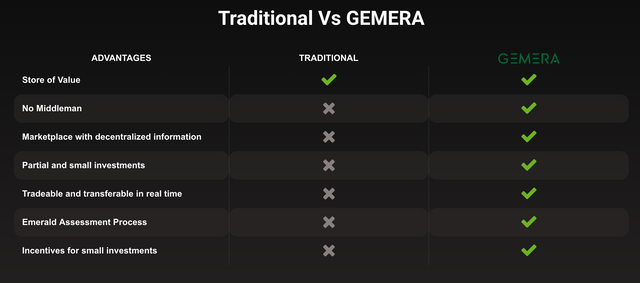 By purchasing GEMA tokens you become the owner of part of the company's assets secured by emeralds, you can store tokens as an investment asset and subsequently sell them on the exchange or buy real emeralds for them through a special platform that provides all the information about each emerald https://market.gemera.io/
The project team consists of specialists in the field of blockchain, IT, marketing, business and respected emerald producers. You can find them on the official website which also shows their contacts in the social network LinkedIn.
Roadmap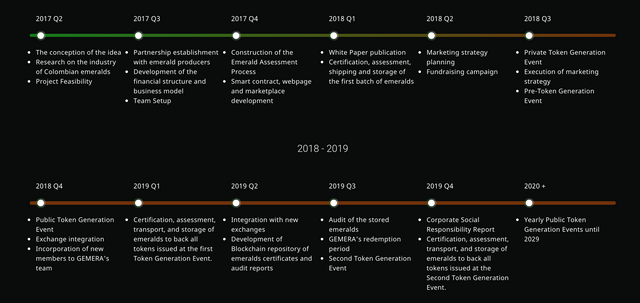 ICO specification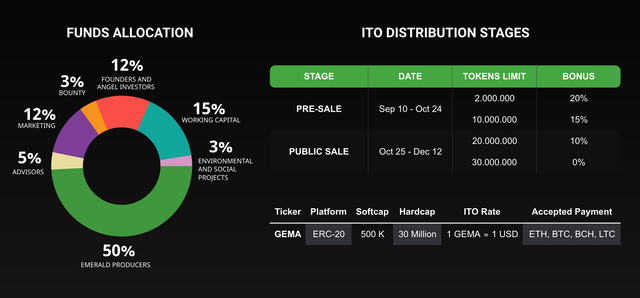 Public sale will last until December 12 and you can still have time to get a 10% bonus. GEMA token sales also going on the Latoken exchange.
Many people tell me that your cryptocurrency is not provided with anything, it's just numbers out of thin air! So now I can answer them that the world is changing and there are crypto assets backed by real physical things, not just people's faith. GEMERA project is a great example of this and I think it will be successful and profitable for investors. And also give the opportunity for ordinary people to invest in emeralds, even a small amount.
Official resources:
WEBSITE: https://www.gemera.io
TELEGRAM: https://t.me/GemeraProject
WHITEPAPER: https://src.gemera.io/src/GemeraWhitePaper.pdf
ANN THREAD: https://bitcointalk.org/index.php?topic=4789620
BOUNTY THREAD: https://bitcointalk.org/index.php?topic=4798641
FACEBOOK: https://www.facebook.com/GemeraProject
TWITTER: https://twitter.com/GemeraProject
MEDIUM: https://medium.com/@gemeraproject/
LINKEDIN: https://www.linkedin.com/company/11564183/
REDDIT: https://www.reddit.com/r/GemeraProject/
YOUTUBE: https://www.youtube.com/channel/UCnxEo6-cWrZOB3kiFxMvcpw
GITHUB: https://github.com/GemeraProject
MY BITCOINTALK USERNAME: trip2sochi
MY BITCOINTALK PROFILE LINK: https://bitcointalk.org/index.php?action=profile;u=2281826
UNIQUENESS 100%: https://text.ru/antiplagiat/5bf9848cb6c2a