Etheal ICO Overview | Bringing Transparency to Medical Tourism

---
---
Hey folks, @cryptokraze here with another overview about the upcoming ICO (Etheal). This will include what this ICO is about, what it will bring to crypto world and why it is worthy for me to invest in it.
---
---
ICO SUMMARY
---
| SYMBOL | HEAL |
| --- | --- |
| START DATE | 25TH JUNE, 2018 |
| END DATE | 22ND JULY, 2018 |
| TOKEN TYPE | ERC20 |
| PLATFORM | ETHEREUM |
| TOKEN PRICE | 600 HEAL = 1 ETH |
| TOKEN AVAILABLE | 100,000,000 HEAL (56.5%) |
| TOTAL SUPPLY | ,000,000,000 HEAL |
| HARD CAP | 66,667 ETH |
| SOFT CAP | 20,000 ETH |
| ACCEPTING | ETH, BTC |
| BONUS | UP TO 10% |
---
---
ABOUT THE PROJECT
To utilize the modern technology – blockchain to create a modernistic platform for global healthcare
A powerful platform leveraging on functioning of smart contract technology to create a fully open transparent system for health services
ETHEAL – A blockchain incentivized healthcare platform

---
---
WHAT WILL IT BRING TO CRYPTO WORLD
Etheal (Heal) token – will serve as the native cryptocurrency within Etheal platform this will make the adoption of cryptocurrency far reach
It will make boom the market capitalization of crypto world as the global medical tourism is projected to reached $540 + billion by 2025 according to Oxford economics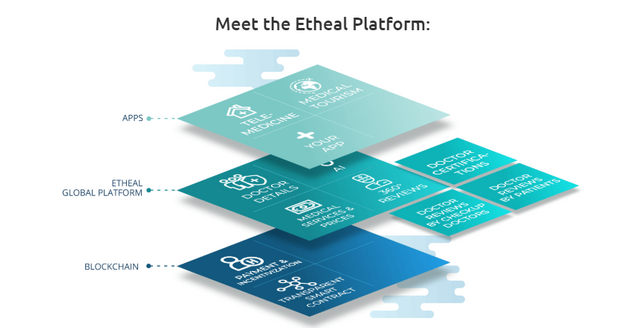 ---
---
WHAT ARE THEIR FUTURE PLANS
Etheal – will build a platform where patients will be able to search for specialists from around the world
Aim to eradicate completely the problems of patients in ability to find trusted and affordable care provider
To create a platform that will be 40-60% less expensive for customer
To create a platform that will provide users trusted global database which will enable users take valid decision
With Etheal platform -- customers will be able to locate specialist who have long history of treating and healing a particular symptoms or illness

---
---
WHY IT IS WORTHY TO INVEST
Etheal – will create a model that is efficient enough to generate a $100 billion potential revenue
It has a vast and experience team of advisory which includes Harvard alumnus professor, as well as Michael Terpin of Transform Group who has help launched more than 200 clients and 65 ICOs which include Ethereum, Qtum and WAX
It will benefits Doctors in such a way that their hard-earned reviews cannot be deleted by any entity
It will allow medical experts focus on treatment of patients than marketing

---
---
I have read Etheal ICO white paper and assembled this information. For further details, you can visit their official website.
---
---
Have a look on my other Posts
Eligma ICO Overview | Artificial Intelligence Driven and BlockChain Based Commerce Platform
eCoinomic ICO Overview | Collateral Loans for Crypto Owners
VINchain ICO Overview | 100% Trustworthy Vehicle History on Blockchain
---
---
Disclaimer
This ICO information is just for the interest of Crypto Lovers and should not be considered as investment advice. If you want to take this opportunity, then invest only what you can afford.
---
Images Sources: www.etheal.com