The Genesis Vision Initial Coin Offering is a project aiming to create greater transparency for investors in the $70 trillion Assets Under Management market. I like to think of their project as the "glue" between stakeholders in this market segment, allowing for smart contract-driven asset management data transparency. Below is a deep dive into 8 advantages to contributing to their ICO:
# 1: Smart Contracts Are Secured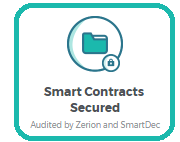 On their pursuit to ultimate transparency, it only makes sense the GV team would reach out to 3rd parties to perform a security audit on their ICO and platform smart contracts. In a 150-point smart contract security audit performed by SmartDec and Zerion, the same firms who audited the successful Humaniq ICO earlier this year, approved Genesis Vision with flying colors. Another synergy here: Zerion is responsible for building the Waves 2 Ethereum Gateway, designed to bridge the gap between the Waves and Ethereum blockchains…talk about a great lead into GV working not just with the Ethereum, but also the Waves blockchain where transparency is badly needed — do you see it?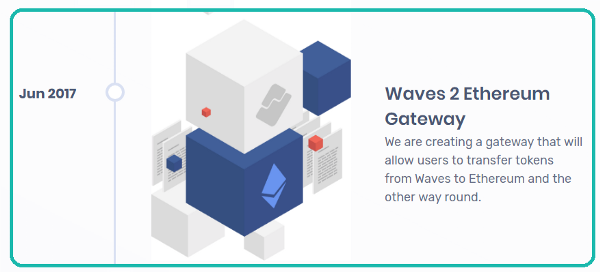 This is quite possibly one of the most important 'pieces to the puzzle' because the platform relies heavily on smart contracts to carry out their overarching business model. I mean, the smart contracts must be extremely well-built if the GV team is aiming to be what I call 'the glue between' Investors, Brokers, and Managers on the platform. To those reading this to determine whether or not you participate in the ICO, rest assured knowing they did well on the security audit with no serious vulnerabilities.
# 2: ICO Certified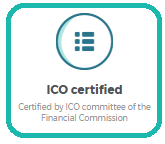 With transparency at the core of the Genesis Vision project, the team had their Initial Coin Offering certified by The Financial Commission successfully. The Financial Commission is "an independent self-regulatory organization and external dispute resolution body, primarily dedicated to FOREX." That is not all — the GV team was the FIRST ICO certified by The Financial Commission.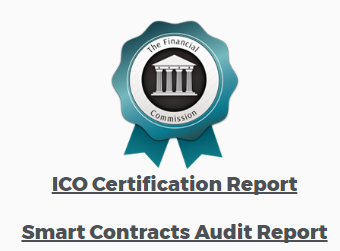 6-page ICO Certification Report
The more I learn about the GV project, the more enthusiastic I become because they have taken great lengths to involve outside organizations to legitimize their Initial Coin Offering. If you take a look at the report, The Financial Commission's new ICO Certification Committee (ICC) conducted the certification exam. The creation of an ICO certification report and the ICC committee alone is a major step toward bringing the blockchain ecosystem to the next real step, mainstream. I recommend diving into the report if you need further validation.
# 3: Escrow Service by Changelly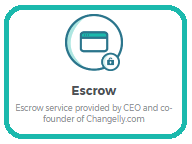 Escrow service is very important for ICOs because cryptocurrency has the reputation of, well…disappearing due to hacks. For instance, it is as easy as hacking the private key of Team Members to steal ICO funds. Using a reliant, secure escrow service helps secure all funds raised by the project.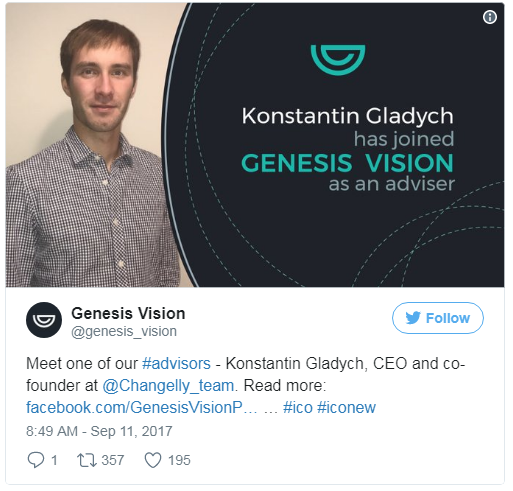 The Genesis Vision Tweet
In Genesis Vision's case, they are using Changelly for escrow to secure ICO funds raised, which is capped at $33 million for this project. This should be important to you, as an investor, because you can rest assured knowing your investment is safe. Changelly is a very reputable cryptocurrency exchange interface and has been operating since 2015. Not to mention, Konstantin Gladych, CEO and co-founder at Changelly, is a an Adivser to Genesis Vision project — more in the next section.
#4: 12 Advisers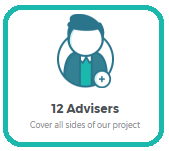 The GV team deliberately built their project Advisers from various facets to facilitate growth for the project. Perhaps the most impressive addition to the long list of GV Advisers is Changelly co-founder, Konstantin Gladych. The resources Gladych brings to the GV project can help plug the project straight into the overarching cryptocurrency market. How? First, take a look at the list of Changelly partners below, straight from their website:
Aside from the strong partnerships and user base Changelly can help bring to the table, this should also make getting the Genesis Vision Token listed in exchanges much easier for this early project.
Mushegh Tovmasyan, CEO at Divisa Capital (prime broker) and Lars Eriksson, Genova Global Hedge Fund — these gentlemen can play a huge role as the back bone to GV gaining a mass adoption, in the traditional asset management markets.
Divisa Capital is an FCA regulated boutique prime broker offering bespoke bank/non-bank Forex and CFD liquidity to institutions and professional investors via margin or credit relationships. Lars Eriksson created GenovaFX, a trading algorithm the company Lars is CEO of, FXI, uses to conduct automated foreign exchange trading and is registered as a financial institution at the Swedish financial supervisory authority. Talk about being connected.
Yagub Rahimov, Roman Nester — are marketing advisers with a GREAT looking resumes, wow. I believe these two can help bring the GV project resources to develop the marketing and education infrastructure required to grow past cryptocurrency and into mainstream adoption.
Aside from the aforementioned GV Advisers, the team has also added two top-managers from Lyyke which is a mobile wallet with in-app exchange making it easy to trade FOREX currencies and cryptocurrencies. Not to mention, Lyyke has a Startup Accelerator Program. I recommend taking a look at the LinkedIn profiles for yourself — I made sure to include links for all mentioned Advisers!
Below are some resources for beginning cryptocurrency enthusiasts: