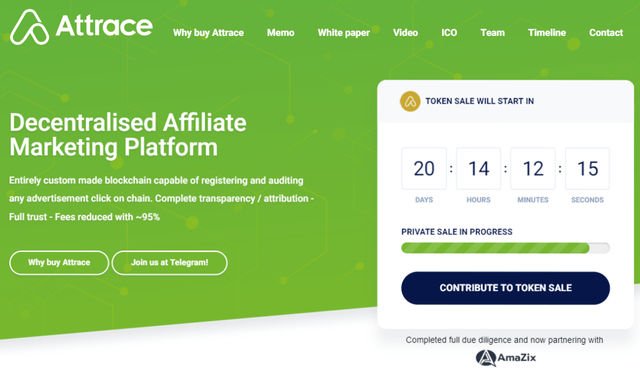 About Attrace
The Attrace platform applies blockchain technology at the core of Affiliate Marketing by linking a smart contract to every individual click/referral generated, sale or no-sale. This approach makes a regulating Affiliate Network obsolete. Merchants and Publishers will have the advantages of Attrace as listed in the above while working with an interface that does not materially differ from current Affiliate Networks. The Attrace proposition applies blockchain technology to online marketing. Attrace aims to replace the established affiliate networks in affiliate marketing by connecting Publishers and Merchants directly. Affiliate marketing is the only form of online marketing whereby advertisers (Merchants) reward their partners (Publishers) for actual sales or leads achieved. This makes affiliate marketing the only true pay for performance" model of online marketing. Therefore, affiliate marketing should arguably have one of the largest market shares in the online advertising market. This, however, is not the case as the current system has significant problems. Most issues are related to the middlemen between the Publishers and Merchants: the affiliate networks. These affiliate networks charge high fees and are not trusted by the Publishers and Merchants due to transparency and fraud problems. These problems can only be solved by using the key features of a fully decentralised blockchain that can track the complete affiliate marketing chain
Basic Infomation
Token
The prize is big: By enabling dramatically reduced costs and restoring total trust in the sales numbers registered, Attrace is potentially going to be a game changer in an industry which is worth an estimated $13 Billion in 2018 with expected 12% annual growth. Moreover, Attrace can also enable affiliate marketing to obtain a larger share of the online advertising market as a whole.
ATTR features:
- Token destruction mechanism: 80% of the tokens the network receives from Merchant fees are destroyed - The reward for Network Quality Assurance: ATTR token holders will generate a reward in return for selecting the elected witnesses that forge blocks - Voting: ATTR tokens can vote on network parameters like Merchant fee levels - Immediate revenue: The team behind Attrace will immediately contribute strategic traffic to the project by contributing the deal flow of a successful existing affiliate marketing business, allowing the project to immediately generate revenue in two of the most developed online marketing economies in the world.
Features Of Attrace
Faster Real Value For Payments
Instant commission payout instead of waiting for weeks if not months, based on very precise definitions and dynamic scaling.
Fraud detection
Smart contracts attached to every click/referral cannot be manipulated resulting in all statistics being the absolute truth.
No More tracking problems
Every individual click/referral will have a unique ID, resulting in the fully reliable tracking of the Publishers' performance.
Direct Connection
The Attrace platform enables direct communication between Publishers and Merchants via the advanced messaging board.
No Merchant Restrictions
Long Tail and Emerging Markets acceptance will be based on reputation, not at the discretion of Affiliate Network.
How Does Attrace Works?
The Attrace platform applies blockchain technology at the core of Affiliate Marketing by linking a smart contract to every individual click/referral generated, sale or no-sale. This approach makes a regulating Affiliate Network obsolete. Merchants and Publishers will have the advantages of Attrace as listed in the above while working with an interface that does not materially differ from current Affiliate Networks.
Attrace is the only affiliate marketing blockchain project that tracks and attributes every individual click/lead/referral of a prospect - sale or no sale - which means insights and statistics which are impossible to manipulate.
Attrace is the only affiliate marketing project with a blockchain fully built from scratch, it is not a fork of anything.
Attrace is a fully open network where all end-users can track at all times all registered clicks/leads/referrals of all advertisements.
Sale and Leads
Each purchase from a customer is registered on the unique smart contract of the individual referral. In case needed the Merchant adds an approval or rejection of the sale.
Commision Payouts
The merchant pays and Publisher gets paid in normal currency unless ATTR (Attrace coin) is preferred. Since tracking is fully reliable the commission payout will be instantaneous. The ~0.5% Attrace network fee will be automatically paid in ATTR.
Team
Members
Erwin Werring- CEO

Lennard Zwart- COO

Marius Jansen- Co-Founder

Remko Allertz- CMO

Roeland Werring - Tech Advisor

Artem Vysotsky- IT & AI Advisor

Philip Langguth- Advisor Merchant side

Loes Mensink- Legal Advisor

Dick Snel- Security Advisor

Attrace Video

[su_quote]This article is writing on 10 May 2018 based on information available online & news portal. If you feel it's outdated or incorrect, please write here to update it. Mail us: support@coinworldstory.com Or Whatsapp Us- 918077121282[su_quote]

Disclaimer:

Not all the websites Which listed in Top List are 100% safe to use or investment. We do not promote any of those. Due diligence is your own responsibility. You should never make an investment in an online program with money you aren't prepared to lose. Make sure to research the website. So Please take care of your investments. and be on the safe site and avoid much losing online.

---

Posted from my blog with SteemPress : https://coinworldstory.com/attrace/

---