HONEYPOD (HNY) - your internet security ! New generation !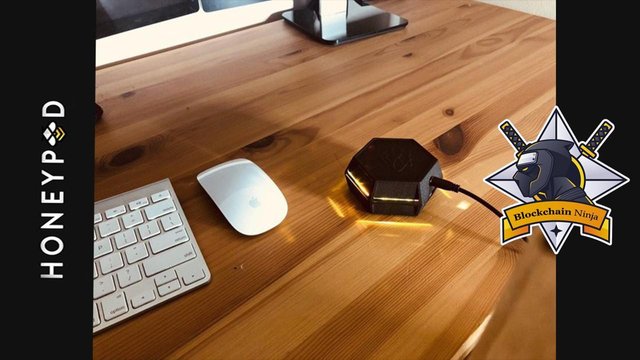 Hi Steemit. Today I will introduce you to one amazing project. The project is called HONEYPOD. He creates a unique device that will take care of our security on the Internet.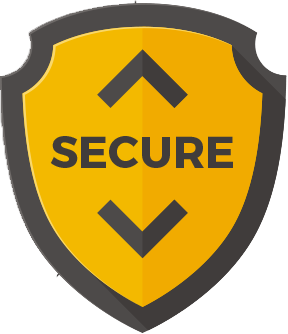 Well, dear friends. We all know that the Internet has become the driving force of progress. Now the Internet is used by millions of people and corporations around the world to share data viewing documentation and just for fun. But with the advantages of the Internet, we are familiar, however, there is a dark side. Scammers and hackers have begun to use our personal data for enrichment. Industrial espionage is flourishing. It is difficult to describe this problem in a nutshell. One thing is clear: we need protection tools to avoid becoming a victim of fraudsters.
Large companies spend millions of dollars on security to protect themselves from scammers. And what should we do to ordinary people? If we want to protect your personal data from hackers. This is where the main problem appears. But besides this problem, our data tracks various companies and as a result, we lose that sense of protection and privacy.
The project that we consider today is aimed at giving us reliable protection at the initial stage. From the router to the Internet. A project that seeks to protect us is called HONEYPOD. The team is developing a new generation device that will help us save our private data and quietly use the home Internet to perform the tasks we need.
Let's take a closer look at this project and look at the ideas that HONEYPOD brings to our world. For your convenience, you can watch this video presentation of this project.
HONEYPOD
HONEYPOD is a new generation device that connects to your router and makes all your traffic safe. By preventing hacker attacks on your devices that are connected to your home or office router. The project team made the device universal, it connects to a modem that does not affect your devices. They will work the same way as before, only they will have protection.
What is protection?
Firstly, the project stressed that they would fight unwanted advertising. This is very good because we are tired of constantly pop-up ads. Blocks all unwanted mechanisms that allow you to connect to your device and puts them on the blacklist.
This seriously complicates the life of fraudsters. They will have to look for new loopholes.The software will monitor all incoming and outgoing requests in real time. It is not known whether we can monitor these processes from a personal account. On the site, I found such an interesting element of protection as the disclosure of private information. I understand those sites that will have this feature will be automatically blocked.
Well, as without a VPN. He will also be present in HONEYPOD. The project implements it through the classic OpenVPN scheme. In fact, most low-cost VPNs use this technology. They just make their picture on the VPN and sell it to us.
HONEYPOD device
The team is committed to simplicity. That each user could configure his device without problems. You do not need a lot of knowledge to connect the device and start using it in everyday life.
Also, the developers said that the device can increase the speed of traffic. By blocking unwanted packets. They noted that the approximate speed may increase to 40%. I think this figure is very serious because we will not overpay for another tariff. At least if you connect a TV, smartphone, tablet, and computer, they will work more freely.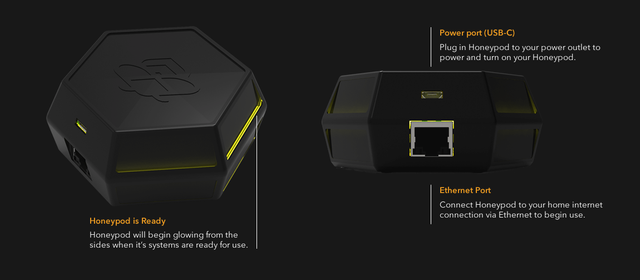 INTERNAL HARDWARE
CPU: ARM Cortex Quad-Core
Memory: 512 MB
Networking: 1 Gbe LAN Port
Onboard WIFI: IEEE 802.11 b / g / n
Hardware: 30GB
Power: 5v USB-C
Operating System: Debain
Honeypod (PreICO)
PREICO TIME
64 days 11 hours left
2019-03-03 - 2019-05-26
ICO TIME
Starts in 72 days 11 hours
2019-06-03 - 2019-07-01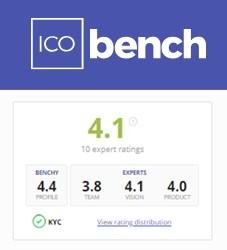 https://icobench.com/ico/honeypod

🌍 Website: http://honeypod.org
🌍Telegram: https://t.me/honeypod
🌍WP https://docsend.com/view/6w2kpua
🌍ANN: https://bitcointalk.org/index.php?topic=5101474
🌍Facebook: https://www.facebook.com/gethoneypod
🌍Twitter: https://twitter.com/gethoneypod
🌍Medium: https://medium.com/@honeypod
🌍Reddit: https://www.reddit.com/r/honeypod/
🌍GitHub: https://github.com/gethoneybox
---
Autor
Bitcointalk Galantin
Bitcointalk links https://bitcointalk.org/index.php?action=profile;u=2299006
Wallet: GCWWWAZCDEE32VLRTCI3A37ECAT3IOCKY4DHQJNMLK64G5XULNYLHK45