The Top Initial Coin Offerings To Invest in August/September : Monetha, Red Pulse and Agrello
What is Initial Coin Offering (ICO?)
Basically, it is similar to Initial Public Offering. Many people would prefer to associate ICO to crowd funding or venture capital funding. I would prefer to define it as revolutionized 'decentralized' crowd funding exercise that eliminates limitations that usually tied with conventional IPO as well as the web-based crowd funding platform.
ICO reduces the high cost and complication. It cut the middle men that are the bankers that involved in the traditional way of corporate fund raising.
It is also more transparency and better incentive/reward distribution structure in relation to the crowd funding platform such as kickstarters. Although, I would have to admit this crowd funding comparison is misleading. Kickstart or GoFundme are generally catered for micro funding. However, there are basically has the same function as seeking initial capitals.
ICO had been in existence since a few years ago. But the real momentum also really happened in 2017. The maturing Ethereum technology platform had been facilitating the current ICO hype.
More and more startups companies are looking at ICO to raise money. This year, ISO money raised exceeded on those generated through angel venture capital.
One thing to note, Ethereum is not the only cryptocurrency that has the smart contract which enables anyone to issue tokens to attract funds. LISK, Expanse and recently NEO are some of those that also have similar tokenization feature on their blockchain. Furthermore, Bitcoin potentially can offer the smart contract in the future.
These are some of the key points in ICO essence.
Is the current ICO craze reaching bubble?
Yes and no.
Yes is there are some many projects are very phony and only aim to raise money by riding on the current hype. I would say 70% of the current ICO are without substance. And these project may not survive in the next few years.
No for me is because I still view the current cryptocurrency boom is just in the beginning stage. Those traditional capitalists which still dominate the real money are not yet in the crypto sphere. Based on the growing enthusiasts' momentum from the financial media and brokerages Bitcoin coverage, we can sense it these big time funds are flowing into cryptocurrency.

Should We Invest in ICO?
I think it is definitely a yes. ICO give us another chance to balance out our investment portfolio in the crypto market. ICO allows us a lower cost of entry. As the crypto currencies price becoming higher, the potential of profit margin became slimmer. ICO possibly give us extraordinary profit levels. Most ICO prices only cost about in cents, these would give the early investors better opportunities of huge profits.
Before I lost myself here, I would remind you guys that the post here is focused on the best ICO that launched in this month and in September. Therefore, I am going to explain IPO in great depth.

The Criteria of Potential ICO Winners
Most of ICO is new project, some of them even just an idea without a working prototype. Thus, we only have limited areas to investigate the viability of that particular ICO, namely the team behind the ICO and its underlying technology.
What is the credential of the people behind the ICO?
What problem that the project intended to solve?
The potential of the project?
These are some of the important questions that could help us identify the probable winners.
Another factor that is solely my personal preference is that I prefer those coins which offer cheaper price per coin. I would in favor those in cents than those in the dollar on the offering price.
In no particular order, these are some that I found that could offer the best value for us as the investors.
** disclaimer: I am not associated and being paid for any of the ICO listed here. All the materials presented is not an investment and financial advice.

Monetha (MTH) Payment Solution ICO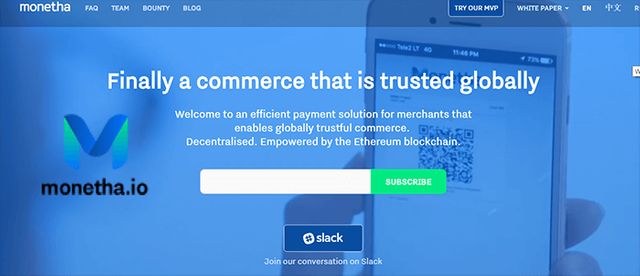 Crowdsale Starts 8/31, ends on the 30th of September, 2017, 2pm GMT
Hard Cap: 95000 ETH. Max token supply: 402,400,000
Before the soft cap of EUR 7m : 1 ETH - 2400 MTH
Before the hard cap : 1 ETH - 2000 MTH
Coin payment : ETH
Monetha Whitepaper
Monetha is a payment solution that builds on top of Ehtereum smart contract protocol. Unlike other payment projects such TenX or Monaco (that offer debit cards to ease the new age usage from the user's perspective), the main focus of Monetha is on the merchant side. The Monetha gateway will enable a merchant to grow their reputation within the Monetha payment system.
The Monetha designed to work with e-commerce, in app payment as well as retail. Basically, every business can use it.
They also have a loyalty reward system which will be awarded to any all token holders with Monetha coins. The coins are from the revenue streamed from the fees charged on Monetha transactions.
The development and management team is proactively engaged with the community and potential investors. Monetha also has a detailed bounty program for anyone interested in getting MTH token through marketing
9 days left until the ICO and I want to talk with you about the future of the MTH token. https://t.co/d2Pi7ozLgh#InitialCoinOffering

— Monetha.io (@Monetha_io) August 22, 2017
Problem intended to solve,
Trustworthy and reputation system through a built-in feature that allows points or review of each merchant that uses its gateway.
Cheaper
Payment process faster'

The Team,
* click on the image to visit the official website and read more about the team behind Monetha ICO Coin Interview with Monetha Co-Founder Justas Pikelis
Find out more on Monetha Reddit channel,
Lastly, visit their main website for their roadmap and more details, the site url : https://www.monetha.io/
I think Monetha is a great workable idea with the solid team and advisory members. The token price would give better valuation and returns.
Red Pulse (RPX) Data Research ICO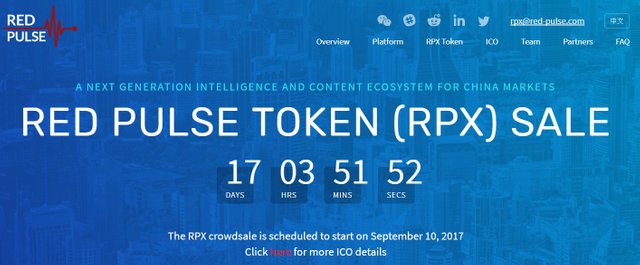 crowdsale is scheduled to start on September 10, 2017
ICO period : 2017/09/10 (0900EDT/1300GMT/2100CST) to 2017/09/24 (0900EDT/1300GMT/2100CST)
1,000 RPX : 1 NEO
Target capital raise : USD$15,000,000
Coin payment : NEO
Red Pulse Whitepaper
Red Pulse is China-centric financial data research platform. It currently has a mobile app that was launched in 2015 with Fortune 500 companies using it. The company set to raise additional capital to further build a sharing economy platform that integrates consumers and producers, and let consumers dictate research.
The disruptive financial research platform the business is visionary and revolutionary by directly and fairly compensating analysts and contributors using cryptocurrency RPX. Put simply, Red Pulse is the combination of Seeking Alpha and blockchain-enabled social network Steemit.
The platform will initially focus on the China market, while our vision is to create a direct-incentivization ecosystem facilitated by the RPX token, creating a global community of colleagues.
Red Pulse to launch an Initial Coin Offering #ICO to create crypto-based Sharing Economy for Research. Read more: https://t.co/MxcexpwDBw pic.twitter.com/CxHHWicq7R

— Red Pulse (@red_pulse_china) August 1, 2017
Problem intended to solve,
The better structured the information and data especially the current China market
Forming the better data and research for the present inefficiency and costly data and research models that are dominated by a handful of market leaders.
Sharing economy, decentralized and transparent all the process and data gathered with direct users participation through the potential benefits in terms of revenue and the data accumulated.
To enhance the accuracy of the financial data and research.
In essence, Red Pulse tries to create a decentralized sharing economy financial research platform that allows for users and the corporations of direct interaction in the data collection and news or data distribution in the token reward ecosystem. The corporate also would benefit from the Red Pulse decentralized data and research with more accurate data that collected from users directly.
The Team,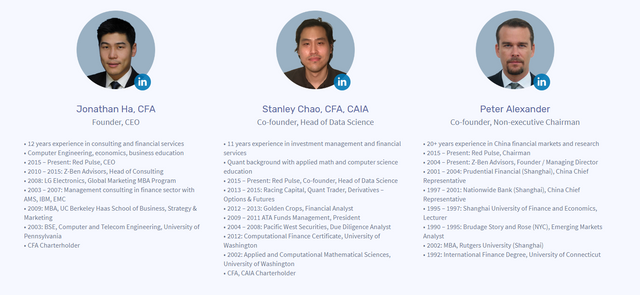 click on the image to visit the official website and read more about the team behind Red Pulse ICO
Find out more on Red Pulse Reddit channel,
Visit their official website for their roadmap and more details, the site url : https://coin.red-pulse.com/
Red Pulse ICO potentially give a great return for early backers. It has an existing product and many Fortune 500 customers. The Chinese market is poised to become the world biggest economy. Red Pulse presents us a cheap and early entry to tap into the Chinese market potential. As the early project of NEO, it would expect many people would backing RPX to be a success. To be sure, to get some NEO if you interested to participate in Red Pulse ICO.
Agrello (DLT) AI Smart Contract ICO (ended on August 16)

The DELTA token sale starts on July 16, 20:00 China standard time (14:00 Berlin, 13:00 London), and will come to an end as soon as 10,000 BTC have been raised. During the sale, DELTA tokens will be offered in 4 price tiers, check their token info page.
The sale will not exceed beyond August 17th, 19:59:59 GMT+8
Fund Raise Cap: Max. 10,000 Ƀ
Coin payment : ETH and BTC
Agrello Whitepaper
Agrello is simply a platform for building legally binding smart-contracts, using AI without having any prior legal skills or knowledge of coding. The Agrello token is called
Delta Δ
and it is being offered with Tier 1 at 0.0001Ƀ, Tier 2 at 0.00011Ƀ, Tier 3 is set at 0.00012Ƀ, and Tier 4 is set at 0.00013Ƀ. The token will be used in the process to acquired the Agrello powered smart contract agreement.
One of the key factors that hint at the potential success of Agrello, is its application across a wide range of industries. For instance, Agrello recently inked a partnership deal with Finnish manufacturing giant INCAP, to provide smart agreement prototyping for INCAP's labor management process. Agrello also has a deal with ViewFibn to develop a digital identity engine.
Hire your own Agrello #AI counselor to manage smart-contracts! Hard to believe, but #coding nor legal skills needed. https://t.co/m9wO5VcEba

— Agrello (@AgrelloOfficial) August 21, 2017
Problem intended to solve,
Agrello smart agreement protocol allows cheaper and easier way to anyone to form p2p legally binding agreement.
Freelancers, contractors, and small business owners can formalize long and short term business relations without having to carry legal expenses. All payments and obligations are triggered automatically on the blockchain, while agreements remain open to future re-negotiation. Involvement of legal personnel and courts is reduced to an absolute minimum if not completely obviated.
The legal binding process can be cost-effective, eliminates the time and the ease for anyone to participate in a completely transparent and decentralized manner.
They are banking on the future Law Tech where code will rule over lawyer.

The Team,
Agrello was founded by a team of Estonian lawyers, high-level academics, and information technology experts, with the shared vision of creating digital contracts that will forever change the way people interact with each other and interface with legal authorities.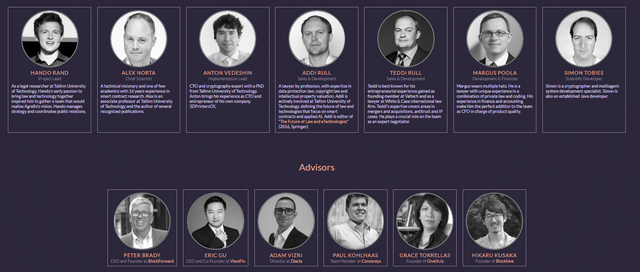 click on the image to visit the official website and read more about the team behind Agrello ICO
Agrello AMA (Ask Me Anything) Session: CEO Hando Rand, Chief Scientist Prof. Alex Norta, and CTO Anton Vedeshin, Teddi Rull, and Margus Poola will take questions from Agrello community, and answer on camera.
Find out more on Agrello Reddit channel, and their slack group.
Visit their official website for their roadmap and more details, the site url : https://www.agrello.org/
Agrello at first glance is nothing extraordinary. However, I am quite intrigued by the open discussion and active engagement of the team members and it's community over some of the social medias. Their telegram channel is very active with over 1.7k members. The legal smart contract also interests me, YESI am very much wanted the current lawyer-client dealings to be changed. The legal fees, time and the process involved are way too wasteful. IOT surely would change this old-fashioned method. Agrello is contesting to become one of the main players in this sphere. Agrello ICO ended on 16 August. Despite the slower take-ups, I like the legal binding (Law Tech) concept and the ICO also mentioned on Forbes last month. So, perhaps don't be deterred. This crypto project could be those that spark a surprise in the future.
more ICO updates on the way
These ICO are on my watch list basically based on these requirements:
A workable idea and is relevant and practical in a current market.
A-team list of developers, management, and sound reputable advisory panels.
Before You decide to participate in any of the ICO, please do your own due diligent. Investing in cryptocurrency is risky. The market is unregulated and most research and analysis websites are mostly self-interest. Please do the following,
visit the official website,
see and join all the respective social media sites/platform.
read forums/reddit, ask questions if you need more information.
google/scrolling news, updates or reviews
do a simple google or any other social media account of the team members of the ICO project
Only all that, made your own assessment on that ICO project. Remember, most of the ICO project might need longer time frame to materialised. And only invest the amounth that you afford to.
** disclaimer: I am not associated and being paid for any of the ICO listed here. All the materials presented is not an investment and financial advice.