21st November 2018
By Vivienca Luong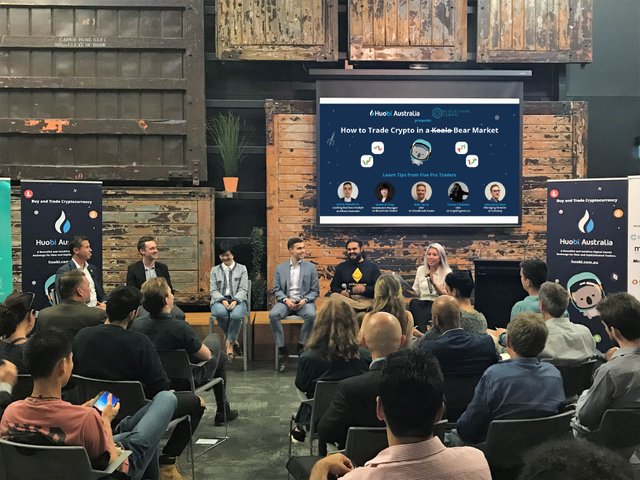 Over 60 people present at Melbourne's Blockchain Centre to hear from five professional traders.
As this crypto winter becomes more crisp and chilly, some traders may either disperse and attempt to frantically scramble out or some may try to stay warm by uniting and learn from other traders on how to conquer and excel.
In partnership with the Blockchain Centre, we brought together five professional cryptocurrency traders to share insights and experiences on how they are still actively trading and growing their portfolios in this bear market. The panel included Matt Harry (CEO at Cloudbreak Assets), Johnathan Ross (Managing Director at Coinstop), Queenie Tang (Investment Manager at Blockchain Global), James Papadiotis (Leading Business Analyst at Allianz Australia) and Tomas Cifuentes (CEO at CryptOrganics.io) with the moderator being our Business Specialist, Lien Truong.
With the recent bearish trends in the cryptocurrency market, Cifuentes believes that the interest in this market is still present. He thinks that people should take this opportunity to take a step back to learn and study the ecosystem and observe the market behaviour. It is not about whether the market will become more bearish or bullish, but instead, it is about continuous learning even through this bear market.
"Risk management is one of the most important things you can do when you're trading...whether it's a bear trend or a bull trend," Ross said. He mentioned that one example of managing risks would be to set up stop losses; that is, every time a trader puts in an order, they should also place stop losses which are automatic sales of bought coins to "mitigate any losses".
Harry described the cryptocurrency market as being "dynamic" and suggested that traders should also be as dynamic by adopting different trading techniques depending on the trend. He highly recommended the book called "Technical Analysis and Stock Market Profits" by Richard Schabacker, which he described as being a "bible" to all professional traders.
Tang began as a forex trader and is currently working as a market maker. She suggested that a trader can still gain even if the market is bearish. One of the main trading techniques which Tang uses is "arbitrage" which is "the practice of taking advantage of the price difference between different markets." Tang explained that this can be done if a trader buys low from one exchange and sells high on another. She recommended that traders would "need to allocate your funds across different exchanges before conducting the trades."
"Always have a trading plan," said Papadiotis. Between market sentiment and trading graphs, Papadiotis prefers utilising trading graphs to make trading decisions and plans. However, he does note that you can make inferences of market sentiment by using the trading graphs by viewing the price functions and spreads.
There were mixed feelings regarding longing and shorting the market. Overall, "...don't get emotional. Don't FOMO. Don't panic when the prices are low. Put in stop losses. Don't leverage unless you really know what you're doing," Truong concluded.
"As much as the market has dropped, Bitcoin will be around for a very long time and it'll probably come back bigger and stronger as the technology evolves."
To watch the whole event, visit:

DISCLAIMER: This presentation is provided by Huobi Australia Pty Limited ACN 625 496 200. It does not constitute financial advice and is presented purely for informational purposes — it does not consider the specific needs or circumstances of any person. Before making any investment decisions, you should carefully consider your specific needs and circumstances, the relevant disclosure document(s) and seek appropriate financial, legal and/or taxation advice. All coins are used for example purposes only, we do not have any opinion on whether you should buy or not buy any particular coin.