Deer Hunting In Scotland: A Week on the Hinds.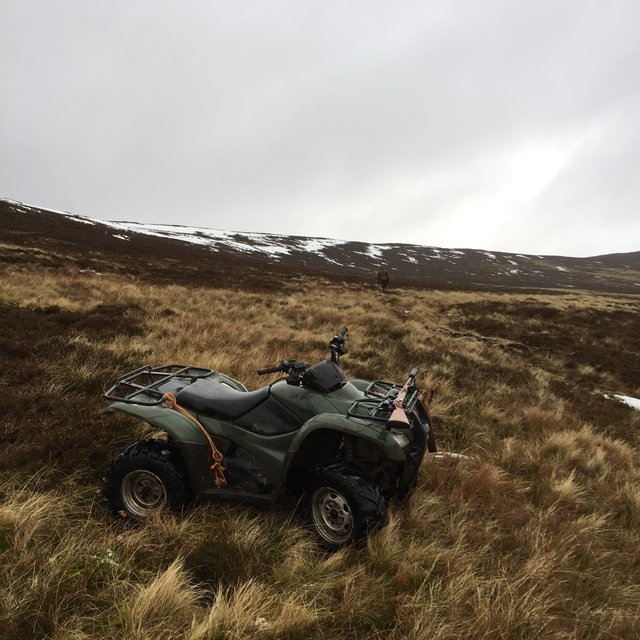 ~
Deer Hunting In Scotland: A Week on the Hinds.
==============================================
One of the great Hunting trips that hunters all over the world have heard of is Highland Stalking, as the locals call Deer Hunting in the hill country of Scotland.  
Are you sitting comfortably? Good then I'll begin.
--------------------------------------------------
This trip is proper Bucket List, and one that Big Tim and I have talked about for a coupe of years. Time, tide, and the rubbish that is modern life have conspired to keep us 'south of the wall', until now.  Readers over 40, enjoying ' middle youth' will know that there comes a time after which your birthday is all about doing what other people tell you will enjoy, usually a choice suspiciously similar to things they want to do. 'Dad we're taking you to Legoland' wouldn't kill me but 'honey we've got Coldplay tickets for your birthday' surely would. This year Big Tim has it all sorted, a week on the Hinds, staying in a cottage with no Internet in an area with no phone signal. Perfect.   
For the full Scottish fieldsports experience you can drop thousands on staying in a castle, feasting on the finest seafood's and meats the north has to offer, washed down with Edradour's water of life, a whiskey especially created for life's small victories. At dawn a tartan-clad 'Ghillie' will walk you up on to the hillside and by field craft, lead you to shooting that monarch of the Glen, a trophy Royal Stag. Or you can do as we did and be part of the Doe cull shooting Hinds [as female Red deer are called] and living in a self-catering cottage for a week. 
I live in London
----------------
 and my deer hunting experience is in the south of England. Where we practice 'Woodland Stalking' which is either spot and stalk in the hedgerows or more often shooting from a highseat (as tree stands are called here). The parcels of land are small mostly tens of acres, or groups of farms that are 1500 to 2000 acres. It's all very sedate, walking quietly, listening to bird song and shooting Roe, Muntjac or Fallow deer. North of the wall, in Scotland, lowland stalking produces some similar outings for Roe, but the legend, the real deal, is highland stalking for Red Deer.  
If you were to draw a line on the map between Glasgow in the west and Edinburgh in the east, everything to the north of the center of the line is the sparsely inhabited Highlands, it's sheep farming country where the estates are thousands of acres. It's the only part of the UK where you can walk in the hills for a day without seeing another soul. 
Scotland is even more beautiful when you're there than it looks in the adverts. Ancient stone juts from the earth, yellow gorse and purple heather give the greens and browns of the hills an almost two- tone shimmering effect on the rare occasions when the sun fights its way through the clouds. If you've seen those leery tartans with the pinks, purples and yellows that look so waggish around town, this is where they come from, they're camouflage at distance on the hill. 
In the laughably short 'summer' the place is alive with Midges,tiny wee beasties that swarm onto anything warm-blooded and leave dozens of little bites that itch for days. The Scottish tourist board finds in study after study that Midges are the number one reason people wont go back. Tourists hear the clarion call of the highlands; they marvel at the castles, and folklore of Scottish history, they sip the amber nectar, and then they're savaged by what amounts to dust with teeth.  I've done it a few times, in a word. Horrific. 
But Scotland has another season. 
The Romans had a word for Scotland 'Hibernia'
---------------------------------------------
– the land of perpetual winter, and to be fair it's a pretty good description. Wind and rain lash the hillsides, snow and hail alternate from September until May / July. You might prefer to spend a vacation in the Caribbean sipping cocktails by the pool, or sampling the culinary delights of any of Europe's medieval cities. To my mind as soon as you've seen the sunrise over those frozen green and purple hills you'll either 'know' an enduring love for the place. Or like my girlfriend, you'll know for sure that you belong by the fireside back at the hotel nursing a glass of scotch.    
**At work in london - late November**
Jerry:What are you doing for your birthday dude? 
SBW:I'm going to be on a freezing hillside in the snow and rain, lugging a rifle along, as I'm beasted up and down the highlands by the ghillie.  
Jerry:Really? 
SBW:Yeah. My happy place!  
Thanks for reading
Your pal
SBW
 [More in Part Two](https://steemit.com/hunting/@sbw/deer-hunting-in-scotland-a-week-on-the-hinds-part-two)