Holy SMOKES! The last five days (give or take) have included about a million events, occurrences, incidents, and cosmic synchronicities… For many people, these would just be THINGS THAT HAPPENED… Folks would just live through them, and then they'd be forgotten… But I'm not going to let that happen! It's the little things that REALLY make up life, and I'm digging, lately, on the L.I.V.I.N.' and trying to show, by example, how these simple, everyday BITS are seriously important, entertaining, weird---and POTENTIALLY, IN AND OF THEMSELVES, ART!!! (It's all about the framing!)
With these semi-nebulous thoughts in mind, here's a recap of some of this weekend's adventures, (minus Sunday's Big-Bam-Boo, which will get its own post tomorrow…):
First, Mariah and I got up and motivated and moving. (This may seem like an obvious and unnecessary place to start---but it's my damn story, and I think it's important, nay ESSENTIAL, to mention that we woke up! Some people might not have, and I know we are lucky for having survived the night!) Mariah works hard all week long, so weekends are tough. We have to balance the "I JUST WANT TO REST AND RELAX" urge with the "I FINALLY HAVE FREE TIME TO DO WHAT I REALLY WANT TO DO" impulse. (On Sunday, Mariah rented a carpet shampooer and "did the carpets!" She goes crazy when we leave her alone!!!) But we had a DATE planned for Saturday, so we chose to get up and GO…
We started our tour of duty by stopping at our local credit union where we intended to acquire a cashier's check to pay our rent with. (It is not grammatically accurate to end a sentence with a preposition, but I'm conscious of the "error" and choosing to employ it, for stylistic effect!) While waiting in the ASTRONOMICALLY long line (it was the 1st of June---so it was a REALLY LONG LINE…) …while waiting in line, we somehow struck up a conversation with an older gentleman ("How old?" you might ask… Wearing suspenders old…) …struck up a conversation with an older gentleman who overheard us talking about New York, (where our younger daughter's boyfriend just got accepted into a Ph. D program in Physical Therapy), and the suspenders man told us about his favorite botanical garden in Pennsylvania, called Longwood Gardens. We'd never heard of it---but he made it sound quite interesting---for a place that has no monsters or puppets or ghosts or video games or comics or robots… Again, this event (meeting the suspenders man) is something that most people would live through and forget, but by writing it down in my notebook (I carry a notebook with me at all times), and now posting it as part of our weekend adventure, we will have a record of this man and his suspenders and his botanical obsession forever!!! Wooooo! (See how exciting simple things can be if you present them in the proper conceptual frame? This post JUST became---for those who've read this far---CONCEPTUAL ART! Whether you wanted it to or not…)
After the credit union, we paid rent and got fuel. These actions may seem uninteresting to some folks, but they were exciting to us because we will now have a place to sleep for (at least) another month! (I am not making light of homelessness. We are GENUINELY grateful that we have a place to live! This hasn't always been a sure thing…)
After the errands were completed, we headed to Lower Columbia College (in Longview, Washington, USA) to check out the International Festival!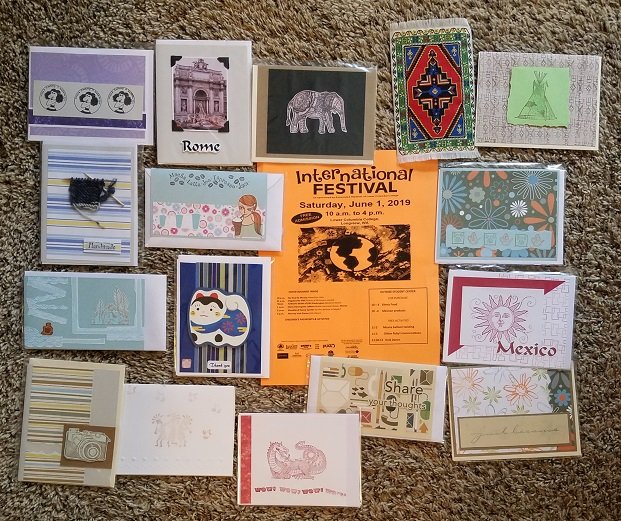 Because we had plans to go eat soon, we didn't try any of the food booths (although I think we would have liked to), but we did visit many of the interesting tables, both outside and inside the student center building, where the event was being held. We were particularly struck by the Japanese booth where a paper artist had created a number of interesting pieces, using origami and such. We ended up buying a postcard from her. We also stopped by the booth for the ETHNIC SUPPORT COUNCIL, where a very funny lady, named Uta, chatted with us for awhile about postcards and such. In fact, she said that if we'd come back to the festival NEXT YEAR, she will bring us an entire box of vintage postcards from the 1940s that used to belong to her mother! (We will, definitely, be back next year.) Meanwhile, we bought something like 13 or 14 hand-made postcards from her booth---and her partner kicked in a cool mini-rug with our "purchase." (The funds go to help out the Ethnic Support Council, which is cool… Check out the website for more info!!!)
After we got our diversity on, we got back into our auto and peddled over to the Cowlitz Expo Center for the (supposedly) county wide garage sale (although, truth be told, it was a much smaller affair than I thought it was going to be, based on the name of the event.) Mariah found two sets of colorful tights, though, which she quite liked---(I forgot to get a picture of them.) I walked out of the sale without having spent any dough (which is good, because I'd already dropped way more money than I intended to spend at the International Fest.)
Once we'd garage-sale-d to our satisfaction, we crossed the Cowlitz River and entered the quaint, little town of Kelso, Washington. Our destination, this time, was a tiny book shop called, we think, Read a Book (on South Pacific Ave., across the street from the Erebus bar / night club.) This shop was somewhat small, but it had great prices, and both Mariah and I found several books each. This was my hall: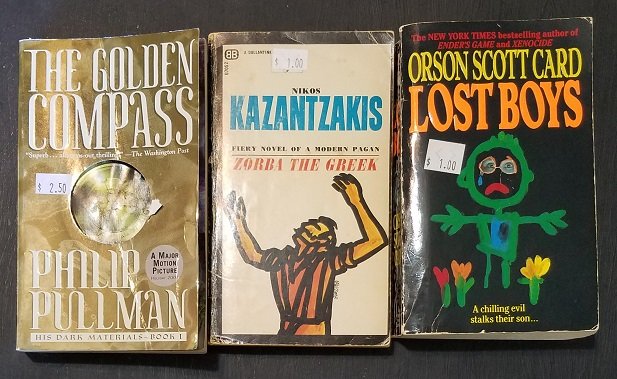 We'll need to go back and bring a list with us next time. (I can never remember which books I still have versus which books I've loaned out and/or lost over the years…)
By this time (I'm thinking it was getting close to 3:00 P.M., we were getting rather HUNGRY. We had HOPED to go to the Backstage Café, which is attached to the Kelso Theater Pub, but they didn't open until 5:00 P.M. (…sigh…) Instead, we hit a place called El Potrillo, right across the street from the theater.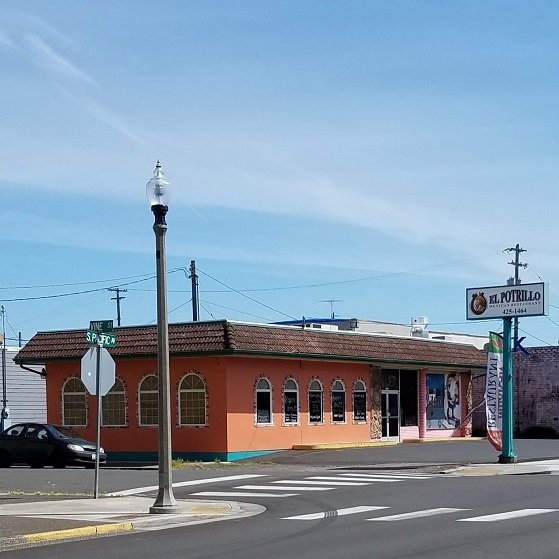 The food was VERY good, and the service was excellent. Mariah had a blended margarita with her lunch (it was hot outside, so it was okay), and I think she was happy with her drink as well. Overall, we both agreed that we will be visiting that restaurant again! (We don't go out to eat very often---because we're poor---so it's always a gamble when we try a new place. We don't want to spend a bunch of money and NOT like the food, especially when we know it's going to be several weeks before we get to go out again. Thus, we often haunt the same four or five places---safe bets…)
Finally, as 4:00 P.M. rolled around, it was time for our official, big, date event. We skipped merrily across the road from El Potrillo and headed into the Kelso Theater Pub to see Rocketman, a bio-pic about Elton John starring Taron Egerton. Mariah and I are HUGE Elton John fans, and we also like Egerton (from his roles in the Kingsman movies, as well as his part in Sing, where he plays an animated gorilla who just happens to sing an Elton John song!!!)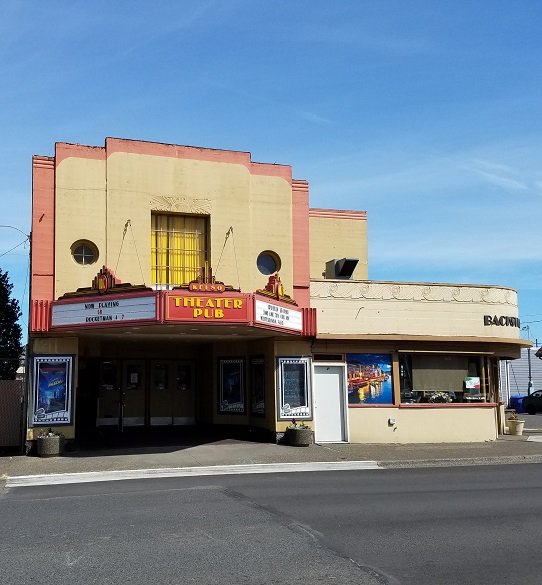 The movie was FANTASTIC! It has some incredibly sad moments in it (I usually hate sentimentality), and it's a musical, in the style of something like Grease or Mama Mia, with choreographed dances and plot elements pushed along by the songs, (also things that I don't always care for.) Unlike some musicals (which I don't always enjoy), this one was based on Elton John's songs, which are powerful on their own, but when put into the context of John's life, and the trials and tribulations that he's faced, they become even more spectacular. The songs were often tweaked and reimagined and re-orchestrated for the film---giving them a sonic footprint similar to the Love album of reimagined Beatles tunes (which I loved---though my Dad didn't care for it.)
Personally, I thought Egerton did a masterful job on this film. His voice isn't quite as strong as Elton John's (whose is??), but he sang well, and the acting was TOP NOTCH throughout the film. The costumes, the music, the integration of the song lyrics with plot movement---these elements were all brilliantly well done and integrated perfectly. I have a strong emotional connection to Elton John's music, having been a fan since the 1970s, even BEFORE seeing him on an episode of The Muppets! My Aunt Teresa was---and probably still is---a big Elton John fan, so I'm sure that's where some of the connection comes from. Regardless, I'm certain that Mariah and I will be buying the soundtrack in the near future and the film as soon as it comes out for home purchase! (I feel I should say that it was definitely a "rated R" film. If you are uncomfortable with drugs, foul language, abusive behavior against children, sexual content, or people betraying and belittling each other, then you might want to steer clear of this one---or maybe watch it with a hand over your eyes during the many naughty bits!)
And that was our Day Date! (We went home and chill-axed for the rest of the day.) We had a great time, picked up some books and artwork, had some good food, and we SPENT TIME TOGETHER, just being out and about---not watching t.v. or stuck to our phones… (The 3-D out there in the streets is SO-MUCH-BETTER than VR, it's amazing to me how few people are willing to give it a try!)
In other (almost completely unrelated) news, my older daughter (who, if you've kept up with my posts, you'll know is VERY pregnant) bought a bunch of white baby onesies and some fabric pens and brought them over to the house. She then proceeded to inform me that she wants me to draw on these garment---anything I want! Interesting… Here's the first one that I've finished so far: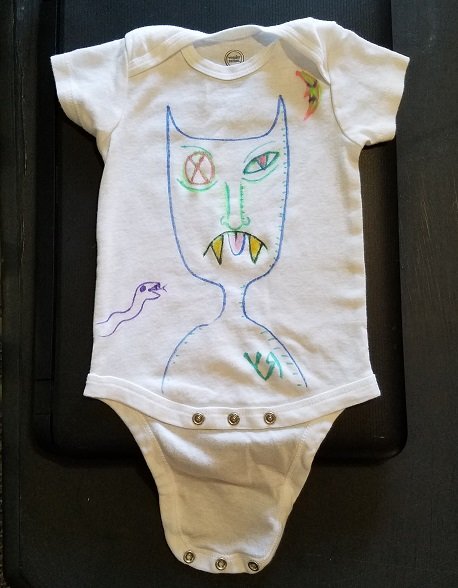 I think the kid (my first grandkid!!!) is due in just a few weeks. Frankie believes she's going to "pop" early, but we'll see. Both Frankie and her younger sister, Elise, were almost two weeks late coming into the world! If Frankie's kid comes early, we'll be surprised.
Another bit of non-news, I FINALLY got a frame for one of my favorite (of my own) paintings. For some reason, most people seem unimpressed with this one, but I like the colors and the weird little monster floating by the semi-abstract rat guy. Maybe now that it's in a frame it will get more love??? (Does it look more like ART now???)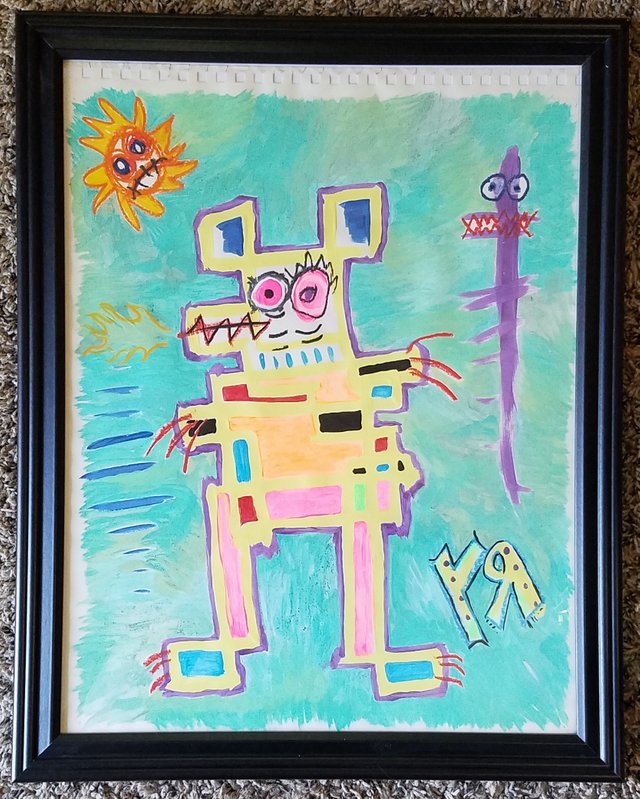 And, the last bit for this rambling post (I love a good ramble), my kids pooled their resources together and got me an early Father's Day gift---which absolutely shocked me!!!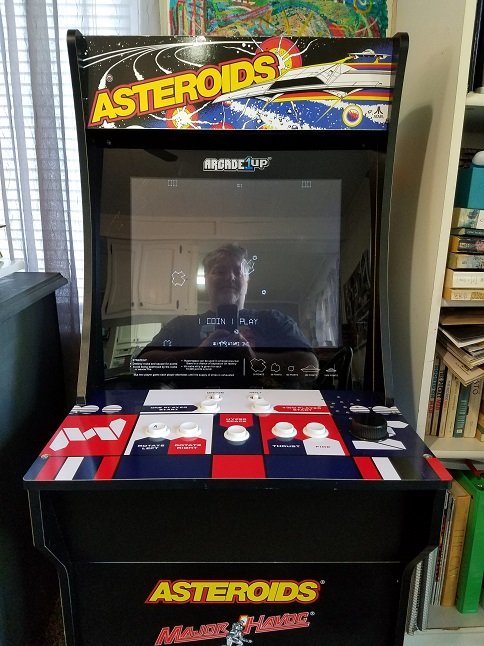 It's a three-quarter height, stand-up video game machine!!! The cabinet includes Asteroids (one of my all-time favorite games), Lunar Lander (harder that HECK!), Major Havoc (which is odd but fun), and Tempest (another one of my all-time favorite games---and it even has the twist-nob that you use to move the player icon around the screen!!!) Somehow, the kids got together, decided to get me this machine, and THEN got it into the house and put it together without me knowing, so when Ellie and I got home from our Seattle trip (more on that tomorrow), the machine was just STANDING THERE in the living-room waiting to be played!!!! Damn… I am a lucky guy!!! (The only sad thing is that the high scores are erased every time you turn the machine off, but I've already got that sorted out! I'm going to put a sticky-note on the bookshelf near where we settled the machine in the dining room, and when I get a high score, I'll write it on the sticky note, so that I'll always know if I've reached new heights just by looking at the sticky!)
Yep…. Life is pretty great. Make sure you enjoy it while you can!!!
---Richard F. Yates
(Primitive Thoughtician and Holy Fool)
SUPPORT INDEPENDENT FOLKS WHO ARE JUST MAKING STUFF BECAUSE THEY LOVE IT!!!
https://steemit.com/@richardfyates
https://primitiveentertainment.wordpress.com/read-a-damn-book-list/
https://makersplace.com/store/richardyates/