I found a new 'house price hero' over the weekend - in the form of Emeritus Professor of Economic Geography, Paul Cheshire, based at the LSE.
Paul Cheshire argues that England doesn't have a housing affordability crisis because of immigrants and wealthy foreign speculators increasing demand, but rather it's due to our restrictive planning laws restricting supply.
The main policy responsible for this is the 1947 Town and Country Planning Act, which, since its implementation in 1955, has explicitly been used to prevent urban expansion by designating huge swathes of England as Green Belt, where it is very difficult if not impossible to get permission to construct new homes.
This is especially true around London, and you can really see the impact the Green Belt has on development: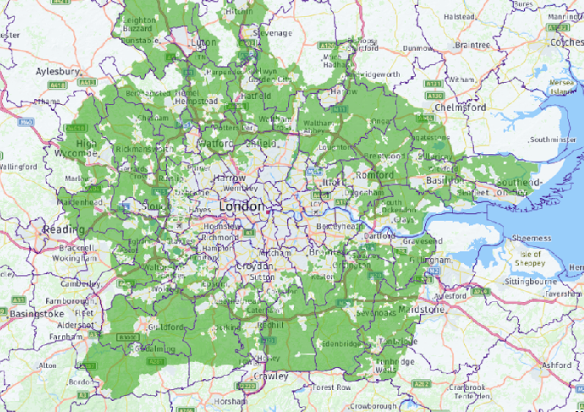 This is the first time I've actually had a good look at a map of Greenbelt land, I'd never before realised it was such a wide band around the capital. Interestingly, my home town of Medway lies just a mile outside, and my Dad's estate is literally a few hundred metres away from where it starts (on the other side)… no wonder the local running routes are so nice, if you head towards the Greenbelt of course, if you head the other way you get miles and miles or urban sprawl (funny that, eh?!?)
According to Paul Cheshire, what the greenbelt has done is turn any property already on Greenbelt land (which is still quite a lot, because look at the extent of it!) into a scarce commodity: houses on Greenbelt have become like pieces of rare art, as they have restricted supply which means their value has tended to go up over time.
And the last 80 years have seen a knock-on effect on property prices in London, as building plots in the capital have become scarcer.
If we contrast this to other countries on the continent where governments have made sure that the supply of housing has kept up with demand (i.e. by not having Greenbelts around cities) housing is much more affordable.
The original aim of the Greenbelt was to provide 'breathing space for city dwellers', but it hasn't quite worked out like that. To quote Paul Cheshire (I like this guy!)
>The reality is that a child in Haringey gets no welfare from the fact that five miles away in Barnet, there are 2,380 hectares of greenbelt land; or in Havering another 6,010 hectares...What greenbelts really seem to be is a very British form of discriminatory zoning, keeping the urban unwashed out of the Home Counties.
Cheshire's solution to the house-price crisis is simple: build on the greenbelt, but do it in a carefully managed way and build on the least environmentally sensitive bits of it.
All we're doing by keeping our restrictive 1947 planning policies in place is providing a subsidy to horsy culture and golf – we're keeping the property assets of the rich inflated. By allowing more development on the greenbelt we'd ease property prices for the majority while not impacting the environment that much.
Personally, I think this is a great idea – my experience of working in Reigate for 16 years which is a massive green belt area is that there's far too much horsey wealth and privilege. A suitably massive house-building programme would benefit the majority while increasing diversity. Sure, it would bring down existing house-prices, but I doubt if they'd collapse, and the overall benefits to middle-income families being able to purchase in the area would outweigh the decrease in asset-value of the super-rich who already live there.
I think I might start campaigning for massive development on the Greenbelt. It's also a more effective way of irritating the rich than hunt-sabbing, warmer and much less physically tiring too.
Sources
https://blogs.lse.ac.uk/ipa/2014/10/17/gearty-grillings-episode-13-paul-cheshire-on-planning-the-housing-crisis/
https://www.theguardian.com/uk-news/davehillblog/2014/may/13/london-housing-crisis-building-greenbelt
PIC SOURCE https://hertsmere-consult.objective.co.uk/events/31566/popimage_d681346e743.html