"Spook Show 2019 – 09: House on Haunted Hill (1959)"
There are a handful of HORROR LEGENDS---actors who have defined what horror movies are and become household names in the process: Bela Lugosi, Boris Karloff, Lon Chaney and his son, Lon Jr., Peter Lorre, Christopher Lee, and of course, perhaps the most important of them all (to me), VINCENT PRICE! And, I'm ashamed to admit, I haven't reviewed a SINGLE Vincent Price film, yet. Let's remedy that situation, post haste and in GRAND STYLE, with a picture filmed in EMERG-O vision!!! One of those classic movie theater gimmicks!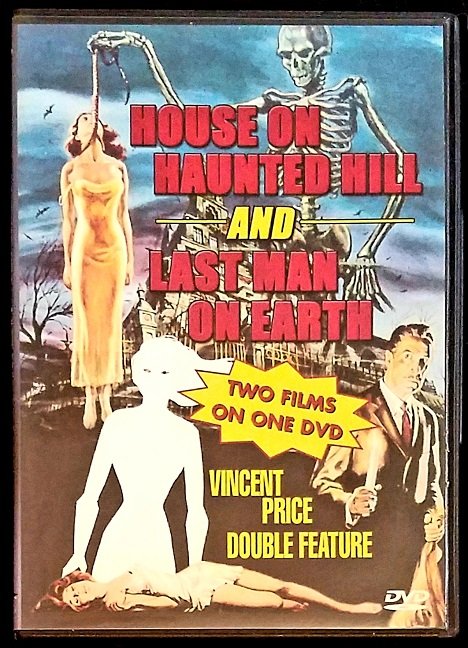 [This is a photograph that I took of the actual DVD that I watched. The image is included for review purposes only!]
House on Haunted Hill is a 1959 horror film starring Vincent Price and directed by the brilliant schlockmeister, William Castle. Castle was famous for his film gimmicks, which he used to drum up interest in his low budget, b-films. Some of his most well known stunts included having nurses in the theater in case movie-goers got so scared they had heart attacks (for the film Macabre (1958)), or rigging up vibrating mechanisms to chairs so that they would buzz when the monster was on screen (for the movie The Tingler (1959)), and handing out modified 3-D glasses to help people "see ghosts" (in 13 Ghosts (1960))! For House on Haunted Hill, which was supposedly filmed in EMERG-O, an exciting "process" that emerged the audience directly in the action, during the climactic scene of the film, a large plastic skeleton was "floated" over the audience in the theater with a pulley system. (SHOCK!!!) These types of tricks and gimmicks might sound goofy and stupid to us today, but they packed theaters back in the late 1950s and early '60s. (There's a fantastic documentary on William Castle that I recommend looking for, called Spine Tingler – The William Castle Story, if you're interested in horror movie history or in seeing a really creative person who had mastered the art of out-of-the-box thinking!) Regardless of the gimmick used to draw people into the theater, once they got INSIDE, (in this case, at least) they were actually treated to a very entertaining film.
For those who have never seen House on Haunted Hill, here's a quick explanation of the premise: Vincent Price plays Frederick Loren, a millionaire with a wicked sense of humor, who decides to throw a party for his less-than-loving wife, Annabelle (played by Carol Ohmart). Because Mr. Loren is a freak, he decides to hold this party in a reportedly haunted house where several murders have taken place, and instead of inviting any of his or his wife's friends, he invites a handful of people neither of them know, but all of whom are in need of CASH! Mr. Loren tells each of these people that he will pay them ten thousand dollars (each) if they can stay the entire night in the haunted house with him and his wife… Money is a powerful motivator, so they all say yes. Unfortunately, as soon as the guests arrive, spooky and potentially life-threatening things start to happen---blood drips from the ceiling, lights turn on and off of their own accord, and a chandelier falls from the ceiling, narrowly missing one of the guests.
Vincent Price plays his character with evil glee, coming across as both threatening and charming at the same time. Elisha Cook (a well-known character actor) plays Watson Pritchard, an alcoholic whose family owns the haunted mansion and whose own brother was murdered in that very house. He keeps everyone spooked with his stories about headless corpses and ghosts being "on the move" looking for more people to kill. Caroline Craig plays Nora Manning, a young lady who works for Mr. Loren's company, but whose family is nearly destitute, so she has agreed to spend the night in the haunted house because she desperately needs the money to take care of her loved ones. She spends MOST of the movie screaming at things. She screams at a blind woman, she screams at a ghostly figure outside her window, she screams at an organ that plays by itself, and she screams when SHE shoots someone! I'm guessing that the auditions for her part were rather noisy… Overall, the mix of characters, each with their own character flaws and questionable motives, gives the plot a "who-done-it" quality, along with the ghostly mood. (I'm trying not to reveal too much of the plot. I think you should just watch the movie…)
The special effects, staging, and dialog for this movie are all extremely cheesy, by today's standards---but the tone (somewhere between horror and high-camp) is excellent. Listening to Price and his wife bicker back and forth and threaten each other's lives is delightful, if somewhat sinister, fun, and I truly enjoy the film for what it is. It's definitely goofy (as a lot of William Castle's films tend to be), but if you know this going in, that what you're about to see is a classic, b-movie, horror show with cheesy special effects and Vincent Price's razor-sharp snark to keep you entertained, and you LIKE these types of things, you'll probably enjoy the film.
It's a short movie, only 75 minutes long (according to the back of my DVD case), but it's also in the public domain at this point, so it's going to be super-cheap to buy. My copy came with a second Vincent Price film, Last Man on Earth (1964)---which is also an interesting, cheesy film, but not as much fun as House on Haunted Hill, and I'm pretty sure I only paid about five bucks for the set.
I should also mention that there was a 1999 remake of this movie, starring Geoffrey Rush in the Vincent Price role, as well as a number of other well know actors from that era, Famke Johnson, Chris Kattan, Jeffery Combs, Bridgette Wilson and a few more---but this movie went for more of an MTV-style, quick cuts, heavy metal soundtrack, explicit gore take on the story, and included a terrible, CGI climax, which really wasn't very fun to watch. I mean, it wasn't the WORST horror remake I'd ever seen (that was the 1999 remake of The Haunting, which was so bad it made me want to punch somebody---1999 just wasn't a good year for remakes), but if I ever get the urge to watch a haunted house movie, I'm MUCH more likely to grab for the Vincent Price version of this film, especially if I'm in the mood for some snark. (Another, genuinely spooky film from around this era is The Haunting (1963).)
I'm a huge fan of Vincent Price, and even though this movie was made on a low budget and has laughable special effects, it's still one of HIS most entertaining performances. Up there with Comedy of Terrors (1963), Theater of Blood (1973), and House of Wax (1953). He has SO MANY GOOD MOVIES, though, that it's hard to pick just a few as my favorites!!! Even his appearance on the first season of The Muppets is fantastic, particularly the scene where it's just Price and Kermit the Frog sitting down together to talk about the "craft" of acting.
Price was a one of a kind treasure, who virtually OWNED the horror genre from the 1950s until the 1980s (that wasn't the ONLY types of roles he took, but if it WAS a horror film and he was in it, I would watch it...) If you've never seen ANY of his movies (hard to believe), there aren't that many that I've seen that are so bad that they aren't worth watching for his performance alone, even if the rest of the movie is a dumpster fire. Overall, I enjoy William Castle's great, gimmicky b-films---I love old-school ghost stories (from an era before splattering blood around the screen took the place of a well told spooky story and solid character development)---and I LOVE Vincent Price---so House on Haunted Hill has a lot to offer someone like me. And MAYBE you'll like it too! (And, if not, you've only lost 75 minutes of your life… Ha!)
---Richard F. Yates (Holy Fool)
[P.S. – So, back in July, I said I was going to try to get 31 Spook Show reviews written this year, so that people would have a different seasonally appropriate film to watch every day of October. Then, in September, I realized I'd already procrastinated too much, and I was probably only going to be able to get 13 reviews written before Halloween. Now, I'm going to try to get ONE MORE written after this one before the 31st… I always try to bite off too much---but I believe in shooting high! AND, if I fail to reach my goals, I'll at least get as far up that mountain trail as I can before I abandon the project and go back home. In this case, it looks like I'm going to get TEN reviews done before the Halloween deadline. Ooops… Same thing happened last year. I wanted to write 31 reviews, but I only finished ten. Weird. THUS---you can look for one more Spook Show 2019 review between now and Halloween---and maybe I'll try to start writing my 2020 reviews in January this year. I SHOULD be able to complete 31 reviews by Halloween if I start ten months in advance… Shouldn't I??? We'll see…]