Every day anarchists go in to the streets to pay with their lives for your freedom.
The least you can do is support those around you that are willing to pay this sacrifice so that you can have the few freedoms you have left.
Let me tell you, dear reader, there are no freedoms if you don't take them.
If you don't drive your car without insurance, or a seatbelt, at least once in a while, you might as well get some free donuts and a plaque of appreciation for being their best cop.
If you consciously decide to do what you are told, rather than what you will, you are their perfect slave.
They expend no resources keeping you on the plantation and buying at the company store.
Shame on you, freedom lover.
You are a black mark on your ancestor's bloodline that stood up when they were needed to make sure you gonna grow up with the little freedoms you still have.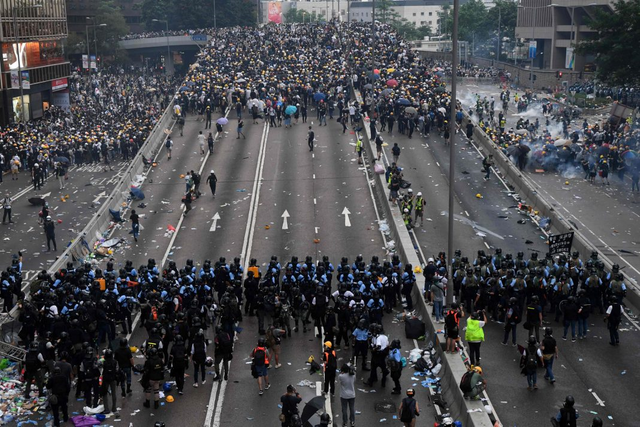 >Hong Kong: Anarchists in the Resistance to the Extradition Bill
By Infoshop Staff -
June 23, 2019
2 views
Let's see if we can up that view count.
via CrimethInc

An Interview
Since 1997, when it ceased to be the last major colonial holding of Great Britain, Hong Kong has been a part of the People's Republic of China, while maintaining a distinct political and legal system.
In February, an unpopular bill was introduced that would make it possible to extradite fugitives in Hong Kong to countries that the Hong Kong government has no existing extradition agreements with—including mainland China.
On June 9, over a million people took the streets in protest; on June12, protesters engaged in pitched confrontations with police; on June 16, two million people participated in one of the biggest marches in the city's history.
The following interview with an anarchist collective in Hong Kong explores the context of this wave of unrest.
Our correspondents draw on over a decade of experience in the previous social movements in an effort to come to terms with the motivations that drive the participants, and elaborate upon the new forms of organization and subjectivation that define this new sequence of struggle.
In the United States united snakes (sic), the most recent popular struggles have cohered around resisting Donald Trump and the extreme right.
In France, the Gilets Jaunes movement drew anarchists, leftists, and far-right nationalists into the streets against Macron's centrist government and each other.
In Hong Kong, we see a social movement against a state governed by the authoritarian left.
What challenges do opponents of capitalism and the state face in this context?
How can we outflank nationalists, neoliberals, and pacifists who seek to control and exploit our movements?
As China extends its reach, competing with the United States and European Union for global hegemony, it is important to experiment with models of resistance against the political model it represents, while taking care to prevent neoliberals and reactionaries from capitalizing on popular opposition to the authoritarian left.
Anarchists in Hong Kong are uniquely positioned to comment on this.
This story goes on at some length.
I hope you take the time to learn the state of the struggle to free you from the slavery you so lovingly embrace.
Each one of those dissidents that goes to prison, or is killed, is a sacrifice for you to be 'free' from being ruled by oppressive force.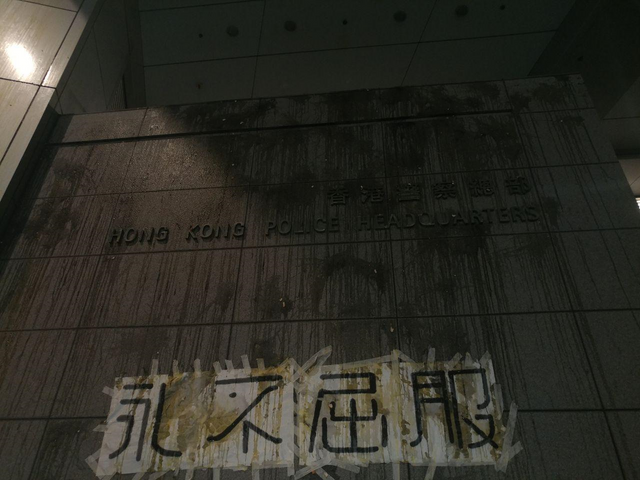 Photo by KWBB from Tak Cheong Lane Collective.
The front façade of the Hong Kong Police headquarters in Wan Chai, covered in egg yolks on the evening of June 21.
Hundreds of protesters sealed the entrance, demanding the unconditional release of every person that has been arrested in relation to the struggle thus far.
The banner below reads "Never Surrender."