What You Can Do to Attract Birds to Your Garden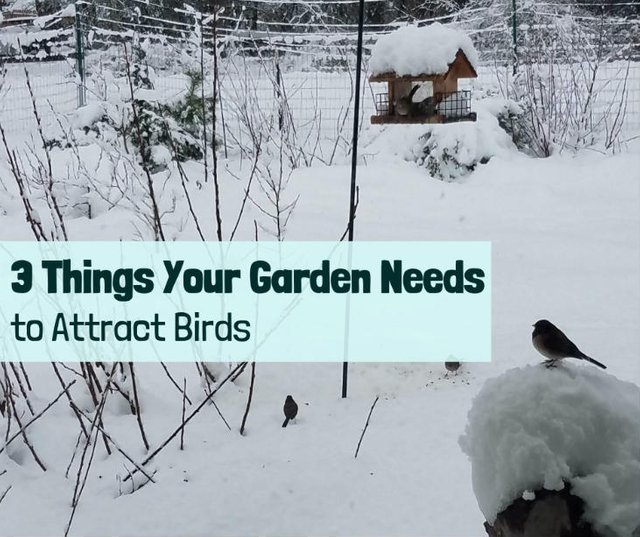 Birds are an important part of just about any natural ecosystem. They eat bugs, spread seeds, and replenish your soils with fresh nutrients. But let's be honest, the real reason you want more birds in your garden is because it just makes this life so much more beautiful.
Attracting birds to your garden or homestead can be done simply by providing 3 things for the birds.
Cover
Food
Water
This week's blog post on Wild Homesteading is all about helping you provide each of these 3 essential elements so birds are attracted to your garden.
About a month ago I also wrote a post on the Steem blockchain on this subject though it does not cover this topic in as much detail as this week's blog post.
Check out both those posts to learn how to provide cover, food, and water for your feathered friends.
Do Birds Cause Problems in a Garden?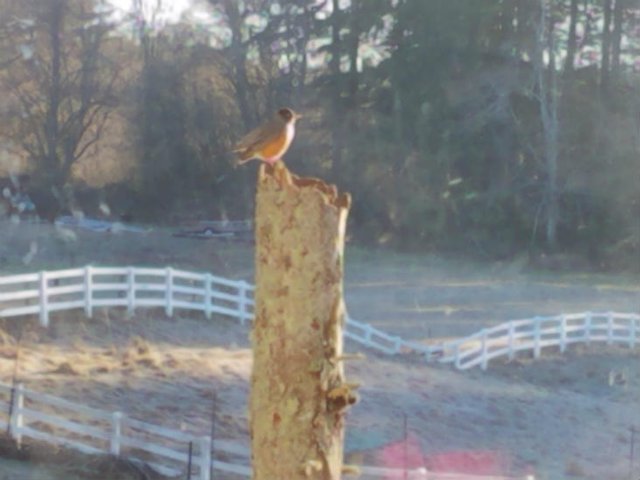 One thing you may be wondering is do you really want birds in your garden? I mean how often have you seen gardeners putting up nets, wires, cages, old DVDs/CDs, etc. trying to keep birds out of the garden? Now you want to attract birds to the garden!?
I understand this concern and it obviously is something that some gardeners struggle with.
In general crows, black birds and jays tend to be the birds that cause the most problem in a vegetable garden. The other birds will likely not cause a lot of problems. Though the robins do annoy me when they kick my mulch all over and bury young seedlings...
One thing I would note is that these birds also eat insect pests. While the birds may eat some of your vegetables they will also reduce the number of insect pests.
So if you exclude the birds then you will see an increase in insects pests. I would rather have the birds.
I also believe based on my own experience that if you create a truly wild homestead / wild garden that there will be enough other sources of food for the birds that your garden will stop standing out.
I call an isolated garden as an oasis garden in the desert situation. If all the surrounding land is fairly bare (lawns, isolated trees, very few shrubs or other plants other than grass under the trees, etc.) and then you put in a garden then of course all the wildlife will be attracted to this new garden (the oasis).
But if you restore the landscape and plant native plants and other plants that support wildlife in addition to your food crops then the garden does not stand out.
On my property I have seen a huge increase in the number of birds since I started improving the land but I'm actually losing less of my harvest today to birds than I was before I improved the land.
This week's blog post shows a bit of what I have been doing on my own property.
3 Quick Things You Can Do to Attract Birds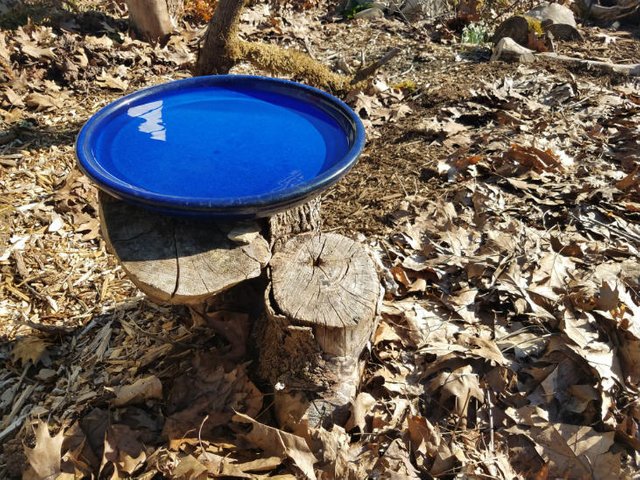 Check out the blog post for more information but here are 3 examples of things you can do to provide cover, food, and water for birds from the post.
The easiest is to setup a bird feeder and a bird bath. I got a relatively cheap feeder from the store and the bird bath in the picture is one I built using the ceramic water catchment for a large pot and a wood round. It looks nice and works great.
Of course natural water features and natural habitat are best but adding a feeder and a bird bath will attract birds to your garden.
My recommendation is to pick an area near the bird feeder and bird bath to plant a tree, a few shrubs, and some smaller plants. Add some woody debris like a small log to finish it off.
Plant these plants in a fairly dense group to create a cluster. Ideally, either the tree or at least one of the shrubs will be an evergreen for winter cover. Also, native plants will support more insects which will in turn support more birds.
I planted dense hedgerows near my bird bath and feeder and birds go back and forth from the hedgerow to the feeder/bath all the time. The hedgerow gives them cover that they need to feel safe.
If you do each of these 3 things--add a bird bath and feeder and an area for cover--you should see a lot more birds coming to your garden. Beyond just enjoying watching the birds you should see a decrease in insect pests and an overall increase in abundance.
What do you think? What are you doing to attract birds to your garden / homestead? Do you have a favorite song bird?
My favorite would have to be swallows :)
Thanks for reading this post and please don't forget to check out this week's blog post over on my website.
---
Related Blog Posts You May Find Interesting
---
Follow me for more posts all about homesteading, working with nature, and growing your own food: @wildhomesteading
And check out my blog - www.wildhomesteading.com for weekly in-depth posts on working with nature to grow your own food and start/build your homestead.