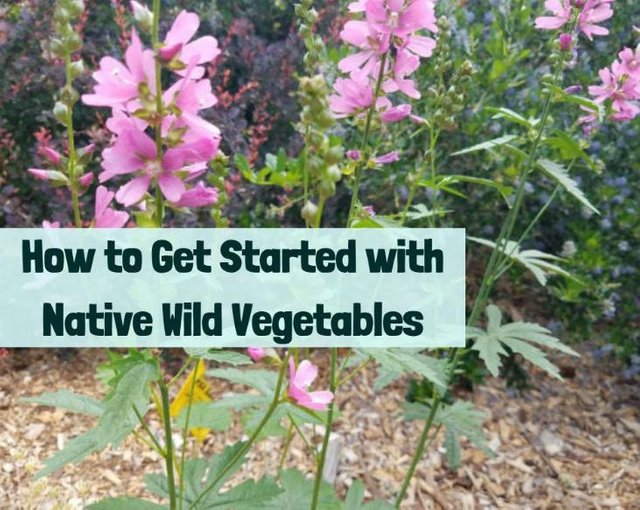 Have you ever gone out and foraged for wild foods? Perhaps you found a huckleberry bush covered with sweet juicy berries. What about wild onions? Miners lettuce? Waterleaf? Stinging Nettle?
These are all examples of native wild vegetables but there are many more than these. This week's blog post – How to Get Started with Native Wild Vegetables – dives into these amazing wild foods and how to use them in your garden and on your homestead.
Plus, the post covers 9 native wild vegetables found in western Washington.
Miner's Lettuce
Redwood Sorrel
Pacific Waterleaf
Early Blue Violet
Henderson's Checkermallow
Pacific Silverweed
Oregon Stonecrop
Springbank Clover
Nodding Onion
Use these 9 wild vegetables to help you picture growing these great wild foods on your own homestead. But there are far more out there that would make a great addition to your homestead.
What are Native Wild Vegetables? And Why Should I Grow These?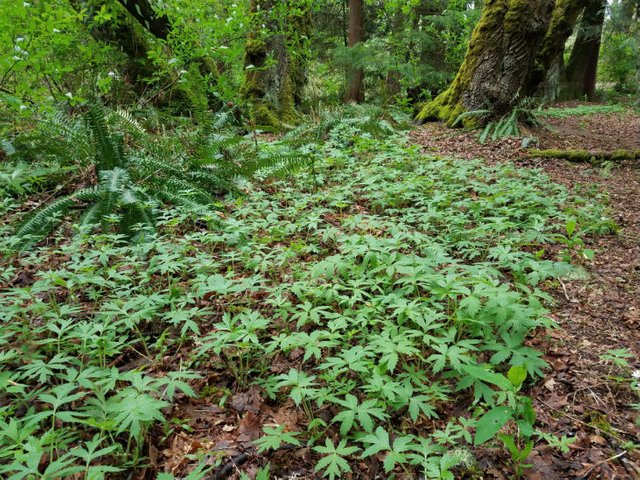 As a homesteader you want your garden and your food systems in general to be resilient to shocks. But unfortunately, our food systems are often not very resilient. As a whole those of us in the western world eat a very small number of plants compared to our ancestors.
There are really just a few types of vegetables that work well with industrial farming. These are the ones you find in the grocery store. And regardless of if you live in Washington State, Kansas, Main or London you likely have the same general selection. Regional variations have been lost.
But wild native vegetables are a great way to bring back a diversity of food. I have a list of 18 native wild vegetables that I'm thinking about growing in my front food forest. Those 18 are not even counting the wild vegetables that prefer growing in the shade like Pacific waterleaf and redwood sorrel.
Imagine walking around your homestead and harvesting greens for cooking or for a salad and easily coming back with over 12 different types of greens. I can already do that and I have yet to plant the 18 native wild vegetables on my list.
And greens are not the only thing these wild foods provide.
Wapato, camas, springbank clover, Pacific silverweed, fernleaf biscuitroot, harvest brodiaea, beaked sedge, and Indian ricegrass are all examples of staple crops native to Washington State.
All the native wild vegetables I have listed in this post are also perennials in western Washington. Which means that once they are established you will have a lasting food source that needs very little maintenance and also supports local wildlife.
Just imagine what could be done with all these native wild vegetables if they were selectively bred overtime for improved harvests. How many different types of new crops could we have if this was done across the world?
Growing Native Wild Vegetables in the Garden and on the Homestead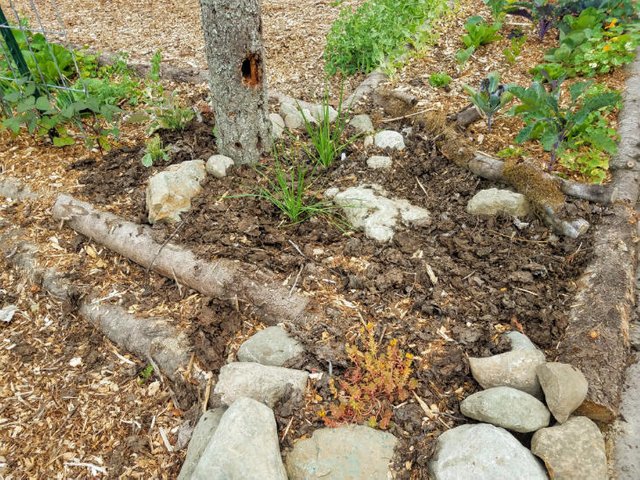 The start of my wild garden patch. I will finish planting it this fall
One challenge with native wild vegetables is figuring out how to integrate them with your existing plants. In my kitchen garden I have an area in each garden bed that is set aside for native wild vegetables.
Logs and rocks are used to mark the boundaries and this fall I will be planting these areas with a number of native wild vegetables. These "wild" patches will also help attract pollinators and other beneficial insects.
But I'm also mixing these wild foods in all around my trees and shrubs. Instead of buying ornamentals I can plant beautiful plants like Henderson's checkermallow. Many of these wild native vegetables could be planted in your front yard as flowers and your neighbors would never know you were growing food!
Make sure to check out the blog post before you go. The post dives into more information about these great wild vegetables and has some tips on how to learn about the ones that are native to your area.
It will take some time to learn about the amazing native wild vegetables in your area but I guarantee if you take the time to learn you will fall in love with these fantastic wild foods!
Thank you!
---

Weekly Blog Post
Related Blog Posts
---
Follow me for more posts all about homesteading, working with nature, and growing your own food: @wildhomesteading
And check out my blog - www.wildhomesteading.com for weekly in-depth posts on working with nature to grow your own food and start/build your homestead.