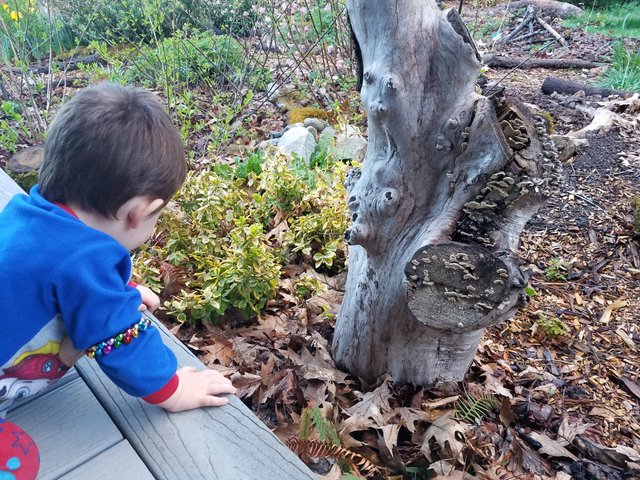 One of my favorite things as a homesteader is watching my son explore our homestead. He just loves being outside and seeing all the life around him. Soon my daughter will be born and I can't wait to show her our homestead and the rest of the world too.
My son is only a bit over 2 years old but one thing that has always amazed me was seeing just how drawn he was to the outdoors even as a tiny little baby. He just loved it and would get so excited watching birds, eating berries, and exploring our big cherry tree.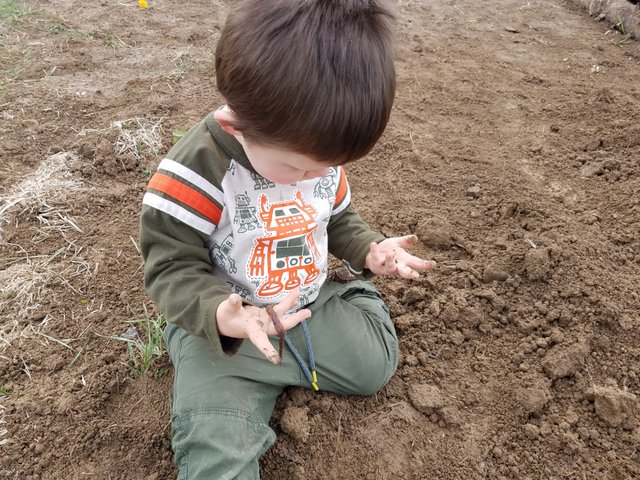 Holding a BIG worm and a tiny worm
He has no fear or disgust of things in nature. A slug is a potential friend, dandelions are fun flowers, and worms are "wormy friend". He wants to hold spiders and bees and was really jealous that Daddy got to hold a humming bird in his hand (he talked about that for days--I found one that was stuck and I had to hold it to get it loose).
He does seem to have a bit of caution when it comes to having critters on him but he wants to hold them all in his hand.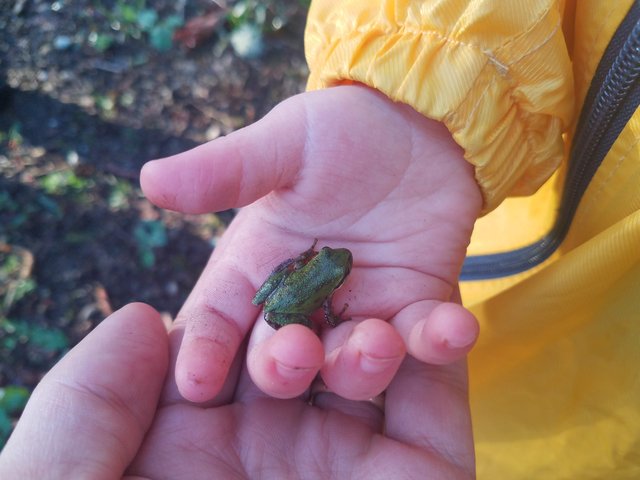 We were watching this frog and my son kept saying "hold frog hand". He wanted to hold the frog so I caught it and helped him hold it gently.
What this has shown me is that a lot of our reactions to things in nature are learned rather than something we are born with. While I want to make sure he stays safe I also want to encourage and support his sense of awe and wonder that he has for all critters.
Currently, the only things he is afraid of are big excavators and helicopters. Both are just too noisy for him and he always wants to be held if one of those is near. Though he loves to see pictures of me driving an excavator!
Letting Kids be Part of the Homestead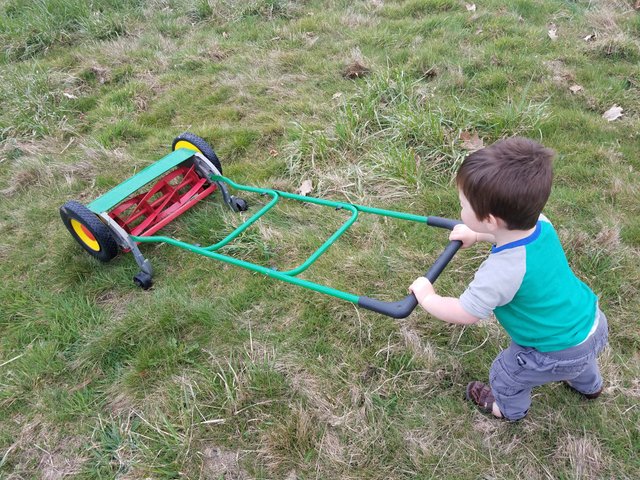 My son just loves helping out around the homestead. At this age he can't really do much to help but that does not stop him. Sometimes this means that a tasks takes longer to complete but I try to have him be a part of the activities he likes and that are safe.
Basically anything that I'm doing he wants to do :)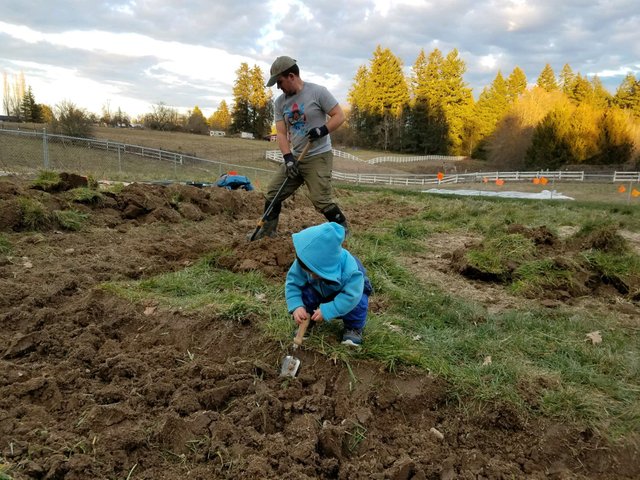 Eventually he tends to get tired of "helping" but then he often just wants to hangout near where I'm working. Sometimes he will say "Daddy working HARD" and then "Arden working HARD". His commentary always makes me laugh.
The new kitchen garden that I have been talking about a fair bit on steem was a great project for my son to be a part of. He loved hanging out and climbing around while I was trying to build it. Sometimes that slowed me down but it was so fun seeing how excited he was.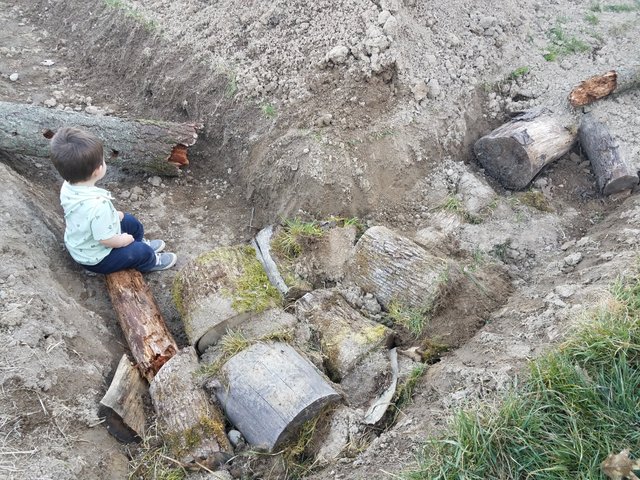 Making sure the new kitchen garden hugelkultur beds are built according to the specs!
I think it is very important to let kids be part of the daily homesteading tasks. While they may slow things down (especially when they are young) it is so important for them to get to take part in these tasks. Letting my son help out has really meant the world to him. He just loves it.
Exploring Nature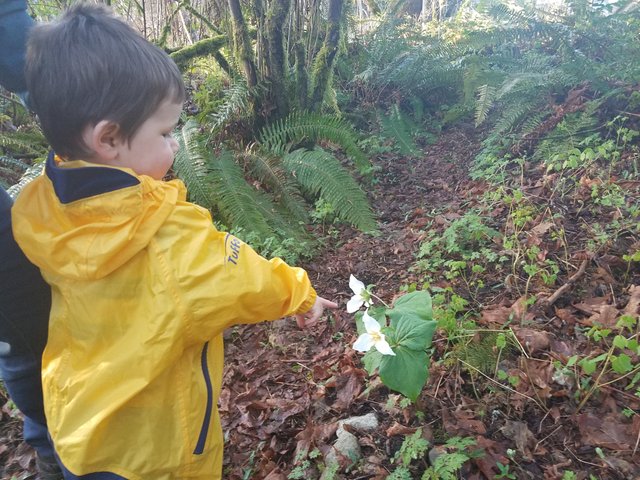 We love to go on hikes and just explore the natural world. Even at his young age my son can identify a number of different birds (chickadees, robins, blue jays, sparrows, towhees, herons, hawks, owls, ducks, geese, and juncos), he knows that the moon controls the tides, he can identify several different plants, and he will talk about "Daddy making habitat" when I'm working on a food forest or a new wild garden.
My wife and I have just try to expose him to the world around him and he just soaks it all up like a sponge. No information is boring, everything is new and exciting.
I can't wait to help my daughter explore her world too and it will be so much fun watching my son and daughter grow together on our homestead. I'm also excited to see how our exploration of the world around us changes as they get older.
I'm looking forward to our first family backpacking trip!
If you have a kid in your life please help them explore the natural world. There is so much for them to learn and experience. By helping them explore at a young age you can help them have a life long love of nature.
Plus, they just seem to love it so much!
Thank you!
---

Weekly Blog Post
Related Blog Posts
---
Follow me for more posts all about homesteading, working with nature, and growing your own food: @wildhomesteading
And check out my blog - www.wildhomesteading.com for weekly in-depth posts on working with nature to grow your own food and start/build your homestead.