Hello Steemians. I finally have some time to get a post out about our new homestead.
We've been working hard, and we've got all the road base down so we can get to the cabin and home site if there is rain. So.... we started our little cabin, or tiny house, or whatever you want to call it.
My family has some property nearby that we all hunt on, and we have always had terrible problems with pack rats and rock squirrels getting in and tearing stuff up. We are going to do a bomber build on this cabin so we don't have (or have less of) a problem with critters. It's going to be a 10 X 12 cabin with a loft, with solar power, and water catchment. Completely off grid! A bath house will be built a few yards away with a composting toilet an a solar heated shower.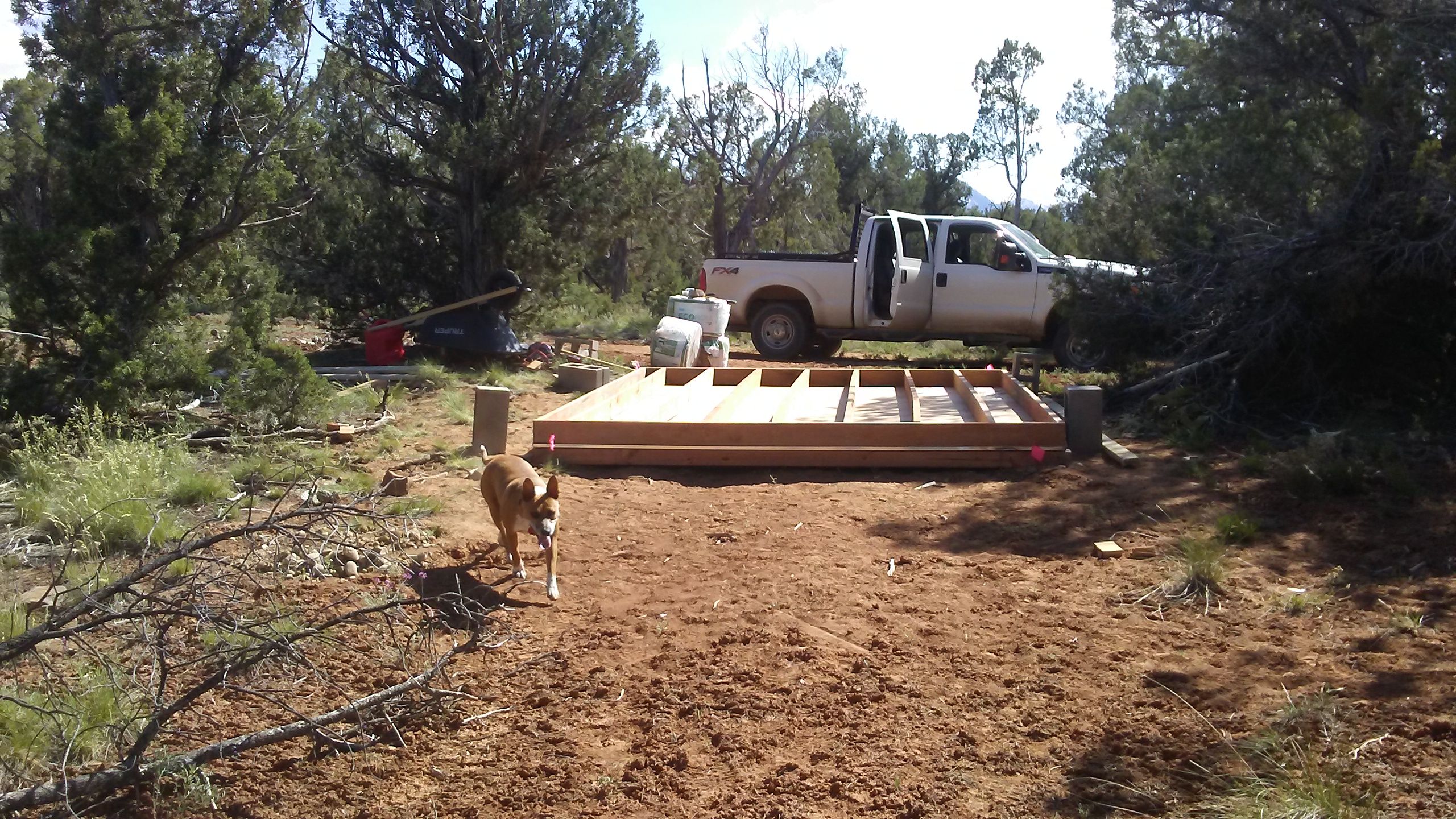 Because of the critter problem, the bottom of the foundation has metal lathe attached to it. Metal drip edges are then nailed and sealed to the bottom edges. Insulation is filled in, and then it's decked.
The dog in the picture is named Lucy, because she's a redhead, gets into a lot of trouble, and usually has some "splainin" to do.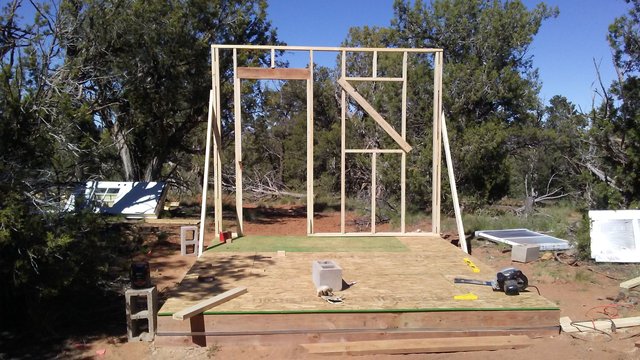 One wall up!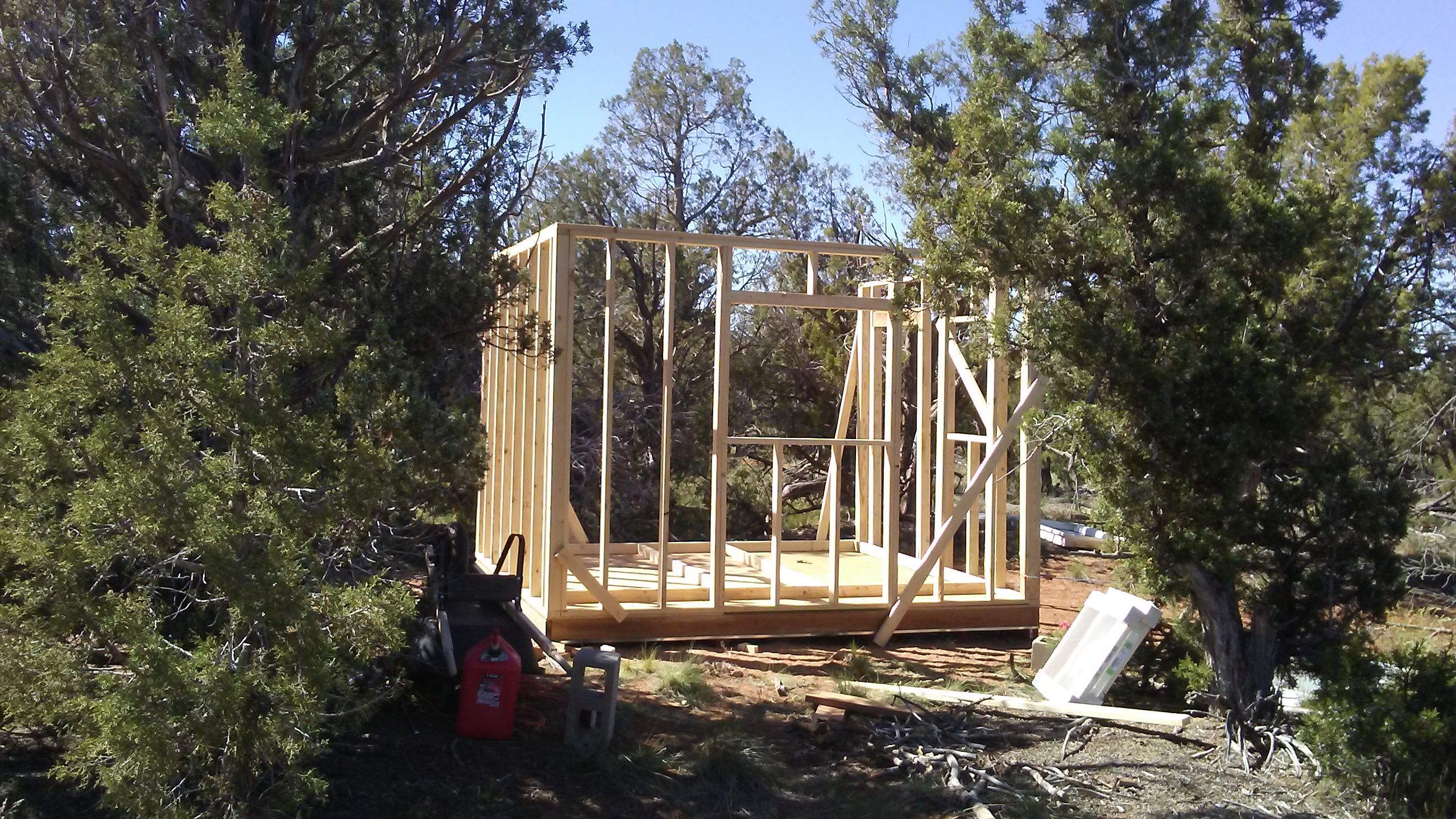 The fourth wall is almost ready to go up.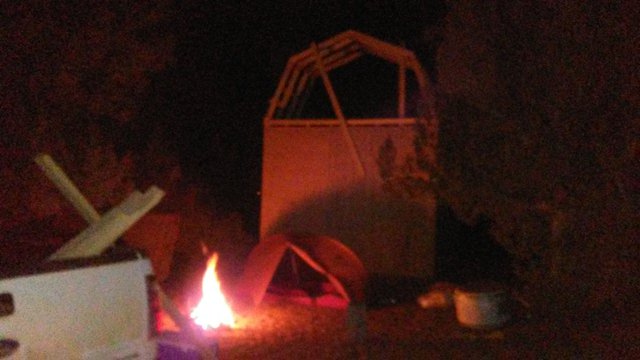 We got the plywood on the sides and started the gambrel roof trusses and I was so excited about how well everything was going I just had to go ahead and stay the night.
I love this picture. It's the first night I stayed on our new homestead.
Well that's about all I've got for now. Thanks to everyone that left encouraging comments on the previous posts. Hope you all enjoy a peek into our little homestead project. Your getting to see it turn from raw land (and it is raw), into whatever it might become.
Please Upvote, Follow, Resteem.
Thanks,
@scottyt
P.S. Our homestead is in the high desert southwest, cold winters, and hot dry summers. If anybody has any ideas about plants, trees, ...... anything really, that would help our homestead thrive feel free to share those ideas. If it's something we haven't considered and decide to use your idea, you will be rewarded in Steem or possibly some of the products we end up producing.
OK, Bye for now.