Greetings Steem Fam! I am writing to create a potent seed bomb strewn out into the universe. I am looking both for collaborators, inciters, gestation, vision and input, as well as planting seeds for actual interns to make their way here!
It has long been a plan and purpose to invite cocreators here to our homestead, Mountain Jewel, specifically and initially in the form of interns. Ini and I, Wren, learned most of our foundational earth connection skill base from similar internships (informal or formal) that we did by traveling and visiting homesteads, ecovillages, wwoofing, intentional communities, sustainable institutes, small farms, etc! We've also learned a lot from permaculture & university courses, trial and error, books, videos and nature herself.
---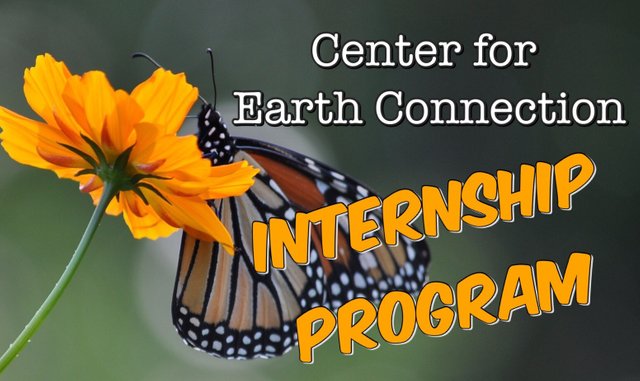 ---
A Vision Birthed
This fall we've decided that next spring we will start the process to build our own natural home.
The past 3 years living here at Mountain Jewel, we have practiced some of the natural building techniques both of us learned at ecovillages, namely working with straw (slip straw) and clay plastering.
While the details of the house need to be sorted, it is our intention to sculpt an internship program and invite in people to build our house alongside us, while also learning a host of other self reliance and earth connection skills.
---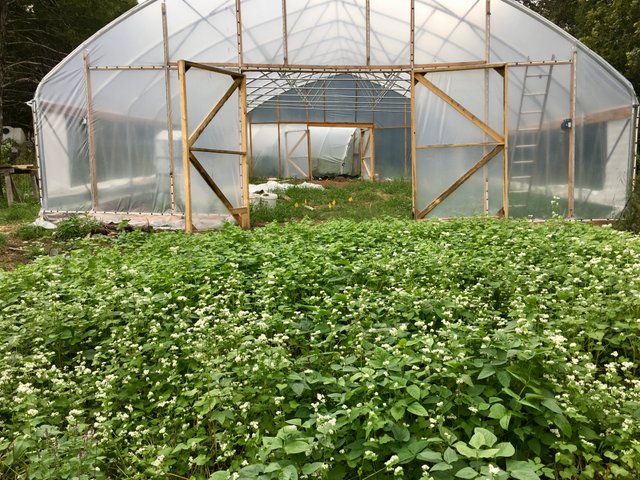 High Tunnel set up this summer at Mountain Jewel. Next year we are planning to grow a variety of cash crops in here, as well as establish Figs for long term fruit production.
---
2019!
While the project details gestate this fall and winter, we will be crafting an internship program including but not limited to:
---
Natural Building
---
While interns will learn an array of skills, the direct focus of 2019 will be on building our natural home. This includes, but is not limited to, learning & practicing Straw Bale, Slip Straw, Clay Plaster, Stonework, Stud Framing, site selection, Permaculture of the home zone, etc (like I said above, we aren't exactly sure which technique we will use.)
---
Permaculture
---
Basic design principles of stacking functions, relative location and functional interconnectedness.
How different zones function (actually inhabit this) & absorbing the Patterns & Principles of Permaculture through living on a Permaculture Demonstration Site &
Applying different techniques to work with nature; proper species selection, sheet mulching, grafting and propagation, hugelculture etc...
---
Gardening
---
Annual & Perennial Garden Management and Propagation, including learning about a host of specific food crops and associated allies (Nitrogen fixers, cover cropping, dynamic accumulators, pollinators).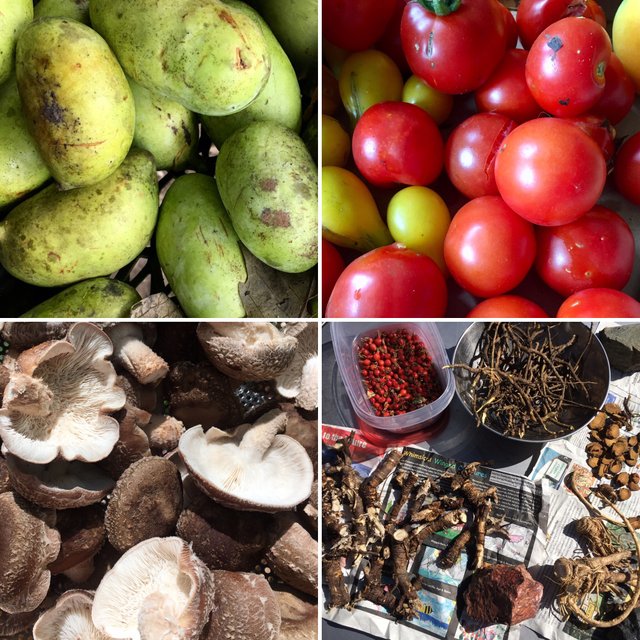 An example of fruit both grown on the homestead and wildcrafted. Paw Paws, Tomatoes, Shiitake mushrooms & a selection of wildharvest roots and rose hips.
---
Wildcrafting
---
Ethical seasonal food harvests including ID, prep & storage, wild edibles, eat your weeds including greens, mushrooms, vegetables, fishing, hunting, fruits, etc
---
Food Preservation & Vitalizing
---
Fermentation, Sprouting, DIY Brewing, Canning, etc
---
Herbalism
---
Tinctures, Teas, ID, growing herbs, wild harvesting of herbs, etc. for first aid, health and wellness and more.
---
Natural Beekeeping
---
Building Layens equipment, catching swarms, hive inspection, colony management etc...
---
Spiritual Connection with Place
---
Connecting with spirits of the land, plants, place, elements, etc through prayer, ritual, medicine making, conscious permaculture and gardening.
---
Cryptos/Blogging
---
Part of the internship would also include a foundational education in cryptocurrencies, specifically as it applies to blogging on Steem. I would encourage each of the interns to create a Steem account and blog about their experiences with the community.
I'm sure I left things out... This is simply a first draft!
It could rightfully be called Living in Place, Earth Skills for Self Reliance and Thriving!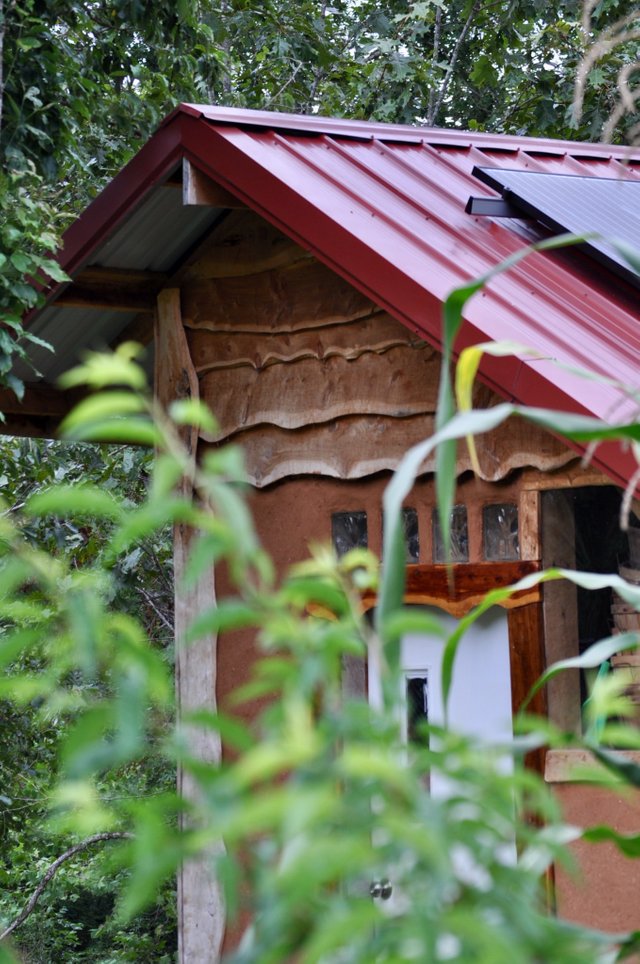 The clay plaster front of our "solar shed". We built this building from locally milled oak lumber, sided it with cedar from the land and milled on the land and made a slip straw clay plastered western facing wall.
---
The Time Is Now
While this idea has been in the works for years (since we wanted to homestead, we knew we would also like to teach), now is finally the time to make the invitation and sculpt and organize the program.


Wild Persimmon harvest!
The details
When will the program start? Will there be a multi-month commitment requirement (most likely)?
I am thinking I would like the program to function more as a month-long internship not a stay-at-your-own leisure wwoofer scenario. I would like to have a long-term offering where people can really dig into a place for a long period of time and see a season through. This has many benefits. Time TBD.
At this point, we are thinking 4-6 participants.
Many internships have an age range. While we aren't sure what this will look like, we may want to start off calling in ages 18-30. This is the age range of most of the interns I met while traveling as a wwoofer and I think it is a good age to be an intern.
Tent Camping, Shower, and Outdoor Kitchen with running water and propane stove. Yes it is rough. This is how 90% of the environments I learned in were.
What We Will Provide & What Involvement Will Be Required
Hours Contributed per day, Food Staples/Meals Provided, Stipend, etc - Obviously this is a big one and there is a lot to hash out.
These details are still being worked out and I am using this forum mostly as a way to get my thoughts out and start organizing/envisioning and sculpting the program.
While we have a lot to offer, I realize it will take incredible planning & pulling in mature, responsible and energized people as we will also have a lot on our plates organizing this and building a house!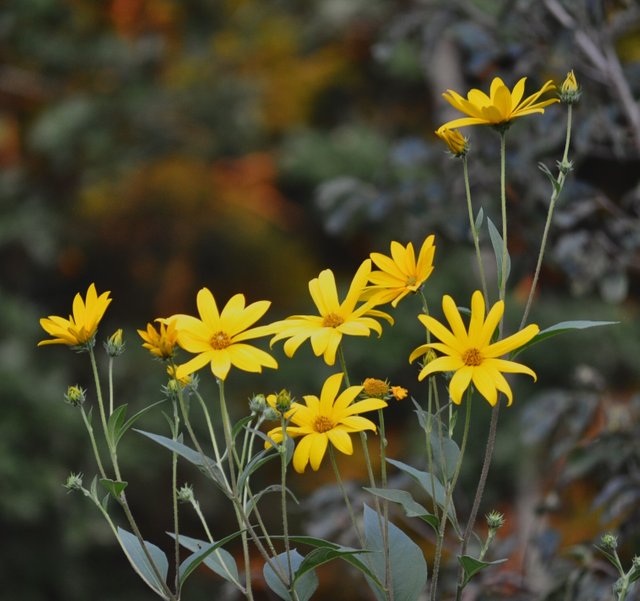 Photo of the ever-photogenic flowers of the Jerusalem Artichoke, a perennial staple tuber
---
Organization & Stipend
This is the first time I've put my thought-baby out into the universe.
I am curious if there are any grants out there for environmental education or if I should create a Fundition Project (or something else? Ideas welcome.)

Earth connection internships of this grassroots and personal level are few and far between. While we wouldn't be providing my local community with any more locally grown produce (which it dearly needs), we would be educating and empowering 4-6 young adults to go out into the world equipped with a host of amazing skills.

Each year the program would hone and grow and even perhaps greatly change form.
Over the next few months, Ini and I will devote many hours of visioning, research, prayer/spiritual work, and more toward organizing this program. It's our vision to also work on an energetic level creating a vortex of sorts to call-in the right people for this program. While it's great to work in 3-d level, I also want this program to focus on and stem from a spiritual place. This wouldn't be a requirement for the participants to understand or be into this, but they would need to accept it.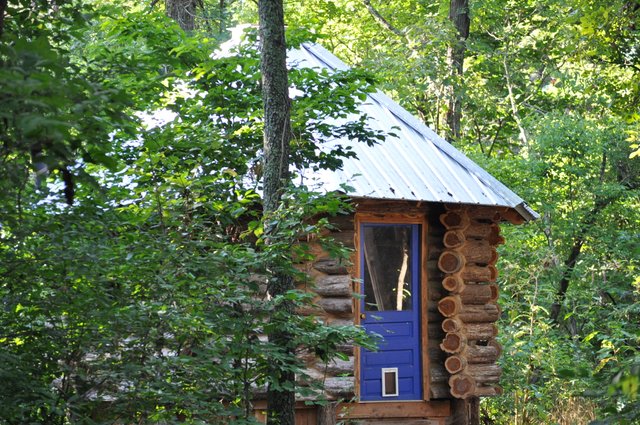 Photo of our current octagonal cedar log cabin home built in collaboration with Homestead Rescue on the Discovery Channel from Spring 2017
TV Stardom?
Oh yeah, we may also be doing the build of our house for a HGTV tv show, so the interns would need to be at least comfortable with cameras around (details to be announced on when, how much, etc) or even be comfortable being on camera during the build.
---
May this seed bomb be thrown into byways, fertile fields, from airplanes, float along river banks taken up by cranes and otters and planted by beavers into dams sprouting into fruition in countless ways and traveling on energetic currents beyond my wildest imaginings.
With love and hope,