Off-grid country house / autarkes Landhaus / in Catalonia, Spain [EN/DE)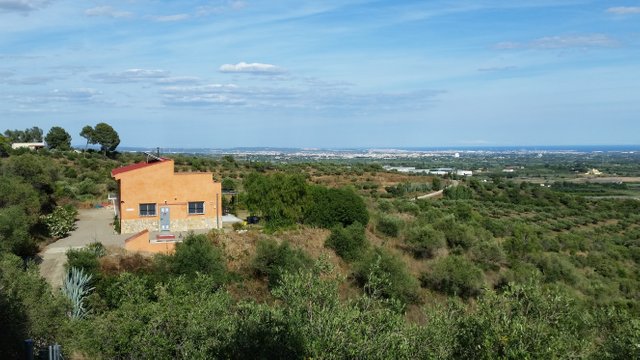 We had some money on the bank account and wanted to buy a motorhome, but instead a 1.2 hectare olive grove with an unfinished house on a hill near Salou and Tarragona / Spain got in our way and we changed our plans.
The photo shows the nearly finished project, but a lot of work had to be done before this status could be achieved.
Wir hatten etwas Geld auf dem Bankkonto und wollten eigentlich ein Wohnmobil kaufen, da kam uns ein 1,2 Hektar Olivenhain mit einem Rohbau auf einem Hügel bei Salou und Tarragona / Spanien über den Weg gelaufen und wir änderten unsere Pläne.
Das Foto zeigt das bereits fast fertige Projekt, aber eine Menge Arbeit musste geleistet werden bevor dies erreicht werden konnte.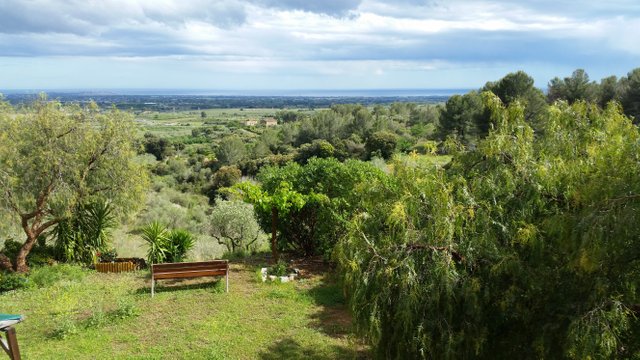 First of all we needed water, and this is being provided by a 70 m deep well in the bushland underneath and behind the bench on the photo. Its capacity is 2000 l /hour, pumped uphill by a 1.5 kw water pump. The water is just phantastic, coming from a mountain range, the 'Serra de Montsant', to the North of the property.
Zuerst einmal benötigten wir Wasser, und dies kommt von einem 70 m tiefen Brunnen aus dem Buschgelände unterhalb und hinter der Bank auf dem Foto. Seine Kapazität ist 2000 l / Stunde und das Wasser wird von einer 1,5 kw Pumpe den Hügel herauf gepumpt. Das Wasser ist fantastisch; es kommt von der Gebirgskette 'Serra de Montsant' im Norden des Grundstücks.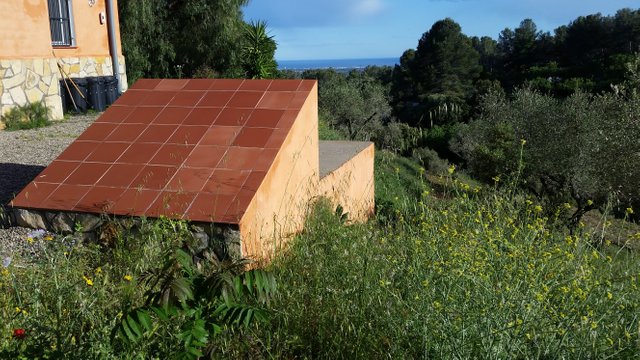 For the 1000 l water tank, filter and house pump we built this little 'casita'
Für den 1000 l Wassertank, Filter und Hauspumpe bauten wir diese kleine 'Casita'
Now, we needed electric power. The local power company offered to connect us to the grid for around 60,000 Euros (68,000 USD) plus some unknown fees to be paid to neighbouring properties for the allowance to build the respective poles for the power lines.
Jetzt benötigten wir noch elektrischen Strom. Das lokale Stromunternehmen bot uns den Anschluss ans Netz für 60.000 Euro an, zuzüglich unbekannter Gebühren für die Nachbargrundstücke zur Gestattung der Errichtung der nötigen Strommasten für die Leitungen.
This amount by far went beyond our budget and, without any prior experience, we decided to go off-grid. No regular truck for e.g. propane or other source of energy can access the house as the winding road is too narrow. So, it was obvious that we went for a hybrid solar system.
Dieser Betrag überstieg unser Budget bei weitem und, ohne jede vorherige Erfahrung, entschieden wir uns für eine autarke Energieverorgung. Kein normaler Lastwagen zur Lieferung von z.B. Propangas oder anderen Energiequellen kann unser Haus erreichen, da der kurvige Weg dorthin zu schmal ist. Daher war klar, dass wir ein hybrides Solarsystem einsetzen würden.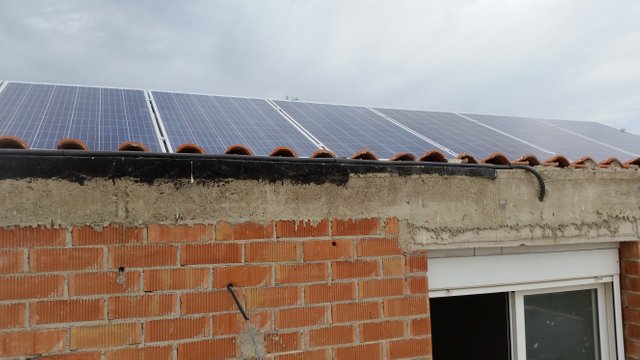 In the initial phase of the reformation and completion of the house, we installed solar panels for 2 kw on the roof, as we are most of the time just 2 persons and so far don't use the house for all year.
In der ersten Phase der Fertigstellung des Hauses installierten wir Solarpanelen für 2 kw auf dem Dach, da wir überwiegend nur zu zweit sind und das Haus auch noch nicht ganzjährig bewohnen.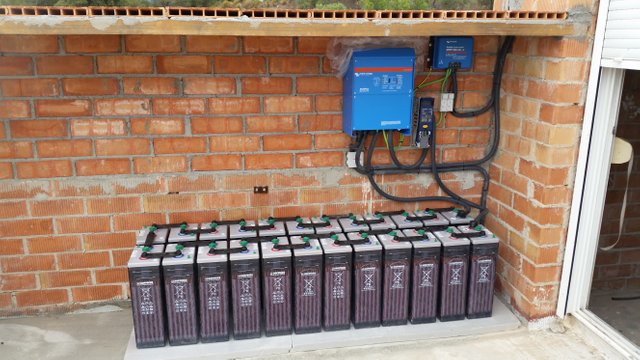 A 5 kw inverter and a battery bank of 20+ kw/h complete the system and also allow for a rainy day.
Ein 5 kw Inverter und ein Batterieblock für 20+ kw/h vervollständigen das System auch mal an einem Regentag.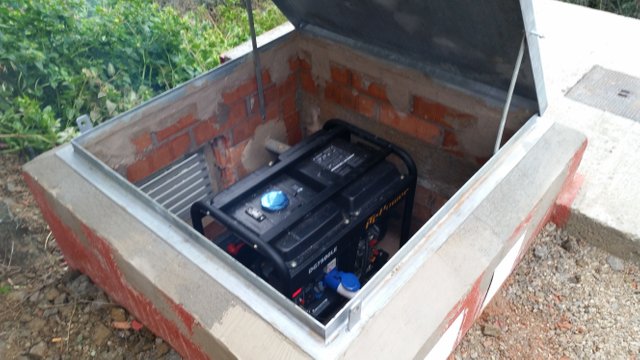 When there are several days without sun, this 6.5 kw diesel generator can charge our batteries in 2-3 hours of operation as a back-up.
Bei mehreren Tagen ohne Sonne kann dieser 6,5 kw Dieselgenerator unsere Batterien binnen 2-3 Stunden als Back-Up aufladen.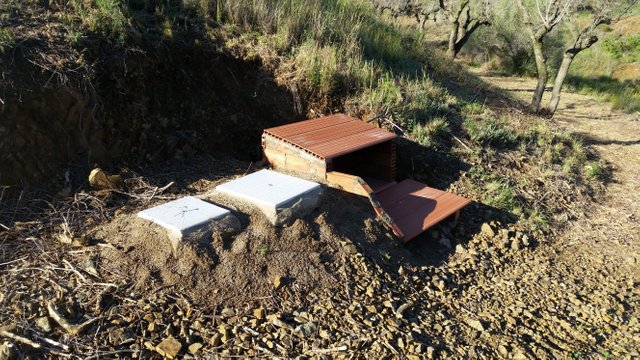 A professional septic tank is buried far away from the house, and its cleared overflow is drained to water some of the fruit trees on the field.
Ein professioneller Septictank ist weit vom Haus verbuddelt und der geklärte Überlauf geht per Drainage zur Bewässerung in ein Obstbaumfeld.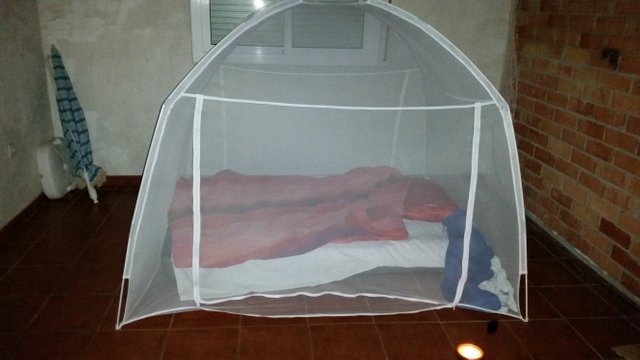 Life on the construction site was quite simple in the beginning and loaded with lots of work
Das Leben auf der Baustelle war anfänglich sehr einfach und auch anstrengend, was die Arbeit anging.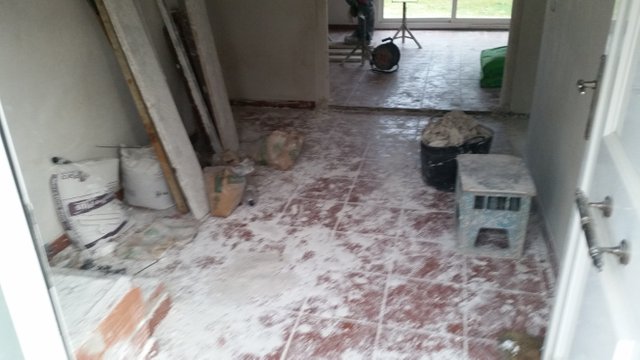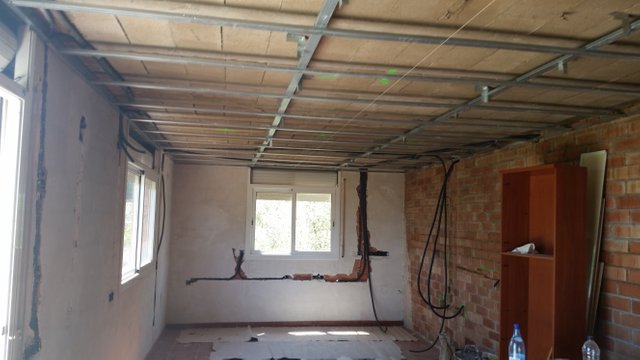 But finally, there was light at the end of the tunnel and we can now enjoy a nice and modern living area.
Aber schlussendlich gab es Licht am Ende des Tunnels und wir können nun einen netten und modernen Lebensraum nutzen.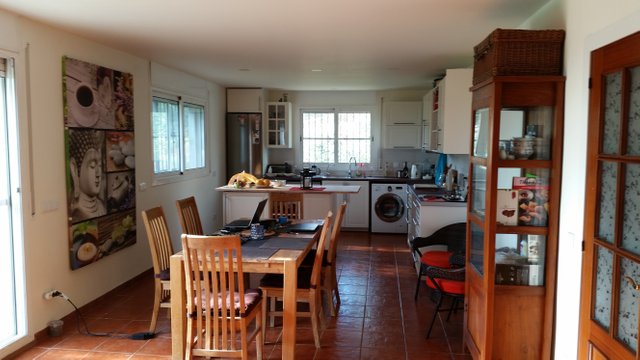 Hot water and cooking is with propane gas and a big pellet stove can warm us during the winter.
Warmwasser und Kochen erfolgen mit Propangas und im Winter kann uns ein großer Pelletofen wärmen.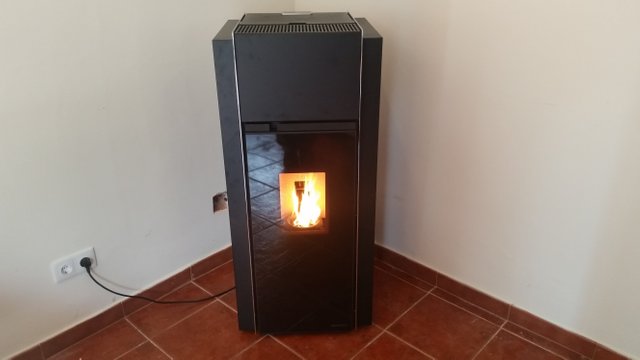 In the end came some flowers and gardening activities.
Am Ende kamen dann noch Blumen und gärtnerische Aktivitäten hinzu.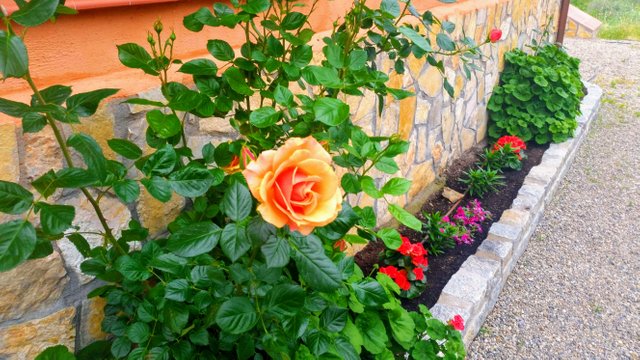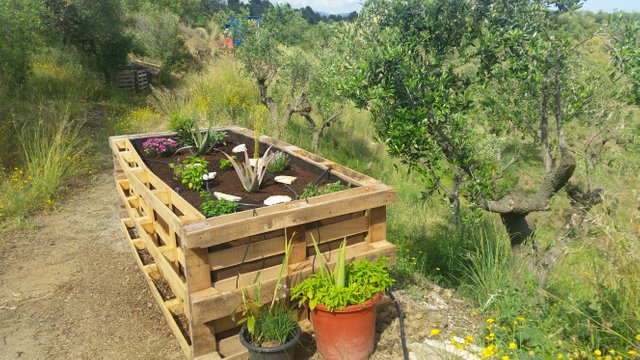 Now, after nearly two years of work, we can enjoy our smoothies with lots of homegrown fruits and herbs on our terrace in beautiful Catalonia.
Jetzt, nach fast zwei Jahren Arbeit, können wir unsere Smoothies mit vielen selbst angebauten Früchten und Kräutern auf der Terrasse im schönen Katalonien genießen.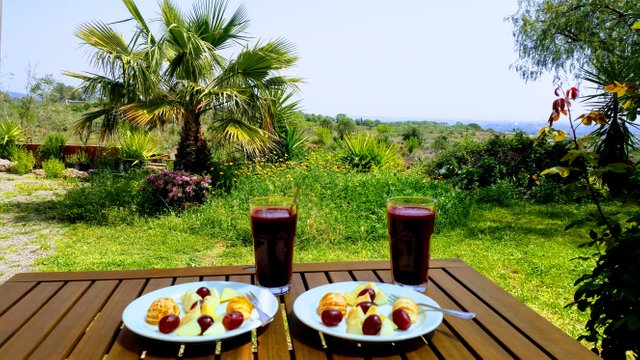 But as you can imagine, the adventure will go on, and there is much more to create around the house and the garden.
Aber, wie du dir vorstellen kannst, wird das Abenteuer weiter gehen, und es gibt noch allerhand zu gestalten ums Haus und im Garten.