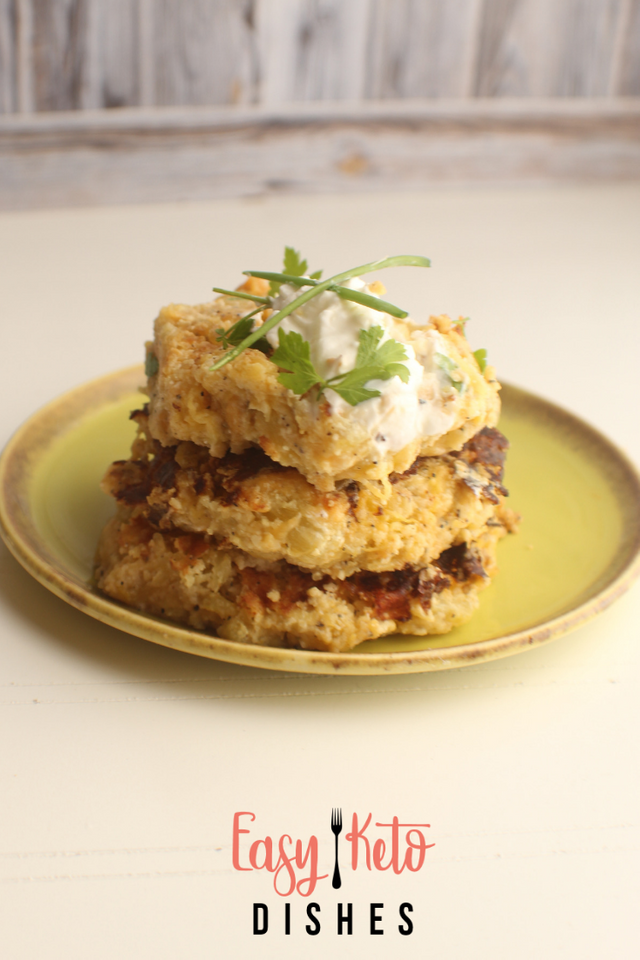 Think you need to give up potato pancakes on keto? Well, maybe not with these low carb potato pancakes!
Mmmmmm....yummy potato pancakes with their crispy edges, sour cream and green onions. They are heaven on earth. Well, except for the carb factor. That makes them a little more sketchy to consume on a regular basis. That's why I love these low carb potato pancakes. Same crispy edges, same yummy flavors, but with a lot less carbs!
Hubby and the Frenchman love potatoes. Like for nearly every meal love them. I like to keep them happy, too, so I make them a lot.
Leftover mashed potatoes will often be turned into potato pancakes to keep things interesting. Unfortunately, due to the high amount of carbs that potatoes have, that leaves me out.
Or does it?



These low carb potato pancakes are just what I needed to keep my carbs in check, yet still enjoy all the flavors of potato pancakes!
Made with spaghetti squash, they are super crispy, full of flavor and easy to make. I love them by themselves, with some fried eggs, or with a bunless burger. They have the flavor of potatoes that I love, but without the carbs I don't need. Or want.
First, you will need to cook a spaghetti squash. If you have an instant pot, you can get those directions here. If you don't have an instant pot, then you can roast one in your oven.

To roast a spaghetti squash in your oven:
Cut the squash in half lengthwise with a sharp knife.
Carefully scoop out the seeds inside. Save to make roasted seeds like these.
Place cut side down in a buttered or oiled 9x13 baking dish.
Roast at 400 degrees for 45 minutes.
Allow to cool 5 minutes, then remove the "strings" by running a fork lengthwise down the squash.
Proceed with recipe.
Now you have your cooked spaghetti squash, let's make some low carb potato pancakes!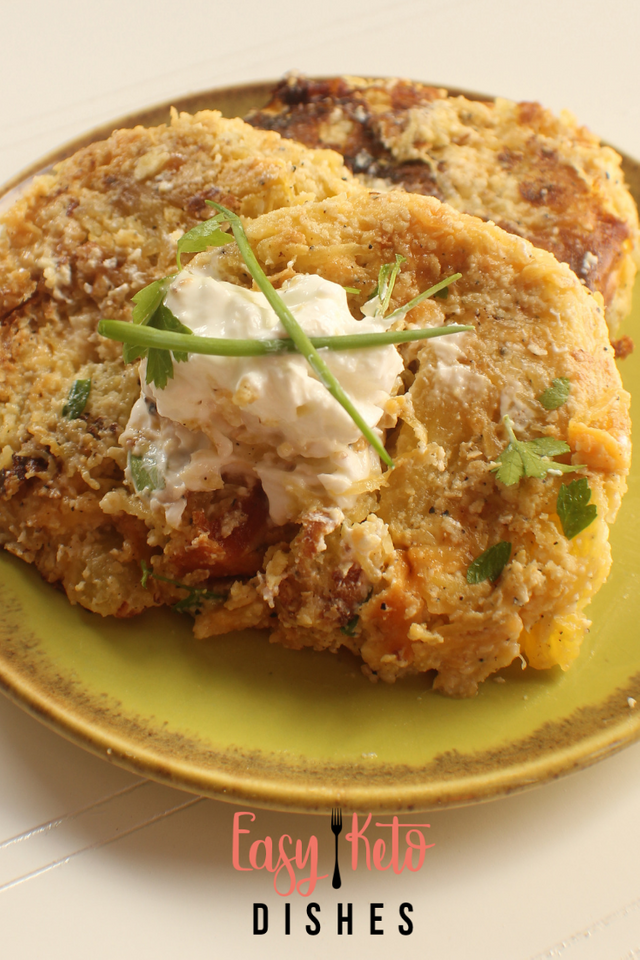 Ingredients:
2 cups cooked spaghetti squash
1 clove garlic, minced
1 teaspoon salt
1/2 teaspoon black pepper
1 egg
1/4 cup almond flour
1/2 cup shredded cheddar cheese
2 Tablespoons butter or avocado oil
Instructions:
Place all ingredients, except butter, in a medium sized mixing bowl.
Mix together with a spoon until well combined.
Take 1/3 cup of the mixture and form a patty.
Heat a heavy bottomed skillet over medium high heat.
When hot, turn heat down to medium and add butter to melt.
Add spaghetti squash patties to hot butter and fry 4 minutes on each side.
Serve immediately, topped with sour cream.
What is your favorite side dish? Will you try these low carb potato pancakes? Be sure to let me know if you try and love these!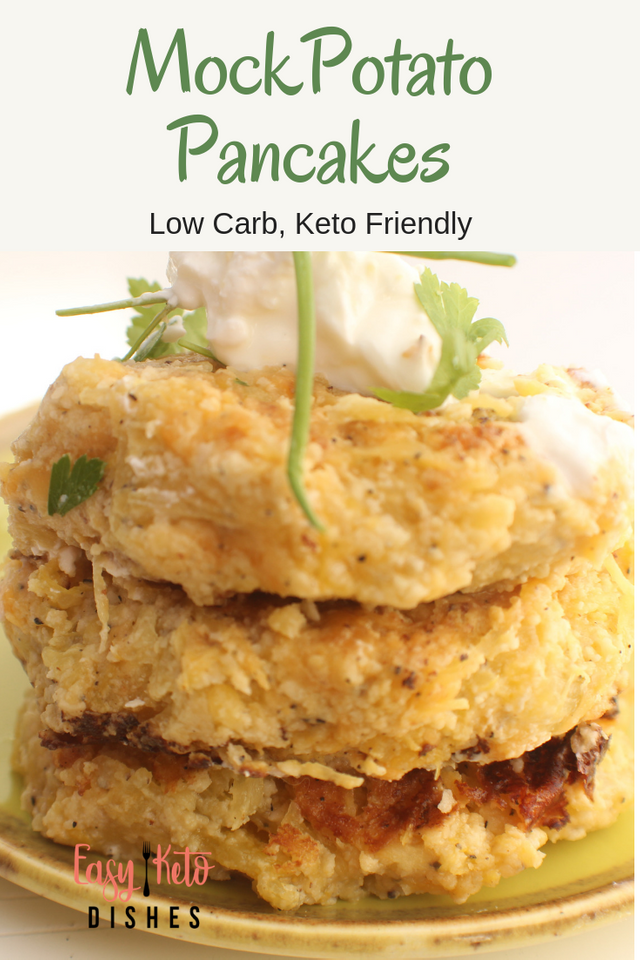 [mv_create key="45" type="recipe" title="Low Carb Potato Pancakes" thumbnail="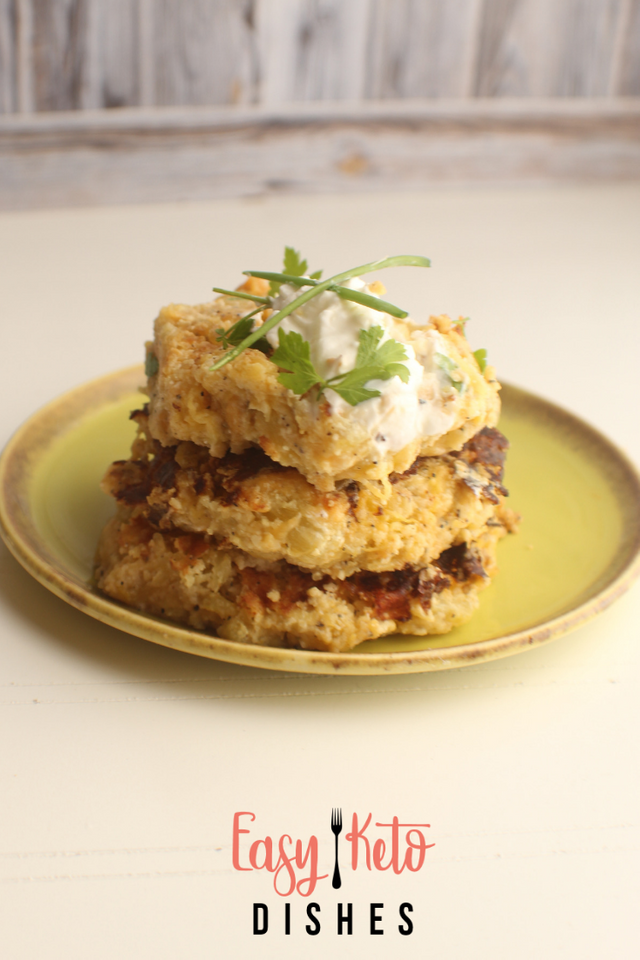 "]

---
Posted from my blog with SteemPress : http://easyketodishes.com/low-carb-potato-pancakes/
---