@theycallmedan's dPoll has been a great blessing for our Homesteaders Co-op community marketplace. This last week has given us many gifts. Not the least of which is 1k Steem Power delegation for one year, which we will use in accordance with our Delegation Report. Thank you so much @theycallmedan!!
We took the opportunity of your contest to get productive in accomplishing many goals within our co-op at once - some of which was planned, and some was thanks to synchronicity of the Universe and all is thanks to your contest of great proportions which created a wave which we surfed, in order to bring more connections and value to our community. Thanks to you Dan, we are bringing more value to steem!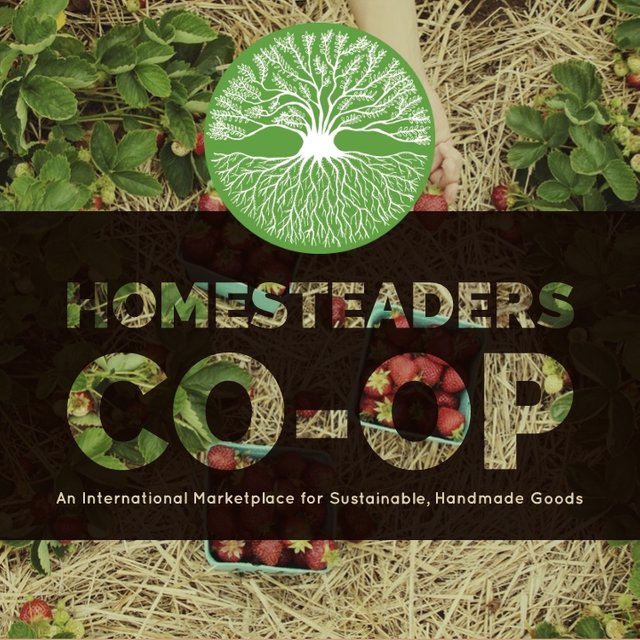 Strengthening our Community
This friendly competition has given our community a kick in the butt to get up and market ourselves to the steem community. As a new (2 month old) steem community we are still learning how walk as a community. This last week has given us an opportunity to see what we can do in terms of getting our message out to the general steem population. More awareness has been gained, more sales were placed, more vendors have signed up. In general we have seen an uptick in our co-operative's exposure in steem.
This equates to a stronger community, resulting in more pride for our marketplace, resulting in more pride for STEEM tokens and steem blockchain, resulting in more value in STEEM tokens.
Inter-Community Bonding
One of the most beautiful things that came out of this last week was the strengthening of community ties between @naturalmedicine and @homesteaderscoop. A very generous offer made by @riverflows to encourage her community to support Homesteaders Co-op in this poll. We both agreed pragmatically that if one of our communities win, that both would win. Even still this gesture is completely humbling - and beyond gesture, the actions that were taken by the community members of @naturalmedicine in support of @homesteaderscoop give me a feeling of great joy as well as deep humility and responsibility of upholding the honor that @naturalmedicine has bestowed upon Homesteaders Co-op.
This honor is reflective of the honor that we have received in general from many individuals that have come across Homesteaders Co-op and bestowed some praise or expressed feelings of affinity toward our ethics and mission.
Specifically I am especially grateful of @tribesteemup, @earthtribe, @ecotrain and @ghscollective for offering their support of our new community.
New Logo
The timing of this competition corresponded nicely with the announcement of our new logo, designed by the very talented @frejafri, nature inspired illustrator, who is also a vendor in Homesteaders Co-op under FireFly Creations. If you are admiring our beautiful logo, please know that @frejafree is available for commission (and accepts steem/sbd). My gratitude goes to @frejafri for sharing her talent and creativity with us.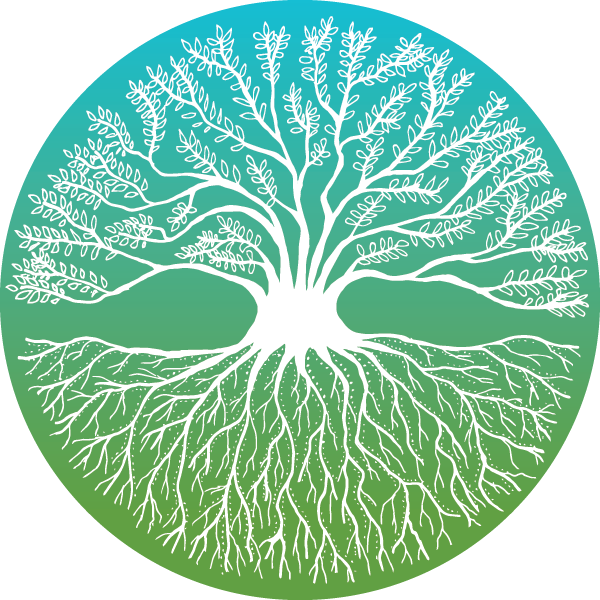 Promotional Videos
We have two new promotional videos created from within our community. These videos can be used both within steem and externally in our outreach and onboarding efforts. I believe they both do an exceptional job of capturing the spirit and essence of Homesteaders Co-op.
@riverflows know that I am extremely grateful for the time and energy that you put into producing this work of art that embodies a powerful message that has brought emotions to many of us that understand the true value of the idea that Homesteaders Co-op represents.
@xcountytravelers, you have a remarkable talent for creating demo reels for steem projects. I appreciate how you have captured our message simply and succinctly. This video is easy to digest and gets the message across. To anyone that is interested, please know that @xcountytravelers is available by hire to produce your next promo video!
Steem Radio Interviews
This week I personally went out of my comfort zone and joined up with several steem radio shows to share the vision of our Homesteaders Co-op. I was humbled to receive generous time and attention. Here as well I see our Co-op forming new community bonds with these generous communities.
Thank you @teamhumble, @johnspalding and @pennsif for sharing your @thesteemingpile space with us. I really enjoyed our conversation. Thank you for seeing value in our project and for believing in our mission. Furthermore, I look forward to working with you in the near future.
Thank you @gregorypatrick and @makinstuff or sharing your space with us. I was invigorated by the discussion and your questions. Furthermore I really appreciate the work that you are doing to keep folks informed about current events and truth.
Cana-Curate
Thank you @fracasgrimm for sharing your space with us in @cana-curate. It is too bad the show didn't get recorded, but nonetheless I appreciate the great questions and enjoyed our conversation, as well as the community participation during the show.
From the Ground Up
Thank you @mckenziegary for sharing your space with us. I appreciate your time and interest in our project - and allowing us to share with your audience. Keep up the great work pushing the boundaries of food and science and urban gardening. I love that you are combining your passions of food, business and tech here on steem.
Outreach
Talk of marketing within our community has led us to discuss the opportunity for outreach in social media websites outside of steem. This falls inline very nicely with our onboarding goals in our Fundition project. We will be beginning outreach campaigns / efforts in the very near future and looking to bring more nature inspired and sustainability minded folks to the steem blockchain. More on this soon.
Love and Praise
How could one not appreciate these comments? I collected these from the comments that were made by several of the dPoll participants:
Business on the blockchain. Nuff said.
Love how these guys are giving us a means to trade/barter steem for real-world products with an ethical outlook.
Amazing "real life" group of people that are in particular offering hand made and home grown products for crypto, and trading amongst themselves for crypto. Groups that promote crypto exchange deserve all the help they can get as their work strengthens the blockchain popularity. Their encouragement amongst #steemians to use crypto instead of $ to purchase products is very important for the success of #steem.
@homesteaderscoop will be supporting those whom are producing quality sustainable products for others to purchase in Steem and represents a better path toward an ethical future and connecting/supporting folks taking the actions to create a new reality.
@homesteaderscoop is empowering small businesses to transact on the blockchain, and I really think they will make a real difference in peoples' lives over time.
Thank you to those that voted for Homesteaders Co-op in the dPoll
To the 177 people that voted for Homesteaders Co-op. Thank you so much for showing your support! You are more than welcome in our community. Please feel free to join us in Discord should you want to observe or engage in our discussions. You have given us more than a vote - you have given us a vote of confidence that our project holds value in the steem blockchain. To come in 4th place in this competitive contest is quite an honor!
@akipponn, @alchemage, @allyinspirit, @alphaccino.art, @amitgiat, @amymya, @anarchapulco, @andiekins, @anouk.nox, @barge, @belleamie, @bghandmade, @biffybirdcam, @binkyprod, @birdsinparadise, @blueberrybison, @bobydimitrov, @borislavzlatanov, @bpangie, @bustrips, @canna-curate, @captainklaus, @carey-page, @celestialcow, @chadstretton, @chronik-n-coffee, @circulartimes, @coffeebuds, @cpt.picard, @craigcryptoking, @creativetruth, @crescendoofpeace, @crosheille, @cryptocariad, @cryptocurator, @crystalhuman, @crystalrobot, @davidfar, @davsner, @diggndeeper.com, @digitaldan, @dreemit, @earthtrail, @earthtribe, @eco-alex, @ecotrain, @eftnow, @el-nailul, @elamental, @emsteemians, @enchantedspirit, @enginewitty, @enjoycompany, @exe8422, @experienced, @fishyculture, @flyinghigher, @fotostef, @fracasgrimm, @freedomtribe, @frejafri, @funtoz, @g1ntoken, @galberto, @ghro, @globocop, @goat-girlz, @greenhouseradio, @gregorypatrick, @guchtere, @happyphoenix, @hempress, @hocus, @homesteaderscoop, @hungryhustle, @idyllwild, @immarojas, @indigoocean, @irenethemachine, @isakost, @jeffjagoe, @jeremyl, @jimbobbill, @johnspalding, @jonyoudyer, @kamikaze, @katrina-ariel, @kimmysomelove42, @knowledge-seeker, @konelectric, @life-relearnt, @llfarms, @loryluvszombies, @lovenfreedom, @macchiata, @makinstuff, @marksheppard, @mckenziegary, @meanbees, @meanroosterfarm, @metametheus, @minismallholding, @minnowbuilder10, @misslasvegas, @mivstar, @mjrcrypto, @moonunit, @mountainjewel, @movingman, @mscleverclocks, @munkiioh, @nainaztengra, @nateonsteemit, @naturalmedicine, @needleworkmonday, @novacadian, @omdemian, @organicgardener, @pacolimited, @paolobeneforti, @patschwork, @pennsif, @peterloupelis, @phoenixwren, @planosdeunacasa, @porters, @postpromoter, @ppmsilver, @professorbromide, @quochuy, @richardcrill, @riverflows, @rockaction, @sagescrub, @samstonehilltube, @senorcoconut, @sharkmonsters, @silviabeneforti, @some-asshole, @spreadthelove, @staceyjean, @steamdan, @steemexperience, @steemfestdreams, @steemfuckeos, @steemweather, @stephen-somers, @stillgideon, @stortebeker, @sugandhaseth, @superwoman916, @surfermarly, @taug, @teamhumble, @thecanucks, @thedodgemahal, @thegreens, @thesteemengine, @thetreeoflife, @thistle-rock, @torico, @tribevibes, @trucklife-family, @vcdragon, @venusberry, @vesytz, @viking-ventures, @wakeupnd, @walkerland, @whatsup, @wildlocusthoney, @wizardave, @wwf, @xwalkran, @yabapmatt, @yestermorrow, @yogajill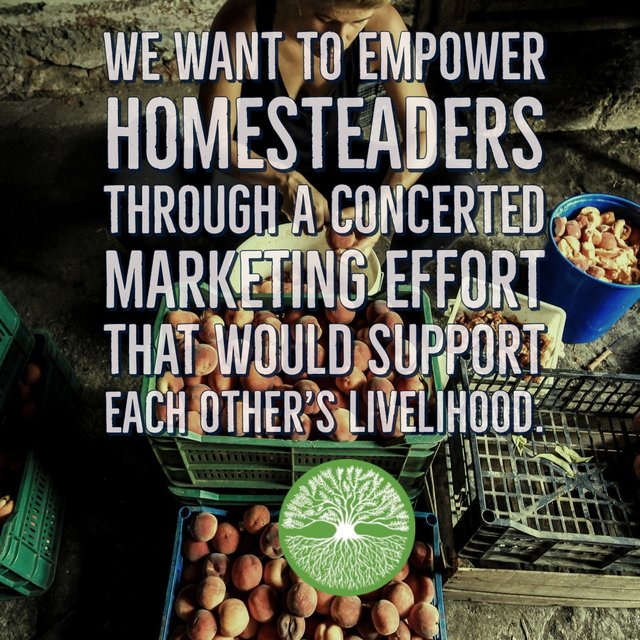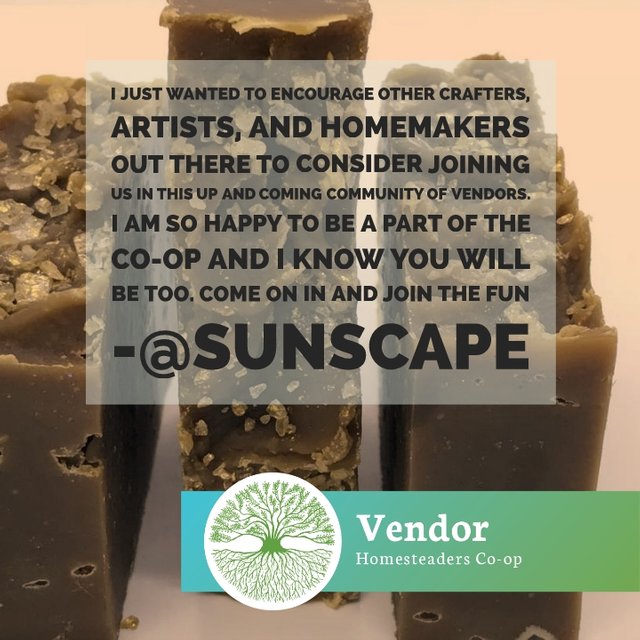 Thank you,
@sagescrub
---
A Free Marketplace for Steem
We provide a FREE marketplace for you to transact in STEEM, SBD and USD. Our vendors are committed to sustainability, ethics and quality in their lives and work.
Unlike other marketplaces our vendors are not charged listing fees, subscription fees or transaction fees. This service is 100% free.
Support Your Alternative Economy:
---
Why Delegate to Homesteaders Co-op?
Your delegations will help us grow our community and reward our members for their ethical choices and actions.
In our modern world it is not always easy to choose to live sustainably. To do so often means forgoing income potential and the status quo. Our Steem Power is used to up-vote community contributors and vendors in thanks for their efforts.
10 SP | 25 SP | 50 SP | 75 SP | 100 SP | 200 SP | 500 SP | 750 SP | 1000 SP
---



Logo design by @frejafri - illustrator & artist available for commission for steem/sbd
---
Donate To Homesteaders Co-op - Help Us Keep Our Marketplace FREE
We have an ongoing crowdfunding project at Fundition. You can donate STEEM, SBD, USD (via PayPal) as well as other popular cryptos such as BTC, ETH, LTC, BCH, XMR, BTS, DASH, DOGE, TRON.
Help us keep our marketplace free of commissions and fees. Homesteaders Co-op is 100% free to vendors and customers. Your donations will go a long way to help us maintain our marketplace and keep it free.

---
We Have Free Instant Steem Accounts to Share!
We have free steem invites for friends and family of steemians that are participating in #homesteading, #gardening, #sustainability, @naturalmedicine, @ghscollective, @tribesteemup, @ecotrain, @earthtribe and related communities that share common goals. Signing up to steem with our steem invites are instant and free. If we have enough free SP, invites will come along with a small delegation.
---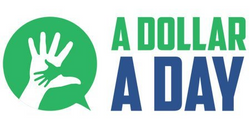 @adollaraday - Charitable giving project