WARNING: GRAPHIC IMAGES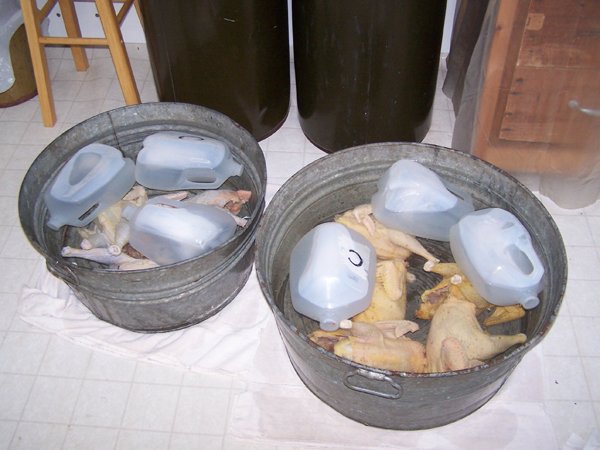 Finished product chilling in the butchershop, how we used to do it
This event is a community teaching event. We invite people to come help us do our birds. If they RSVP they can bring up to 6 of their own birds, providing they are healthy. This is a family event and we've had up to 10 kids at them, ages ranging from 2 to 17.
There are many stations to learn at and you can work all or as few as you are comfortable learning. It starts with culling, then catching and transporting. Next is slaughter, then scalding, plucker, eviscerating, cleaning, recording, and chilling.
The goal is to teach that this is a normal life skill. Our Wizard, Tom, is excellent at this. We got another really good teacher last year, Cindy, and she came again this year. Between the 2 of them, they cover most stations.
So the morning had arrived and we were all ready. I'd told people to come between 8 – 8:30 if they wanted to learn culling layers. I had 1 person show for that so we went out.
By then, the family with 5 kids showed up. This is our Wizard Tom's family and they have been coming since their littlest was 3 or 4. He turns 9 this week.
This year I had a designated photographer, Tom's eldest, with her new-to-her camera. Most of these photos were taken by her. She did a really good job of documenting the day.
While the kids caught birds, I taught culling, using birds I'd banded previously, and whatever rejects the kids caught.
This is my guide:
http://goldenoakfarm.us/CullingLayers/CullingFarmPoultryLeaflet.html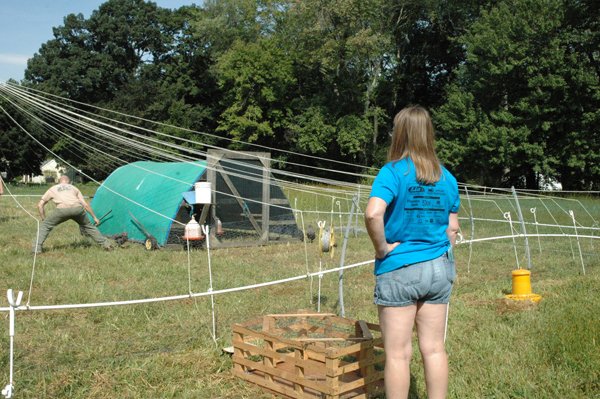 Tom catching birds, Kristy manning the cage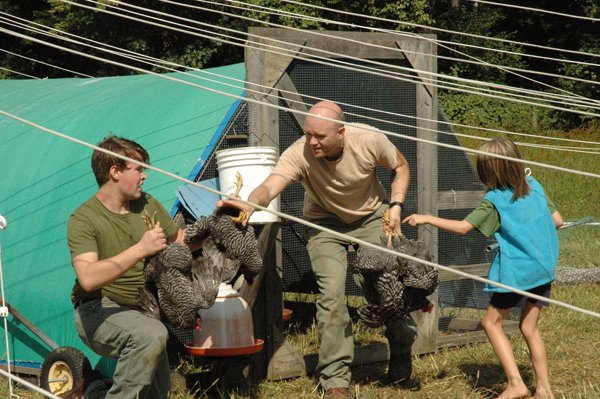 Tom sorting banded from not banded, banded go into the coop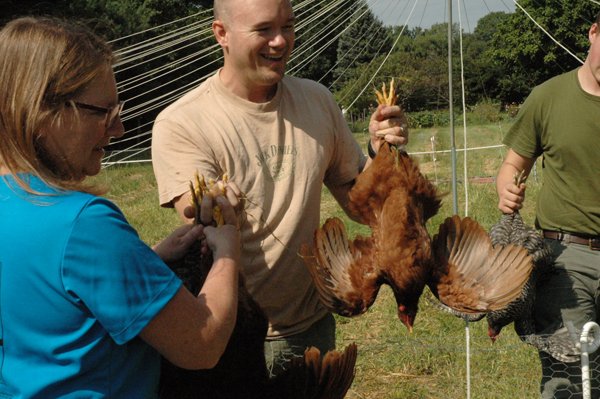 Tom teaching calming them upside down. Tom and Kristy getting birds into the cage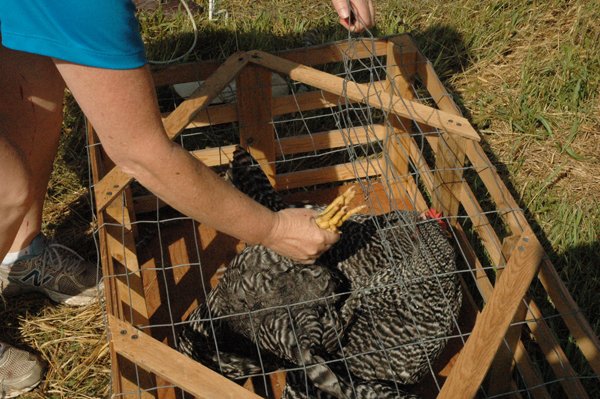 Into the cage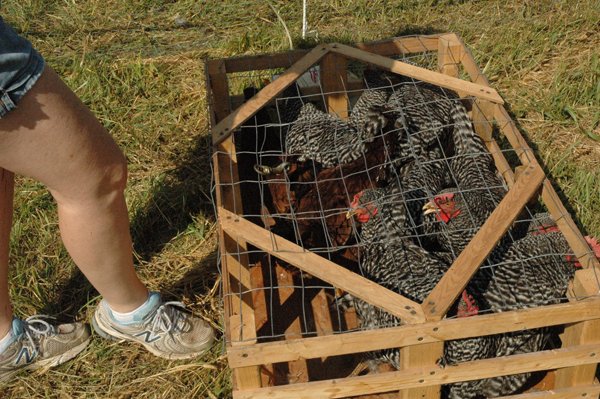 We could get 10 - 12 into these cages. We didn't want too many because they tend to squash together and those on the bottom could suffocate. It wasn't terrible hot on this day, but that's another reason for not too many per cage.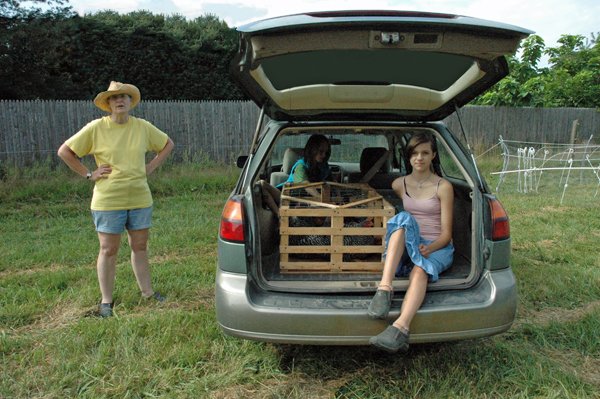 Me, Wylie, and Phoebe dropping off a cage load
Once we got the cages to the barn, we brought them inside where it was quieter and cooler. It was also near the first station, slaughter.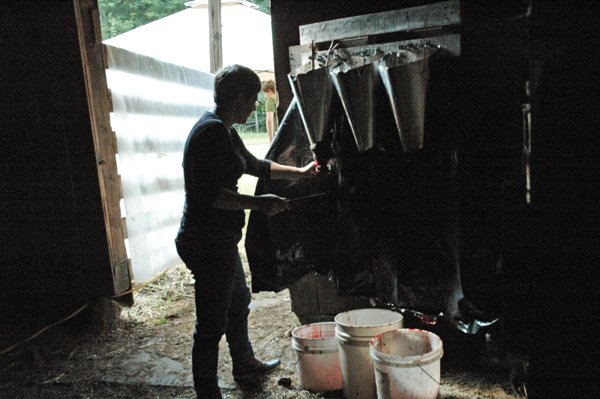 Cindy cutting blood vessels on each side of the neck
When slaughtering birds, you ideally want all the blood to pump out of the body, and to keep the bird as calm as possible. High adrenaline makes for a tough bird.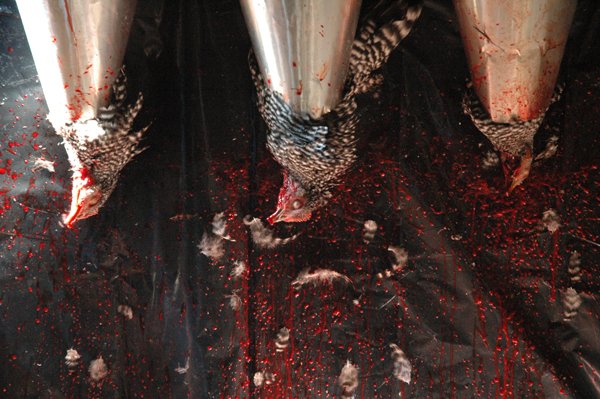 Your killing cones should be sized for the type of bird you are working with. You want the clips to fit around the legs at the feet, the cone to hold the wings still, and the head to protrude at the bottom enough so you can easily do the cuts. The middle cone was a bit too big for that bird.
It's important to just cut the blood vessels on each side of the neck and not touch the windpipe or spinal cord. You want the heart to continue to beat.
You want to wait until all the blood has left the body. If some is left in, it is unsightly and can affect the flavor of the meat.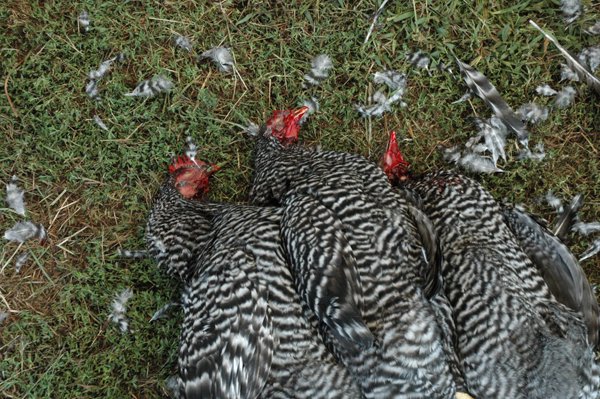 Birds waiting to be scalded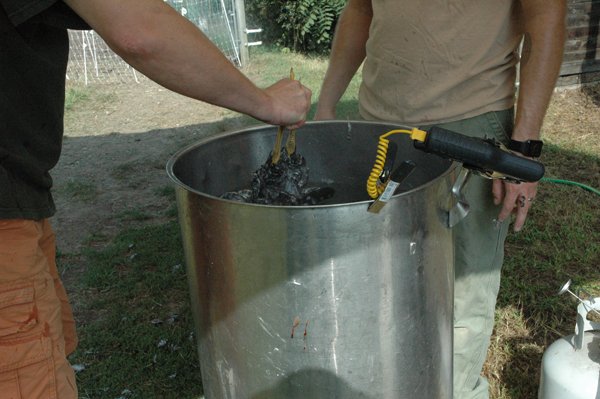 The next station is the most crucial to the whole operation: the scalder. It's really important to keep the temperature steady at about 158F. You want to loosen the feathers but not start to cook the skin. If that happens, the skin tears. You dip the bird, swishing it around, for 10 seconds, then out to test the feathers. Continue dipping and testing.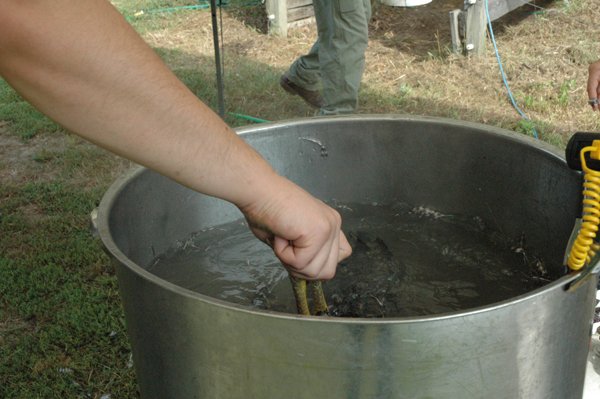 Dipping to the feet
Tom, our Wizard, was excellent at this job. This meant that the birds came out clean from the plucker, and were easy to clean after evisceration. The cleaning station gets backed up easily, especially if there's a lot of feathers to take off the carcass.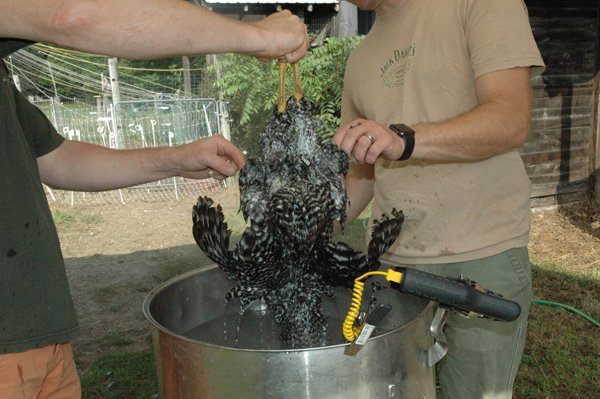 You test the breast feathers first, as they go in first. Then leg, and last, wing. The feathers should release without a popping feel/sound.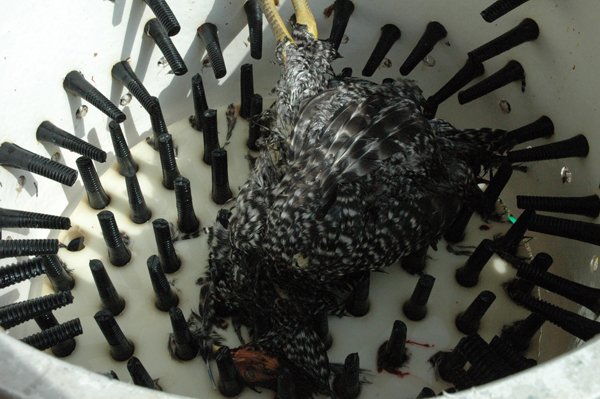 Then the bird goes into the plucker. The plucker works better when it has 3 birds in each load. It spins like a washing machine and the black fingers pull off all feathers, even pin feathers. It takes about 30 – 60 seconds.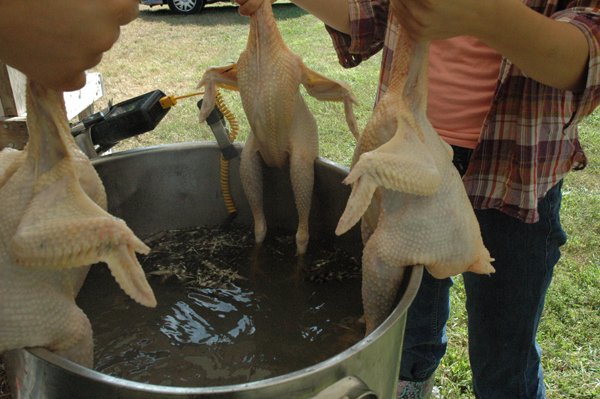 Naked chicks dipping toes in hot tub
The kids thought this was very funny. But the purpose behind it was to scald the feet so they could be skinned and used in bone stock.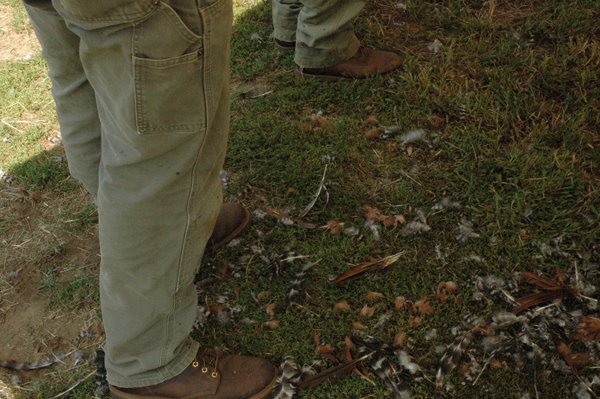 The area under the tarp was soon littered with feathers.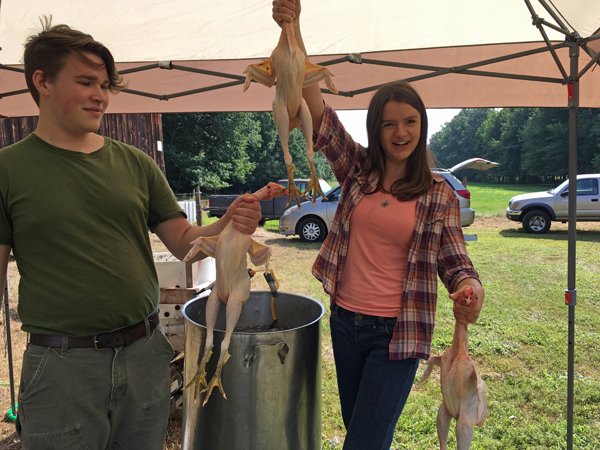 Naked chickens ready for the butchershop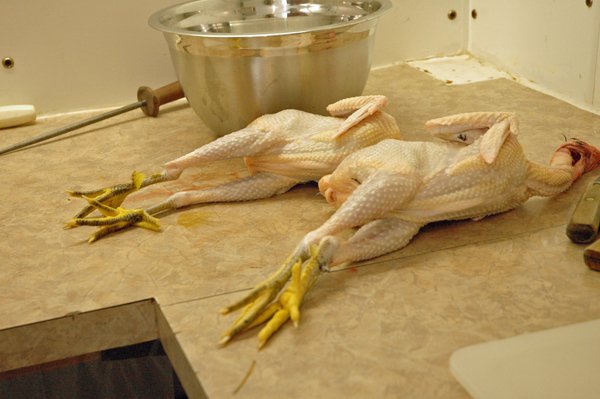 When the kids bring them to the butchershop, they call out "Naked chickens! Naked chickens!" so someone will open the door and take them.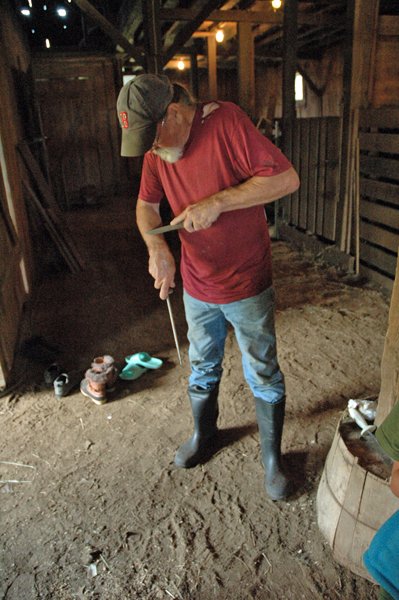 My husband testing his knife sharpening by shaving his arm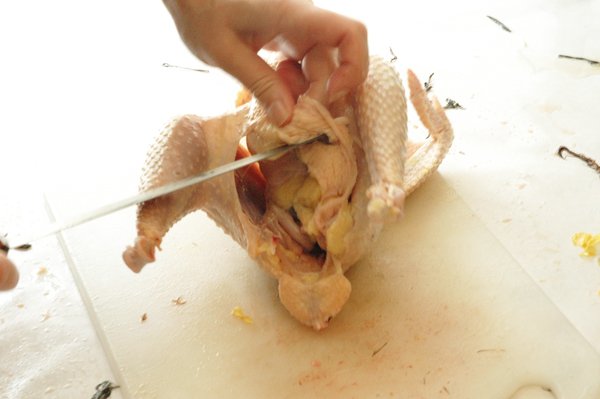 There are 2 eviscerating stations in the butchershop. My husband and Cindy taught how to do it in there.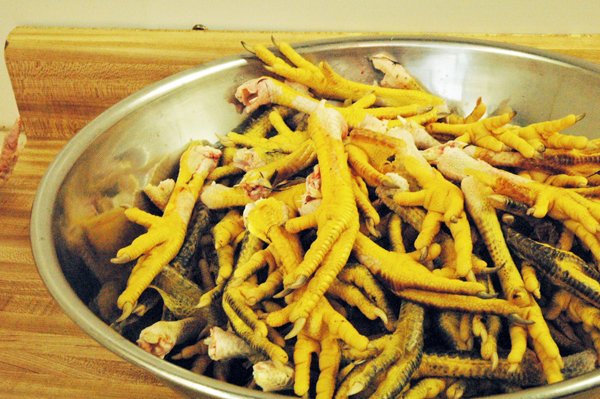 Feet for Tom to make bone stock with
The guts were sorted into buckets. The 3 buckets were: heads to go to the local raptor rehab guy for his eagles, gizzards, necks, and hearts to a person who feeds raw to her cat, and waste. There was also a bowl on ice for livers. And a bowl for feet.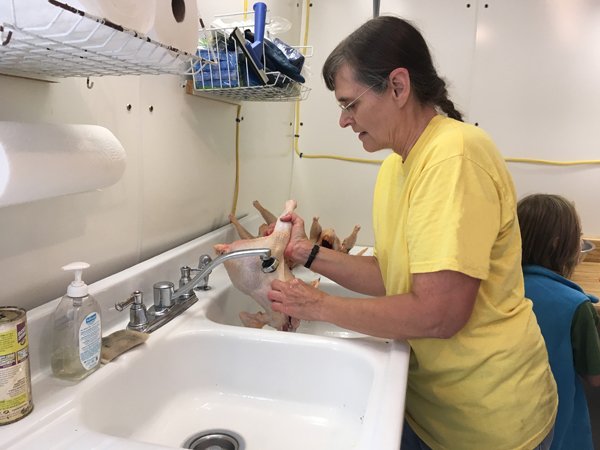 Then they come to my station: cleaning. I make sure the quills are out, the body rinsed well, and the cavity cleaned out.
Then they are weighed and recorded and sent to the cold room to go into tubs of ice water. After 10 – 15 mins in that, they are taken out and put in plastic bags in open coolers, to make room for the next batch.
They will stay in the bags in the coolers in the cold room at temps between 36F – 42F for 3 days. This allows the meat to loosen up and tenderize. This is important as we run heritage birds on pasture. The moving around and living until 18 weeks makes for tougher meat.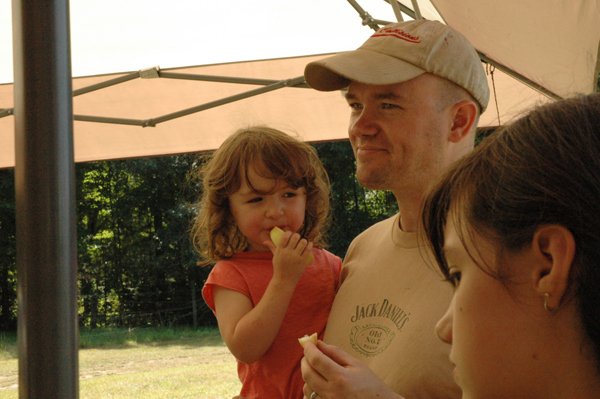 Tom holding the youngest, Hazel age 2½, who came with her mom, Megan, to learn; Phoebe, Tom's 3rd child, in foreground
Our rooster was the first caught and the first dispatched. My husband hates the crowing! So we were standing under the tarp, the rooster had gone through the plucker, and he hears a rooster crowing. The look on his face was priceless!
Kristy had brought a chicken to do. It came in a closed box with air holes and it turns out it was a rooster.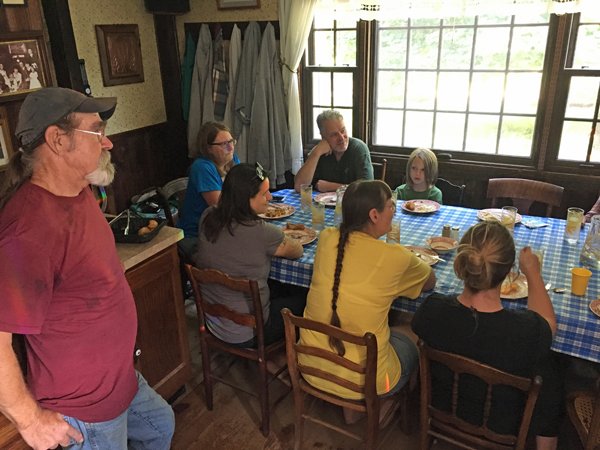 All together we did 56 birds by 12:30. I had gone up at 11:30 and put the lasagna in the oven to bake. Everyone brought really yummy food. But I think, even better than the super cheesy lasagna, was Tom's parents' cantaloupe. Tom's wife Kelly brought a HUGE bowl of cantaloupe chunks and it all disappeared.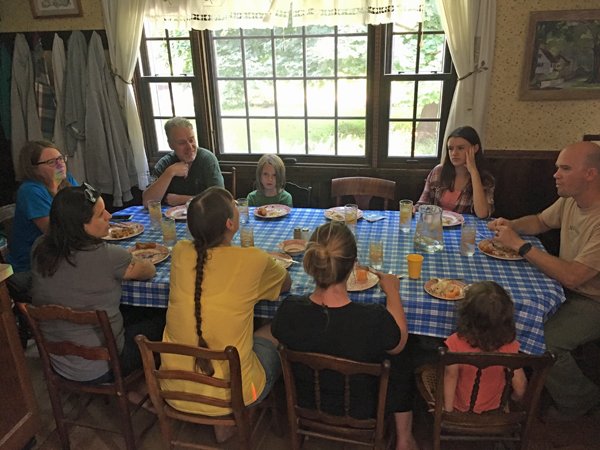 Most people left at this point, even though I had 2 hours of cleanup in the butchershop and my husband had the same outside, not to mention the house disaster. Cindy stayed and helped me do the butchershop. I was glad of it, because it was getting hot in there and I was exhausted.
I finished at 2:30 with Cindy's help and my husband finished about 4:30. I was asleep just after supper, by 6:30PM.
We took Sunday to rest. We processed the birds on Wednesday, leaving 9 whole birds, and cutting the rest up for drumsticks, whole breasts and thighs, and boneless/skinless breasts and thighs. They were all vacuum sealed, weighed, recorded and put into the freezer.
Tom's 2nd eldest has started as an intern here on the farm, and Wednesday was her first day. She said it was fun, learning how to cut them up, package, and record. She was a huge help and we got the cleanup done by 12:30.
The carcasses and wings were left in the fridge in the butchershop so we could shut down the cold room. My husband cleaned the carcasses and stripped the wings for meat for ground chicken. The carcasses were frozen, to make bone stock in October when it is cooler. We ground the meat and got 14¾ lbs.
I had to clean the butchershop both before we started and after we finished on Wednesday and Thursday. I'd chipped away at the house mess as I could and finally got everything put away on Friday. My helper friend cleaned the cold room on Friday and we were done!
The results from 55 birds:
Total weight for 40 Barred hens: 104.14#
Total weight for 14 Buckeye hens: 31.38#
Barred Rooster: 4.66#
Total weight, carcasses: 140.18#
Total processed meat: 133.66#
Total (heads, feet, pet food, waste): 169.98#
We still have 18 old layers to do in October. They will go for ground chicken. Then I'll have to make a year's worth of chicken bone stock.
We had a great bunch of people; all who wanted to learn all parts of the job. The kids really make the day enjoyable as it can be. And wonderful food and conversation over lunch is the capper!
We've been hosting this event for many years and it's always interesting to meet new people, and teach them the old skills.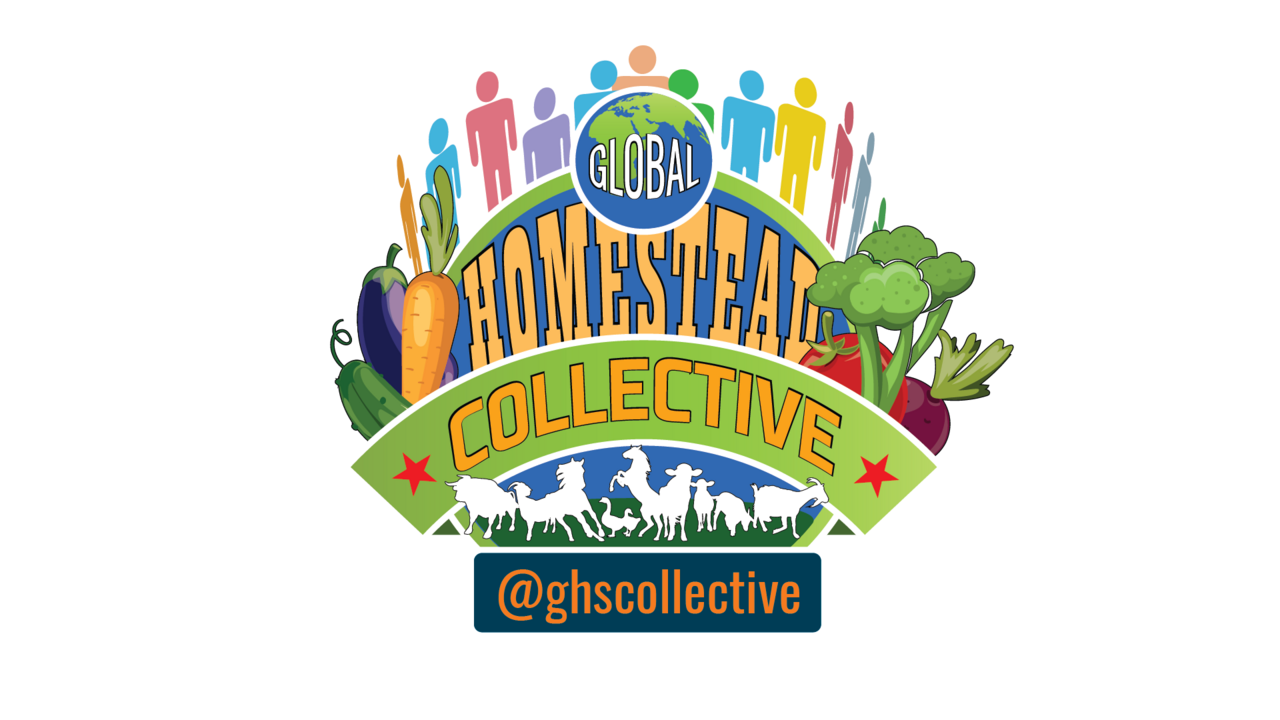 Join Us on Discord. https://discord.gg/hPJs5Rb