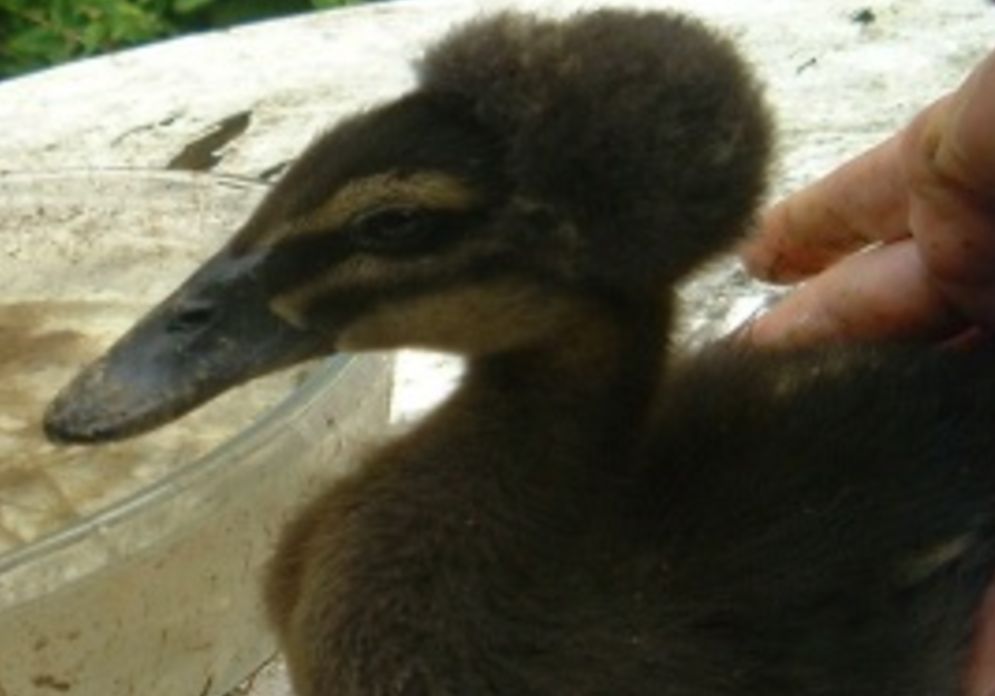 Are we interfering with nature too much in search of a novelty?
This is not a specific breed of duck (although both Tufted and Crested Ducks exist as species of wild fowl). They used to be known as Pom Pom ducks, but the name seems to have been lost to some degree, and they are now also known as crested and tufted, causing confusion.
The proper Tufted and Crested wildfowl breed true, Pom Poms do not. They can be, and are, crossed with many other species so the only distinguishing feature is the tufted head.
The tuft itself can be of any size or shape. It is formed by a defect in the birds head; a hole in the skull. In order to protect its brain, the unhatched duckling grows a pad of dense flesh over the hole. The down and feathers growing from this pad will not lie flat. They may also be longer than normal head feathers, or contain more down. Either way, the result is a "pom pom" of feathers that grow from the pad. These ducks are bred from others which carry the tufted genes, but the parent ducks might not actually have tufts themselves.
Think of genes as being the instructions according to which a body is made--a blueprint for life. They exist in pairs, each pair controlling a different aspect of life. When two individuals mate, the resulting young will inherit one of every pair of genes from each parent.
Each bird carries a pair of genes that control the tuft. Let us say that the gene instructing "a tuft" is X, and the gene that instructs "no tuft", is x. If a duck has a pom pom then it will be carrying one of each gene, so we can show it thus: xX
Each duckling will take a single gene from each parent. So if both parents have pom poms they will both be xX. The duckling could take the two genes for "no tuft". His genes will be xx and his head will be "normal".
He could take the tufted gene from each parent, giving him XX. Sadly, the tufted gene is a lethal one, which basically means that when it is passed on in certain combinations it is, indeed, lethal. Ducklings inheriting XX will not be able to survive outside of the shell. They generally die in the shell fully-formed, at the point of hatching.
The remaining ducklings will inherit one gene for a tuft, and one for no tuft - xX. These are the ducklings that will actually have a tufted or pom pom head. But even their life is not secure; the hole in the skull can be to one side, forward or back, and of different sizes. Of the eight ducklings I've hatched with pom poms, two had periods of time when they walked very awkwardly, and kept falling over due to their balance being affected by this defect. They then had extreme difficulty in righting themselves. Perhaps the hole was too large, or the pad put pressure on part of the brain. Both died young.
In theory there is a 50% chance of these ducklings bearing pom poms, and 25% chance of them either having none, or dying in their shell with the lethal double combination. By breeding one tufted duck to another with no tufted genes, the lethal combination can be avoided completely, but only 25% of the progeny will bear the elusive tufts. Thus the duckling's viability is increased, but the potential profit is decreased--the ducklings that actually sport pom poms are the ones fetching higher prices.
Every time man places two creatures together with intent for them to breed, he should be making a conscious choice. The progeny will inherit one of every pair of genes from each parent, and it is that young creature, not the breeder, who has to deal with the consequences... But that is the topic for another post. Personally, I quickly decided that the unique beauty of a duck with a perfect tuft was not worth the cost to those who didn't make the grade, and my remaining ones will live out their lives without hatching their eggs.