"There is no school equal to a decent home and no teacher equal to a virtuous parent."
Mahatma Gandhi
When a reporter came to my classroom to learn about homeschooling - 2003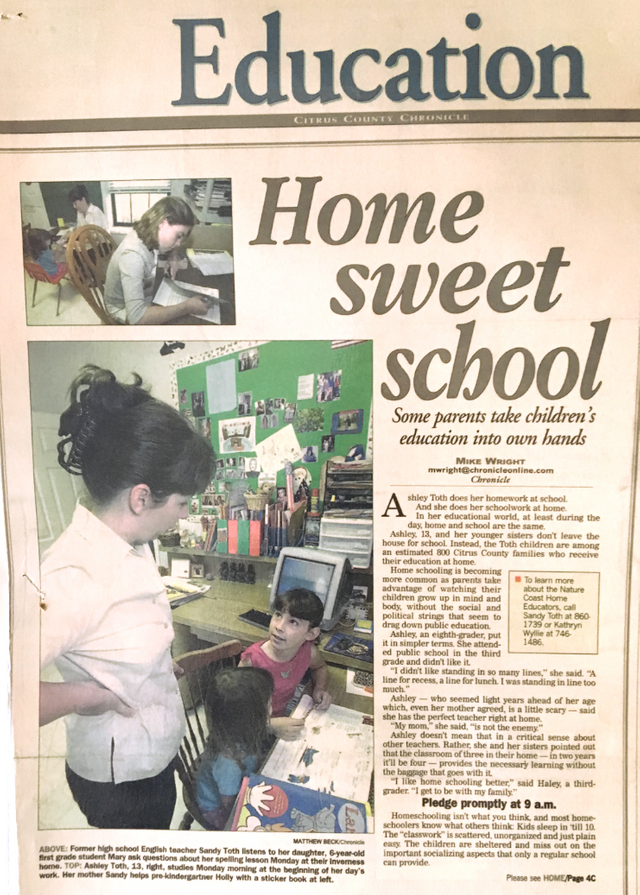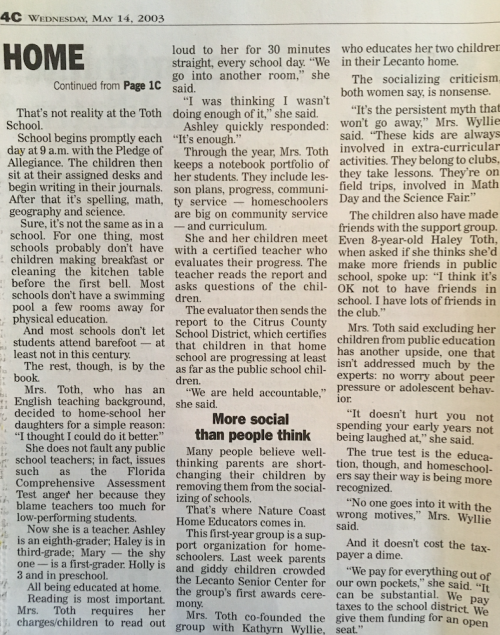 Some of My thoughts…
I began homeschooling my first daughter (age 4) in 1994.
This was my last year of homeschooling (ended May 2016).
At the time I had a BS in English Education and two years of teaching experience at the high school level.
I knew nothing about homeschooling when I began.
As a young mother trained to be a teacher in the school system, I had trouble at first wrapping my head around the idea.
I was fortunate to have a supportive husband.
All I knew was that after 2 years of teaching in the public school system and being raised in it, I knew I wanted something different for my daughter.
I began homeschooling because I thought I could do a better job teaching my child.
Over the years, I had 3 more daughters. They were also homeschooled.
My intention was to homeschool them through middle school and enroll them in the local high school. At the time, I worried about socialization.
My first daughter wanted to try public school when she was in 3rd grade. I let her go. After a couple of months, she wanted to come home.
When it was time to enroll my daughters in high school, they did not want to go. So, I continued to homeschool them.
Over the Years
Some questions, concerns, & myths…
These are not new; all you have to do is Google homeschooling. You can find anything you want to know and check out YouTube. There are some great stories and lots of advice from real people doing it.
Social Skills - This is the number one concern. Studies have shown that homeschool students do not lack social skills. They can socialize with all age groups. Think about it; they do not spend 12 years sitting in a class with just their peers. This is corny, but homeschoolers have an almost unlimited classroom. They learn to communicate with many different types of people. Do some research on the topic.
Lonely & Isolated - Homeschooled kids are lonely and isolated. No, they are not. Homeschoolers spend more time out in the real world than the average public school student.
Religious Reasons - The belief that all homeschooling parents are homeschooling for religious reasons is false. I was a secular homeschooling teacher.
Parents are not certified teachers - How can they teach their children? Again, studies have shown them to be successful. All you need is the will, drive, patience, and a great curriculum with answer keys. Parents do not need a college degree to homeschool.
Kids learn more in brick-and-mortar schools - This one is so misunderstood. Kids learn more homeschooling and in less the time. They are given more freedom to learn. They have time for the music lessons, sports teams, and to just play.
Won't get into college - Not true! I have 2 that finished college. One is starting her 3rd year, and my baby is starting early at the age of 16. Actually, all my daughters started early. And none of them have a high school diploma.
Kids can't function in the real world - Yes they can! They learn in the real world!
Homeschooling kids and families are weird - Some are, but there are weird people everywhere. Most homeschooling kids are free thinkers. Some are weird, but most of the time I like weird.
What about prom? - This is the one that really makes me laugh! So, we put our children through 12 years of school so that they can go to prom? But if it worries you, most states hold homeschooling proms.
If you want to homeschool, where do you start?
Where I started…
Ask yourself why you want to homeschool your child/children. People have many different reasons.
Research your state's educational laws for homeschoolers. Most states provide information on their Department of Education websites.
If you are planning for your child to attend college, research the requirements from the start. If they are going to attend a vocational school, do your research early.
Explore the advantages and disadvantages. Will if work for your family and lifestyle?
Do you think you can do it? Do you have the patience? It is not for everyone or every family.
Study the socialization question. You will not feel comfortable about it until you know more information.
Talk to other homeschooling parents and kids. It does not work for everyone. I have met many students that prefer public school.
Search for a curriculum - There are many to choose from. Here are some examples:
Unschooling
Mastery
Religious
Traditional
Charlotte Mason Method
Spiral
Find a homeschool support group. I live in a small town, so I started my own. But, this was years ago. Now there are many groups and lots of classes and co-ops for homeschoolers to join. Field trips are a great way to learn!
Finally…
Choose your space! This is very important. Do you want to turn a room in your house into a classroom? That is what I did. Do you want your kids learning at the kitchen table? Many families choose the kitchen because it is the heart of the house and has great flow.
Let the Internet be your friend and research what you are getting into.
This is the best time to be homeschooling! It was new when I started, and people did not understand it.
Thanks for taking the time to read my thoughts! And if you are thinking about homeschooling, good luck!
Until next time,
Sandra
"The function of a child is to live his/her own life, not the life that his/her anxious parents think he/she should live, nor a life according to the purpose of the educators who think they know best." - A.S. Neill