Is the Turpin family horror story really like the media tells us? Or is it something else? Part 2
I'd like to start off with a short recap of what I wrote in the first part of the Turpin Horror Story. I mentioned how the media tends to distort a picture to fit their story/agenda, or better: the agenda of those who truly control the media. There's no way to tell with certainty who 'they' are, other than that government is usually involved, even though I don't believe they work from their own initiative entirely either. There is a much bigger, more influential group of people behind them and the decisions they make, and I can make educated guesses, but I'll refrain myself from mentioning any names until I know for certain. As I said in my first post: I don't claim to know the absolute truth - I don't. Neither will I try to convince you to believe anything I say. What I AM trying to do is to open your eyes and hopefully your mind, so you can maybe find the truth yourself. Or at least look at the story from a different perspective than the media picture.
Lastly, I mentioned the interview that was done with one of Louise Turpin's sisters.
You can read the full story here, if you missed it.
https://steemit.com/homeschooling/@misslasvegas/is-the-turpin-family-horror-story-really-like-the-media-tells-us-a-cps-foot-in-the-door-for-homeschoolers
Here's a video of the sister (Elizabeth). You tell me if you think she's really hurting and crying for those children, or if this is fake crying like you'd see in a bad movie.
The other sister
Theresa, tells us that she hasn't seen them for a long time, but she does recall that she was worried about the kids being homeschooled because she worried they might "not be very socially developed"...Well, well, there we have it.
Please check the interview and try to read that woman's face
here:
If you trained to spot a liar, then here's your chance to practice. There's a moment when she starts to talk about the abuse that happened in her family, she stops and starts to cry but NO TEARS! The tears then follow. Just think about this one for a minute…
Now, as the interview continues, just watch the woman's face. She has tears one moment, and the next, it's all dried up (the moment when she talks of her sister's trip to Alabama). There has obviously been a break to clean the lady up...but why, if this is an honest interview? But yeah, television I guess.

What gets me too during this interview is when asked what she wants for the children.
She has to think for a moment and then says: "Well, whenever they get out of wherever they are now I want them to meet their cousins and I want to hold them." So you're telling me that this loving aunt hasn't even gone to see them yet? WTF? But obviously getting her face on TV is more important than her own blood relatives. But then of course, who knows, she might get another acting job out of it. OOPS, did I just say this out loud?
Other 'witnesses'
Later, a week or more after the initial story came out in the news, there are mentions of people telling stories about the family. Their old neighbours, the kids in the area, the 'Elvis' that did the renewing of their wedding vows….supposedly 3 times.
The Elvis impersonator told the newspapers that he thought the kids were all very well behaved. To be honest, I have seen some interviews with him, and he seems to be the only sincere one so far, when he's the only 'real' actor we know about.
Some of the neighbours told that they had seen the kids scrambling around in the trash cans around the area at night time.
So there you go: More "oohs and aaahhhs."
BUT, what strikes me about this particular story is this: What were those 'neighbours' thinking?
That they were dumpster diving in search for treasure? At night? No one thought this was odd?
So even though I'm not trying to say that people should pick up the phone right away if they see something like that, but knowing people: I know someone WOULD! Here in Ireland my friend had CPS called on her because her daughter was standing in the middle of the road. It was because she was dodging a car that came out of the blue, but this person made it sound like the girl was trying to commit suicide. I mean, at least speak to the parents about it? Or another neighbour? No? Nothing?
But several people have seen this and NO ONE called anyone and NO ONE asked the parents about this behaviour! For real? And we believe this?
What's the story with the creepy hands?
And here's the weirdest thing I've seen since this story broke the news: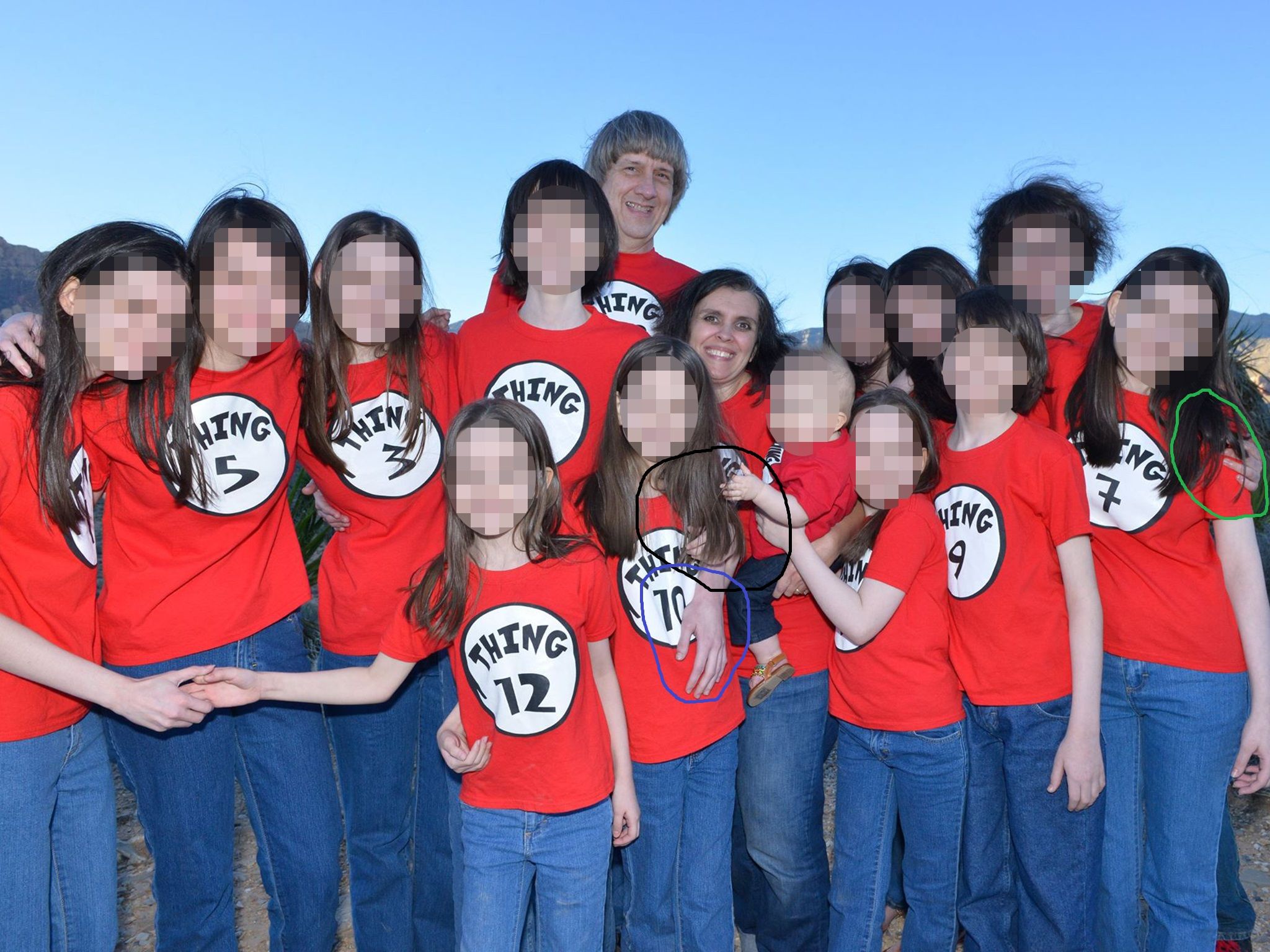 Green circle: This hand is supposed to be the brother's in the background, holding his sister. However, to me it seems like an almost impossible angle. Like he has to reach forward to put his arm around her shoulder. Strange. He also seems to be wearing nail polish.
Blue circle: This hand supposedly belongs to the brother behind the girl with the number 10. However, if you look at his arm around his sister to the left, that would be more accurate. The arm at number 10 seems too long to belong to this boy.
Black circle: This hand is completely out of place. At first glance, it seems to be an arm going around the baby, landing the hand in the girl's (10) hair. But when I inspected the picture further after I enlarged it, I saw it was definitely not going around the baby and the hand seems to belong to a younger child (somewhere between the age of 4 and 6). Where is this hand coming from? If you have a closer look at this hand, you'll see that it's definitely not the brother's hand either.
Here a closer look: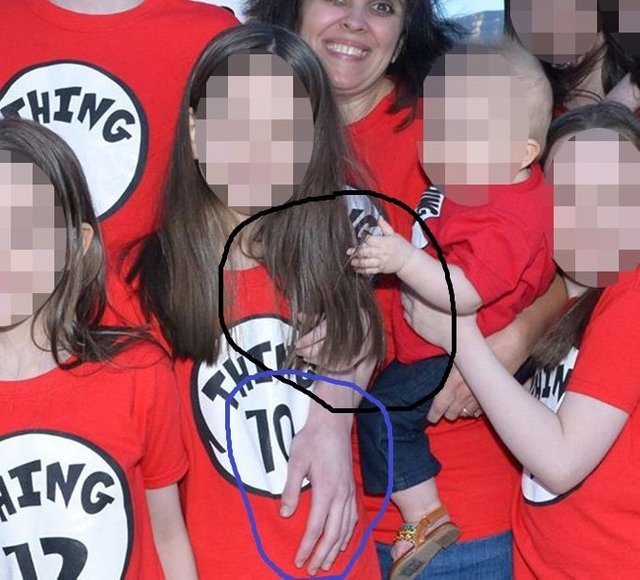 I've already seen a few people say that this photo must have been photo-shopped.
Now, to me there's no doubt about that. But why? And by whom?
Was it the parents who tried to make the family look like the perfect happy family?
Or was it someone else?
I think, if these 'parents' are who they say they are, then they might be crazy, but they're definitely not stupid.
After all, they managed to keep their kids locked up and got away with it for a long time.
I don't think people like that would make mistakes like these.
And also, in other pictures, they are not photo-shopped as far as I can tell.
So why do one and not the other?
In ALL pictures I've seen so far, you see happy, smiling faces (and eyes). So I don't see why they would think there was a need for forging one photo, if they had many more.
It just doesn't make any sense.
Conclusion part 2
The sisters: Look at the videos and judge for yourself. Are these genuine people?
The neighbors: 13 kids scrambling around the area, scavenging around the trash for who knows what and no one ever says anything? Really?
And that photo. There's something just not right with that.
Why fake just that one photo? It makes no sense whatsoever.
These are all questions we at least have to ask ourselves. But however way you want to look at it, to me it just doesn't seem right at all...