Last year, the Atlantic featured a great article called The Math Revolution about how more American kids are doing math competitions and are doing well. It's long, but an interesting read.
Though not the only point in the article, it touches on how bad we are at identifying kids who are good at math.
A few passages stood out to me:
The roots of [poor preparation in math] can usually be traced back to second or third grade, says Inessa Rifkin, a co-founder of the Russian School of Mathematics, which this year enrolled 17,500 students in after-school and weekend math academies in 31 locations around the United States. In those grades, many education experts lament, instruction—even at the best schools—is provided by poorly trained teachers who are themselves uncomfortable with math.
This past year I have had two of my children "hate math." They came home from school complaining that math was boring and repetitious.
The new outside-of-school math programs like the Russian School vary in their curricula and teaching methods, but they have key elements in common. Perhaps the most salient is the emphasis on teaching students to think about math conceptually and then use that conceptual knowledge as a tool to predict, explore, and explain the world around them. There is a dearth of rote learning and not much time spent applying a list of memorized formulas. Computational speed is not a virtue.
Also, the children had both decided that they were bad at math - because they were not succeeding in timed tests (addition under 10 for one, multiplication tables for another). For unrelated reasons, my children have had IQ testing. They score quite high on quantitative ability. I don't say that to brag - but to note that I was ready to reject the claim that they were "bad at math" because I knew they had intrinsic ability. If I didn't have that information, I might have believed that they were struggling. The teacher told me that the 7 year old had trouble counting to 120 because she had missed a problem on an assessment (at the same time that child was easily adding 2 digit numbers in her head).
It was at this point that I decided to homeschool math (and a few weeks later, I broke with the school altogether and pulled my children out). When I saw how badly things were going, I thought I couldn't do worse at home. With some mostly empty workbooks from the local thrift store, we started doing problems at the kitchen table.
While I agree that kids need to learn fluency with numbers (first addition, then times tables) and that speed and accuracy are important goals, I found that the school system was imparting the following things to my children:

-speed is success
-math is memorization
-math work means repetition
-there is no creativity in math
If I was a parent with less resources, more demands on my time or less inclination to get involved, I might have simply said, "I know, math is hard for some people. It's okay!" and allowed them to continue on the path to math illiteracy. I was fortunate enough to be armed with standardized test information and my own joie de numbers to reject the narrative they were constructing.
While I have been pondering all of this, I cam across this profile of Barbara Oakley called How a Polymath Mastered Math—and So Can You
about a woman who wasn't successful at math until she left the army and returned to school, only to now be considered a math superstar. It furthered my belief that we turn children off to math quite early and often lose them forever.
All of this has me wondering, other than standardized ability (not achievement) testing, how do we identify kids with good ability in math? I was fast at math, and that's how I knew I was good. How did you know you were good at math?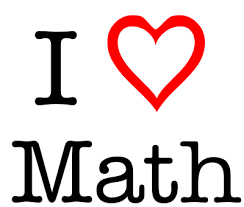 Image from pinsdaddy.com

BeriBeri Quite Contrary
Advocate for Natural Health Care for Babies
Parent of Free Range and Slightly Neglected Toddlers
Promoting Preschoolers and Hot Glue Guns
Encouraging Gambling Kindergarteners